We welcome you to this article on love shayari. "लव फ्रेम्स" के इस लेटेस्ट हिंदी लव शायरी के चरण में आपका स्वागत। True love is when you look into someone's eyes and see everything you need.
Love is the light that guides us through the darkness. Love is what makes the world go round. No matter what happens in this crazy world, we know that love will always find a way.
Shayari about Love! Shayari On Love In Hindi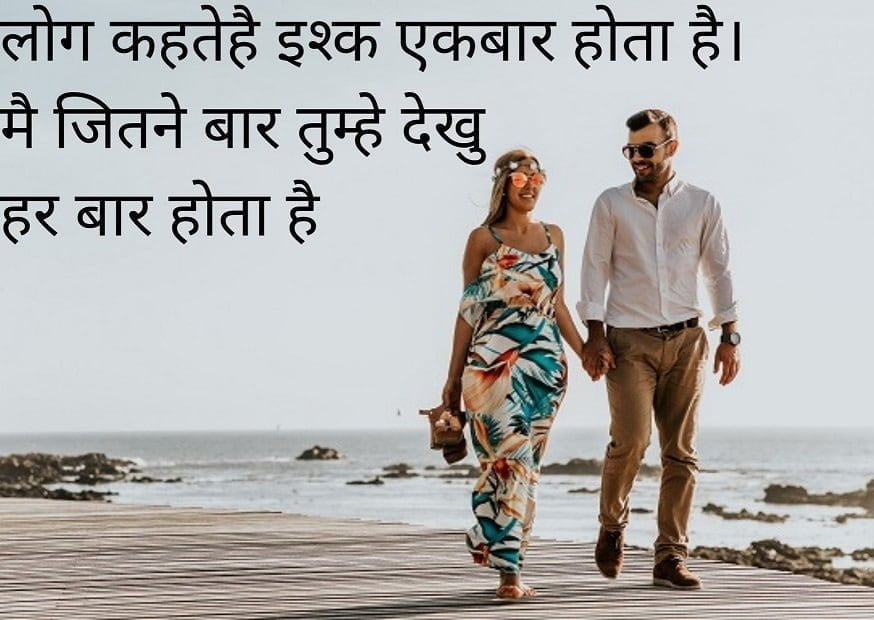 लोग कहते है इश्क एक बार होता है,
मै जितने बार तुम्हे देखु हर बार होता है।
Log kahte hai ishk ek bar hota hai,
Mai jitne bar tumhe dehu har bar hota hai.
Explanation: Love at first sight!
This phrase says that you are so beautiful that
every time I look at you I fall in love with you.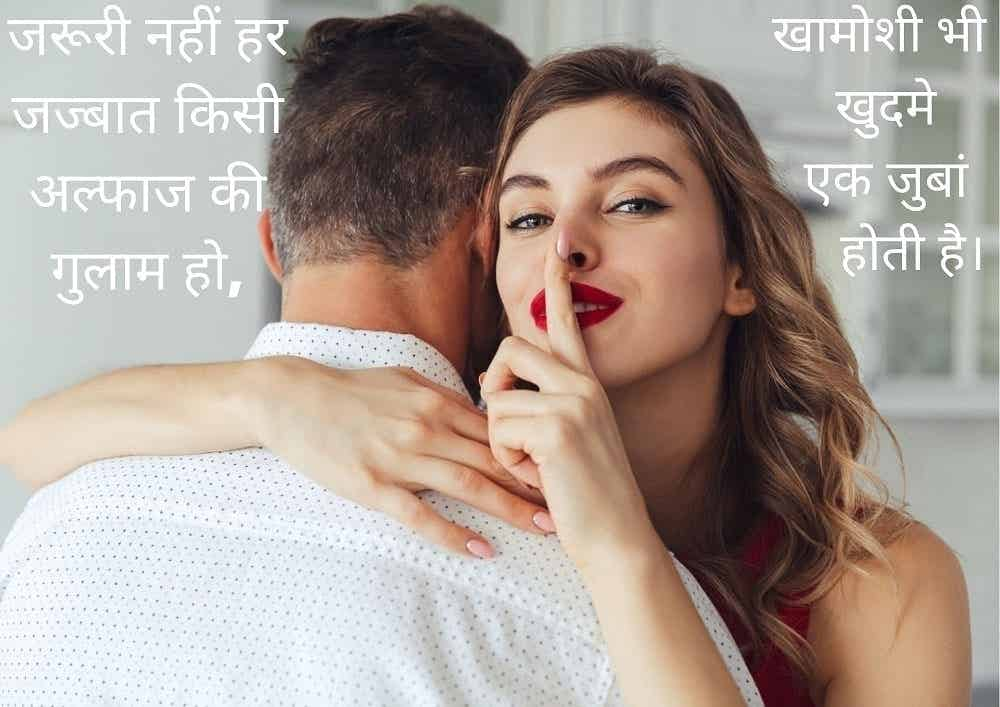 Jaroori nahi har jajbat kisi alfaj ki gulam ho,
khamoshi bhi khudme ek juba hoti hai.
Explanation: All feelings are not necessarily expressed in words.
Silence has its own language to express itself.
Jajbat: Feelings,  Alfaj: Words, Juba: Specific language.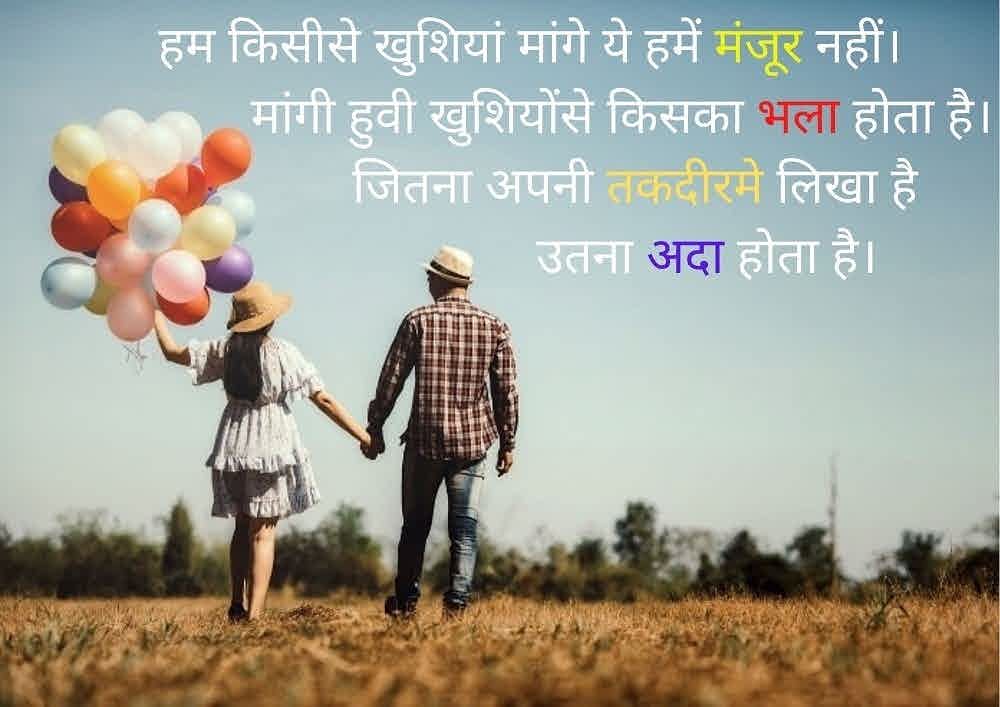 Romantic Shayari about Love
Shayari About Love to generate feelings for love.
Ham kisise  khushiya mange ye hame manjur nahi,
Mangi huvi khushiyonse kiska bhala hota hai.
Jitna apni takdir me likha hai utna ada hota hai.
Explanation : Never ask for borrowed happiness.
Borrowed happiness is temporary.
You will get whatever is written in your destiny.
Hindi Shayari: Wakt se pahele aur kismat se jyada
 kisi ko kuch nahi milta.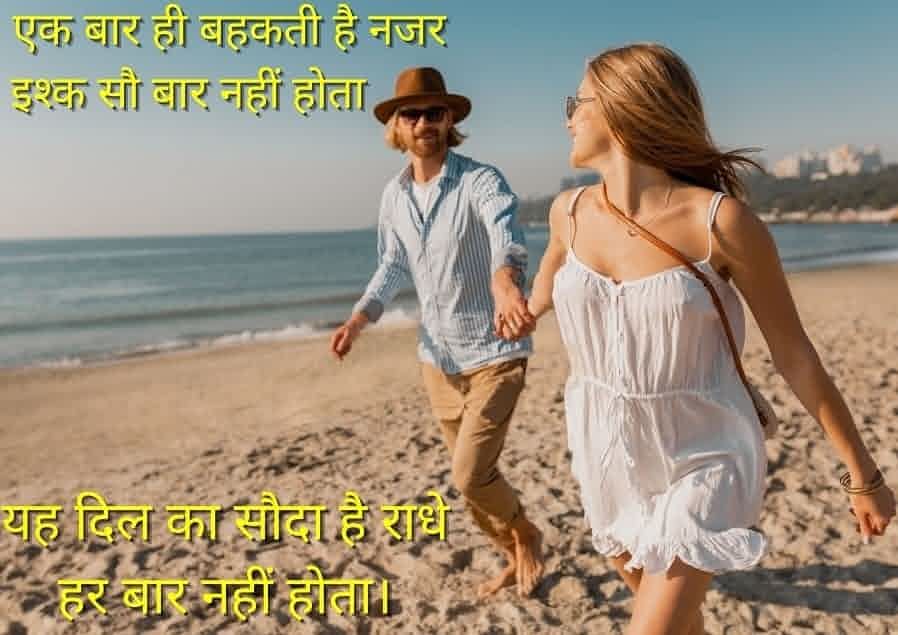 Ek bar hi bahekti hai najar, ishk sau bar nahi hota,
yaha dilka sauda hai radhe har bar nahi hota.
Explanation: Love at first site happens only once and not all the time,
this is heart to heart connection that does not happen all the time.
Sauda: Vyavhar (Trade).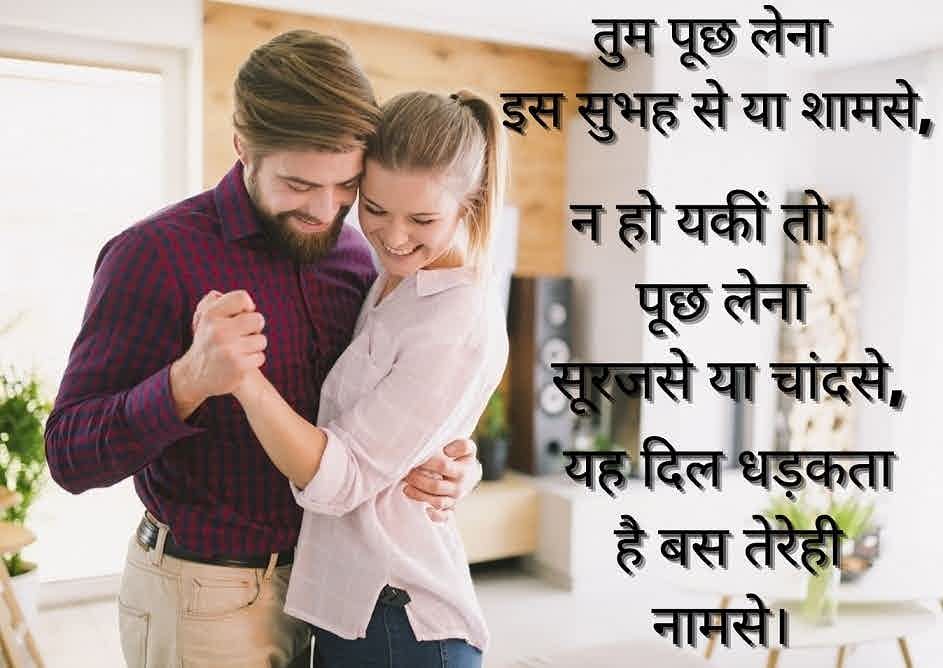 Tum puch lena subhahase ya sham se,
na ho yakin to puch lene surajse ya chand se,
yaha dil dhadakta hai terehi naam se.
Explanation : You ask the darkness of the night and the morning light,
if you do not believe then ask the moon and the sun.
They will say my heart beats with the rhythm of your name.
Cute Shayari about Love
Shayari about Love to express your love through images.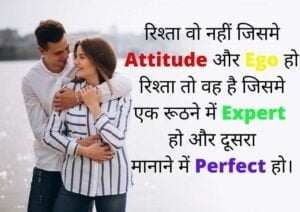 Rishta waha nahi jisme attitude aur ego ho,
rishta to waha hai,
jisme ek ruthne me expert ho,
aur dusra manane me perfect ho.
Explanation: Relations never carry ego and attitude,
Fights are common, which resolves misunderstandings.
Understanding each other at each and every small moment.
Hindi Love Shayari
Shayari About Love…
Chand hota na aasmape agar ham kise aapsa hasi kahete.
Explanation: If there wouldn't  have been a moon in the sky,
then with whom shall i have compared your beauty with.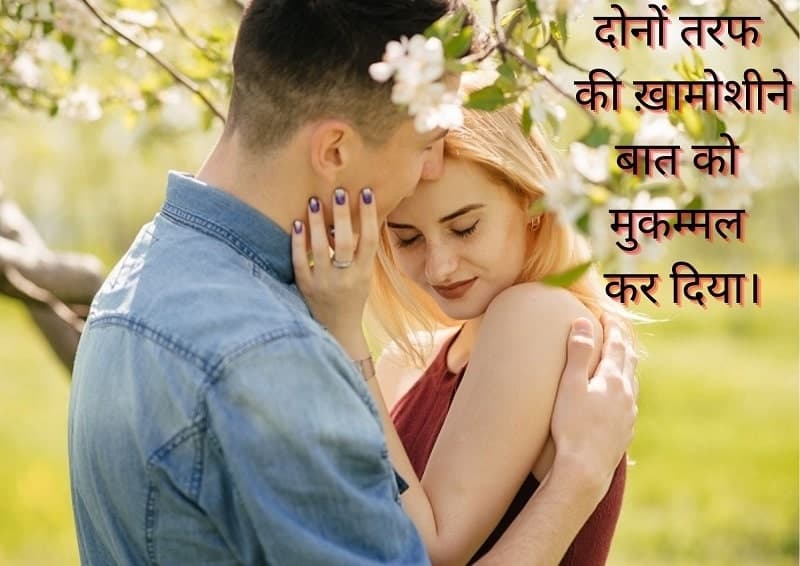 Dono taraf ki khamoshine baat ko mukamaal kar diya.
Explanation: Silence on either side has proved the intensity of true love.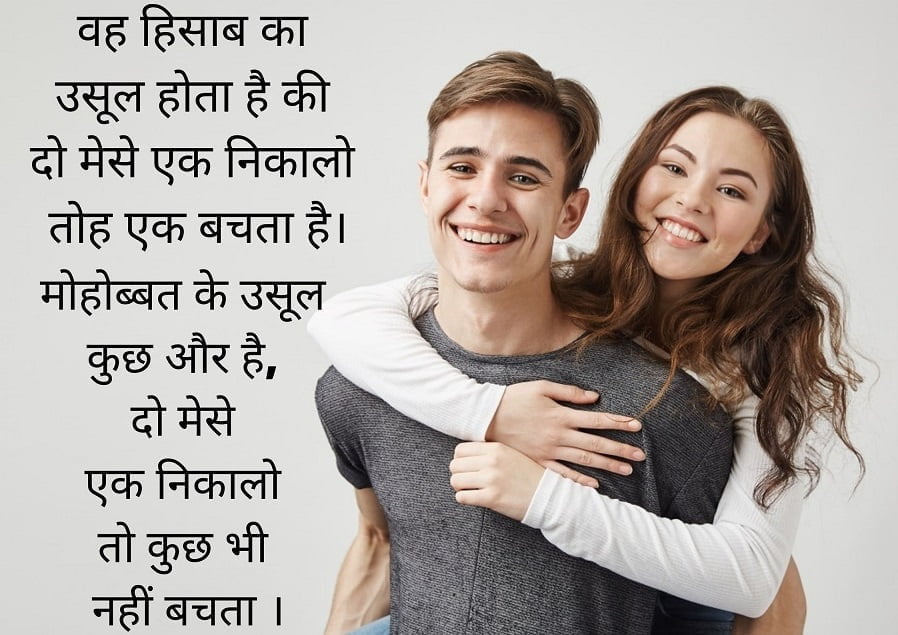 Waha hisab ka usul hota hai ki do mese ek nikalo to ek bachtahai,
Mohabbat ke usul kuch kaur hai,
do mese ek nikalo to kuch bhi nahi bachta.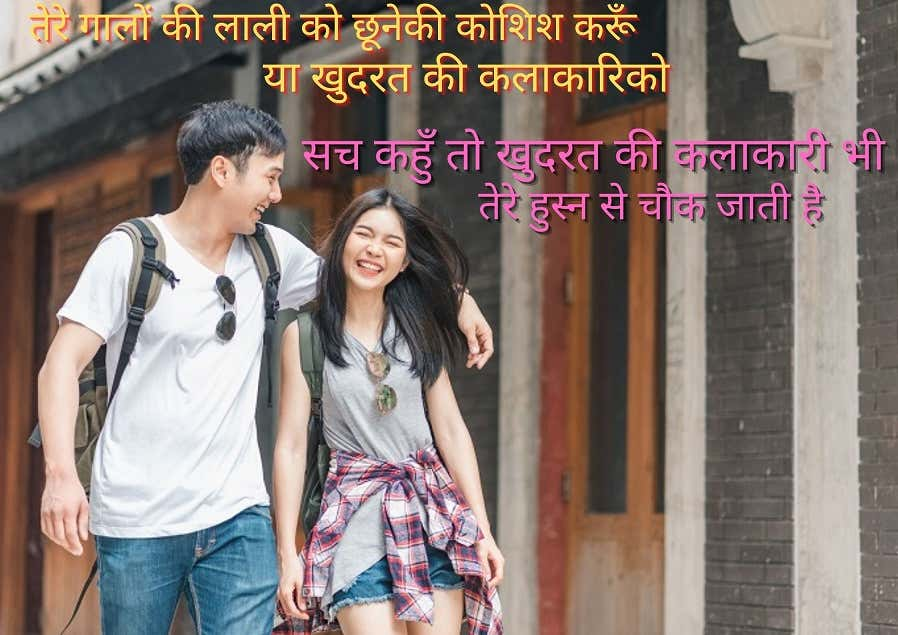 Tere Galon ki Lali ko chune ki Koshish Karu,
Ya kudrat ki kalakari ko, sach kahu to kudrat ki kalakari bhi,
tere husna se chauk jati hai.
Explanation: Whenever I see you, I feel Like Touching You.
even the Creator of Nature is Surprised to see you so beautiful.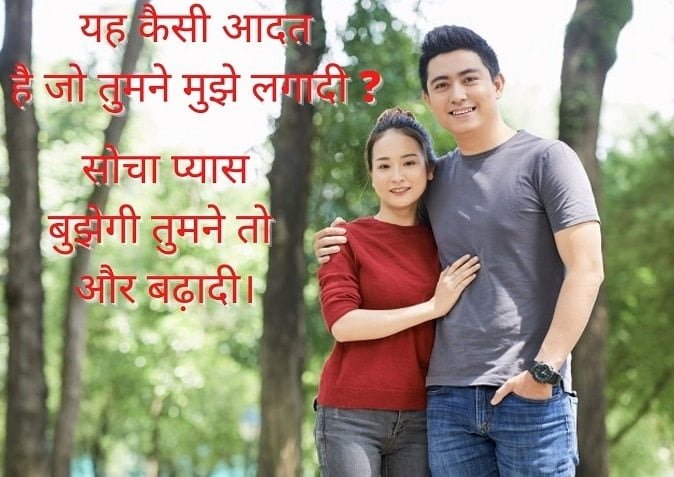 Love Shayari In Hindi
ye kaisi aadat hai jo tumne mujhe lagadi hai,
socha pyaas bujhegi,Tum ne to aur badha di hai.
Explanation: When i fell in love with you,
 I thought now i will not have any more attraction towards love.
but it happened that i became habituated of meeting you all the time.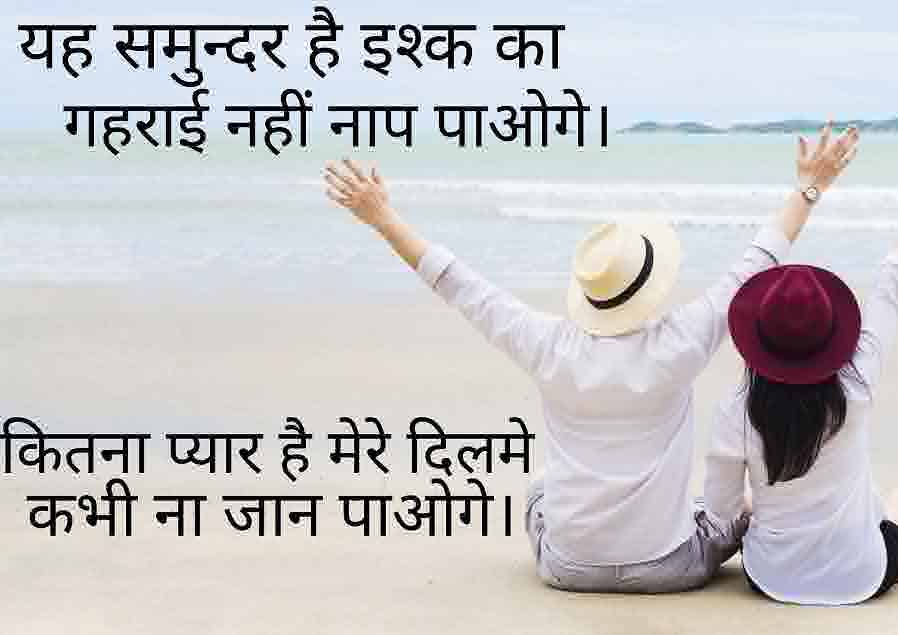 Yaha Samundar hai Ishk ka, Gaharai nahi map paoge,
kitna pyar hai mere dilme, kabhina jan paoge.
Explanation: This is a sea of love, you cannot measure the depth of it,
similarly you wont be able to measure the love for you in my heart.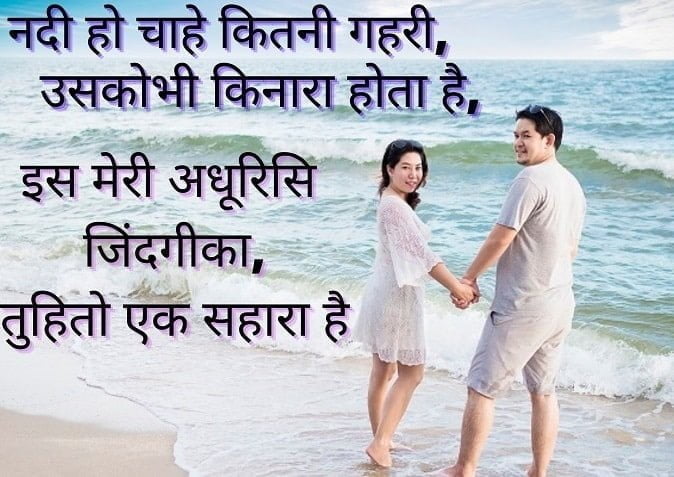 Nadi ho chahe kitni gheri, uskobhi kinara hota hai,
 is meri adhurisi jindagika, tuhi to ek sahara hai.
Explanation: Even the deepest river has its limitations,
but for me you are my endless life forever.
Love is an immortal emotion. A person remembers the other person in his/her loving memories. Love has no borders and no limits. It is endless. The more you give, the more you receive. You will receive it in multiple.
Love Shayari is a beautiful form of expression that has been used for centuries to convey the intense emotions of love and longing. Whether written in traditional forms or modern styles, Love Shayari has the power to capture the essence of love and evoke deep feelings in both the writer and the reader.
From heartfelt declarations of love to wistful musings on the pain of separation, Love Shayari has a way of resonating with people from all walks of life. So, whether you are a seasoned poet or just starting to explore the world of Love Shayari, let your heart guide your words and see where this beautiful form of expression takes you.
RELATED
25+Rahat Indori Best Shayari Status! Best Hindi Shayari Collection
50+Shayari On Beauty To Praise A Beautiful Sweet Girlfriend
51+Heart Touching Messages For Wife To Strengthen Relationship 
Best Romantic Shayari In Hindi For Girlfriend! हिंदी Love शायरी