Romantic Shayari In Hindi For Girlfriend
Love quotes हो या कोई ग़ज़ल शायरी ने हमेशा ही अपने यार को खुशनुमा बनाया है.
Romantic Shayari In Hindi For Girlfriend! हिंदी Love शायरी will definitely help you express your feelings through images.
Free Gift of Love Calculator at the bottom of this post. Check how much you love your near and dear.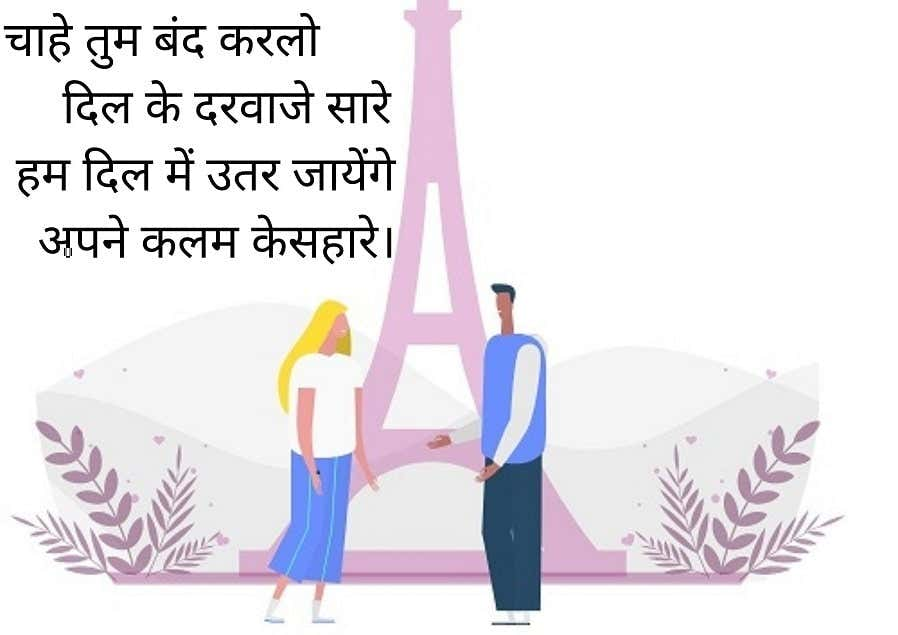 Quotes about love or love quotes are very important to express once love to the partner.
💖चाहे तुम बंद करलो दिल के दरवाजे सारे
हम दिलमे उतर जायेंगे अपने कलम के सहार।🖋🖍🖋
chahe tum band karlo dil ke darwaje saare
ham dilme utarjayenge apne kalam ke sahare.
Explanation: Even if you are not accepting my love today,
I will try to reach your heart and develop a love for me through creative writings.
💚तू चाँद में सितारा होता आसमान के एक आशियाना में .
एक आशियाना हमारा होता💔
💙लोग तुम्हे दूर से देखते🖤
💜नजदीक से देखने का हक बस हमारा होता💛
Heart Touching Love Shayari In Hindi For Girlfriend
हम हर वक्त Communicate कर रहे होते है, तभ भी जब हम शांति से बैठे होते है।
हम अपने साथी के साथ भले ही बात करते बैठे न हो मगर फिरभी हम संवाद करते है।
नजरों का क्या कसूर, 💔जो दिल्लगी तुमसे होगयी
तुम हो ही इतने प्यारे,💚 के मोहब्बत तुमसे हो गयी।
najron ka kya kasoor, jo dillagi tumse ho gayi
tum ho hi itne pyare, ke mohabbat tumse ho gayi.
Explanation: It is not the fault of eyes that I saw you and fell in love,
You are so sweet that anybody looking at you would-
-fall in love with you.
💜मिले तुझे हर खुशी हम दुआ करते है💚,
💓तेरी हर मंज़िल हो हसीन हम दुआ करते है.
💛वैसे तो कबुल होती नही हमारी मन्नते पर,
तेरी हर दुआ कबुल हो हम दुआ करते है💙|
Love Shayari For gf In Hindi
Love Status or Love Shayari is a dramatic way of presenting our feelings to the next person to impress. "Love is not measured by how you feel, but by how you make the other person feel". Romantic Shayari In Hindi For Girlfriend.
💛बस यही दो मसले जिंदगीभर ना हल हुवे ,
ना नींद पूरी हुवी, 💞ना ख्वाब मुक्कमल हुव।
Bas yahi do masle jindagibhar na hal huwe,
Naa nind puri huwi, naa khawab mukaamal huwe.
Explanation: We struggle entirely with sleepless days and  nights to fulfill our dreams.
But the problem remains, neither the sleep is completed nor the dreams are fulfilled.
💖बड़ी मुश्किल से बना हूँ टूट जाने के बाद |
मैं आज भी रो देता हूँ मुस्कुराने के बाद💚 |
💛तुझ से मोहब्बत थी मुझे बेइन्तहा लेकिन |
अक्सर ये महसूस हुआ तेरे जाने के बाद ❤|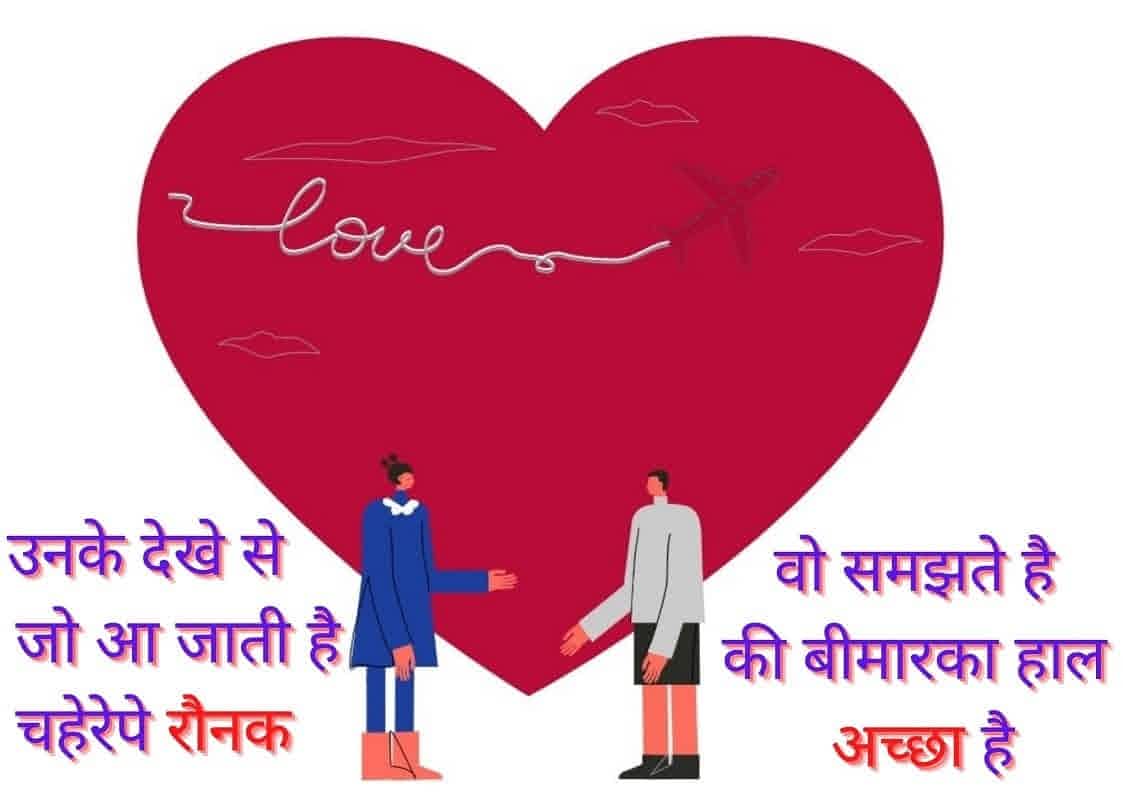 Love Shayari In Hindi For Girlfriend With Image
हम अपने हांतोके, अपनी आंखोसे इशारे करके या एक दुसरेके करीब रहकर भी संवाद करते रहते है। अपने साथी के साथ quality relation होने हेतु Quality Communication होना बहोत जरूरी है। Romantic Shayari In Hindi For Girlfriend.
💟उनको देखेसे जो आजाती है चहेरेपे रौनक,
वो समझते है के बीमार का हाल अच्छा ह💜।
unko dekhese jo aajati hai cheherepe raunak,
wo samajhte hai ke bimar ka haal accha hai.
Explanation: There is a charm on your face whenever I look at you I get delighted
out of my sickness and you feel that I am feeling fine.
💔कुछ दिल को तसल्ली हो आराम तो आये |
शिक़वा ही हो लब पर -मेरा नाम तो आये 💝|
💛अब तुमसे मुलाक़ात हुये- बख़्त है गुज़रा |
तुम सामने आ जाओ– वो शाम तो आये💚 |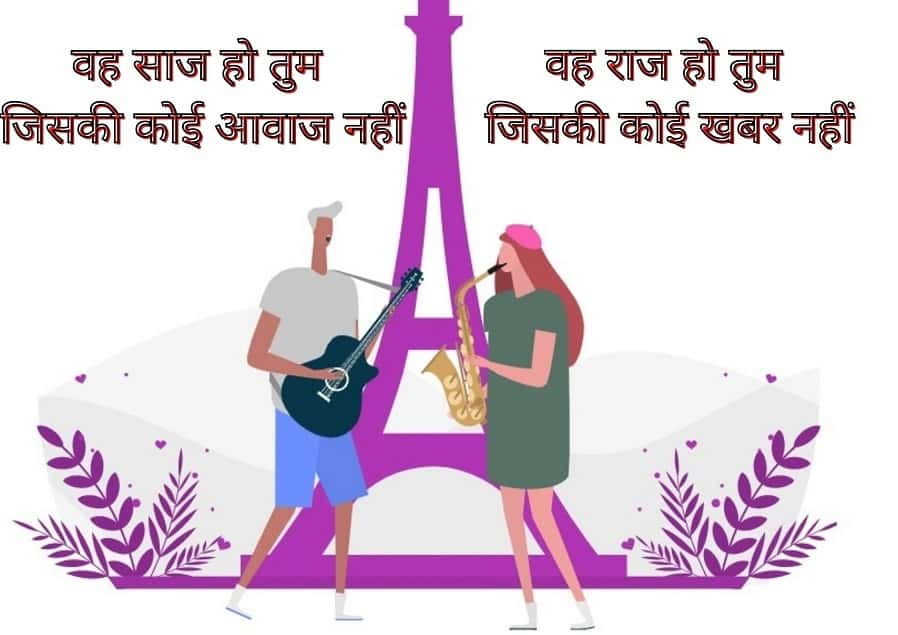 Shayari For Girls
You must ensure that love is expressed in such a way that makes the other feel loved. Different things make different people feel loved. The things that make you feel loved are different from the things that make your partner feel loved.
💝वो साज हो तुम जिसकी कोई आवाज नहीं,
वो राज हो तुम जिसकी कोई खबर नही💘।
W0 saaj ho tum jiski ko aawaj nahi,
wo raj ho tum jiski koi khabar nahi.
Explanation: It is believed that it is very difficult to read the mind of a girl, which remains unclear for the lifetime.
💙मुझे भी अब नींद की तलब नहीं रही,
अब रातों को जागना अच्छा लगता है💛,
💖मुझे नहीं मालूम वो मेरी किस्मत में है या नहीं,
मगर उसे खुदा से माँगना अच्छा लगता है💝'
Love Quotes For Girls
"खलील जिब्रान" कहते है हम अपनी खुशी या दुःख का चयन, उसे भोगने के पहलेही कर चुके होते है। हमें अपने पार्टनर के साथ अच्छे सम्बन्थ रखना हो तो उसपर हमें प्रयास करने पड़ते है।
💖किसी की यादों को रोक पाना मुश्किल है 💗
💦रोते हुवे दिल को मनाना मुश्किल है💞 .
💚ये दिल अपनों को कितना याद करता है💛
💙ये कुछ लफ्जोंमे बया करना मुश्किल है💛 .
Kisi ki yadon ko rok pana mushkil hai,
Rote huve dil ko manana mushkil hai,
Ye dil apnoko kitna yaad kartahai.
Yaha kuch laphjonme bayan karna mushkil hai.
Explanation: It is very difficult to control the emotions when
when you remember the one whom you love.
It is not easy to express how much the heart remembers the loved one in words.
💛बहुत तकलीफ होती है सच में❤
💘जब हम हद से ज्यादा किसी से प्यार करे💔 |
💛और वो उसी प्यार की कोईकदर ना करे💚 |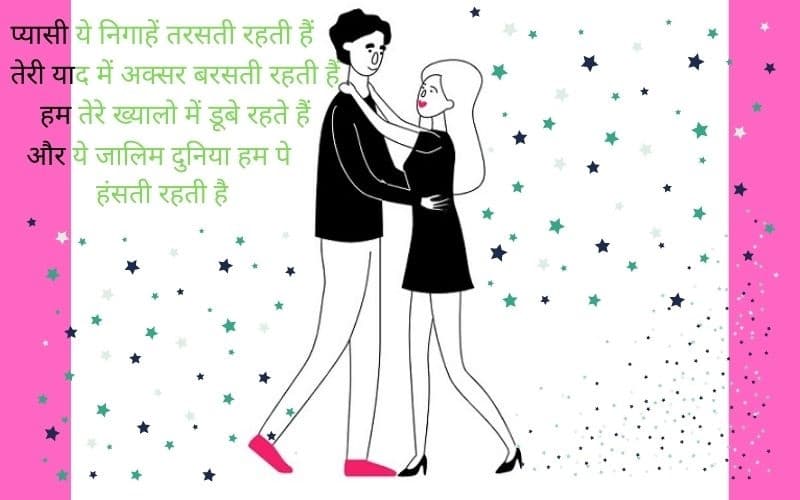 💛प्यासी ये निगाहें तरसती रहती हैं💔
💚तेरी याद में अक्सर बरसती रहती हैं💙
💖हम तेरे ख्यालो में डूबे रहते हैं💜
💝और ये जालिम दुनिया हम पे हंसती रहती है💘
Pyasi ye nigahe tarasti rahti hai,
teri yadme aksar barasti rahti hai,
ham tere khayalonme dube rahate hai,
aur ye jalim duniya hampe hasti rahati hai.
Explanation: In desperation my eyes  keep crying to see you and
always keep on dreaming of you.
This world laughs to see me so desperate.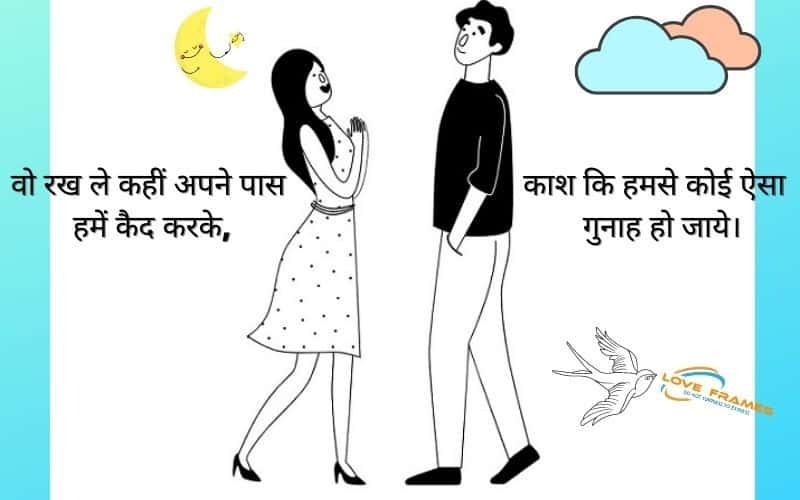 💖वो रख ले कहीं अपने पास हमें कैद करके,
काश कि हमसे कोई ऐसा गुनाह हो जाये💙।
💔woh rakhle kahi apnepass hame kaid karke,
kaash ki hamse koi aisa gunaha ho jaye💝.
Explanation: I expect to do some crime,
so that at least I would be able to stay with you.
RELATED: