Hindi thoughts for students with meaning or today's thoughts or hindi suvichar for students with meaning are the motivational quotes we have been using for these types of quotes from our childhood. Children read and get motivated. Regular motivational dose is very important for the students to get the maximum output from them at school, colleges and at home.
Related: Kid Education Quotes | Simple Thought of The Day for Kids
This is the age when these students get molded according to what they read, understand and learn. Their personality develops according to the environment they get. Here we will see some of the phrases and Hindi thoughts for students with meaning that may help students to share with their friends when their friend feels low.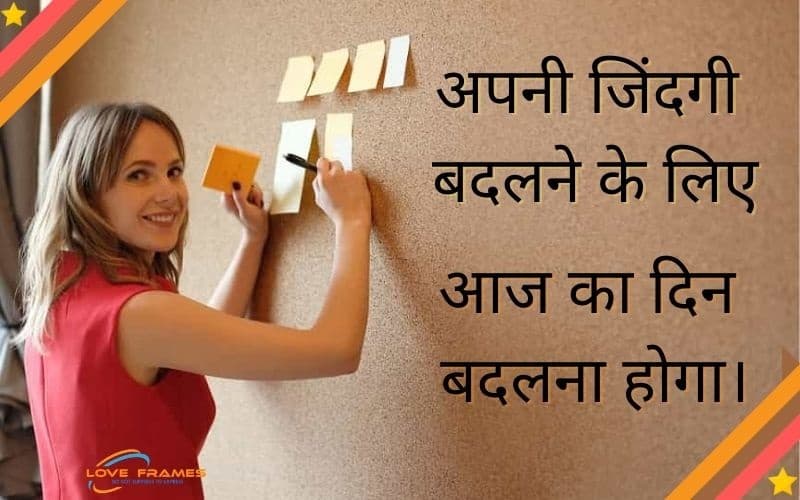 अपनी जिंदगी बदलने के लिए
आज का दिन बदलना होगा।
Apni Jindagi Badalne ke liye
aaj ka din badalna hoga
Explanation: All big achievements begins with the small start.
To change our future we have to change our present habits.
Thought of the Day in Hindi for Students with Meaning
Hindi thoughts for students with meaning in English. Thought for the Day for Students in Hindi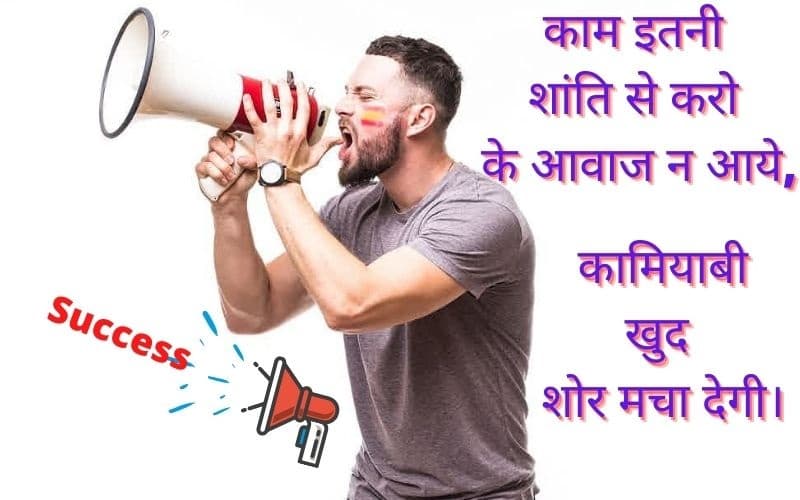 काम इतनी शांति से करो के आवाज न आये
कामियाबी खुद शोर मचा देगी।
Kam itni shantise karo ke awaj na aaye
Kamyabi khud shor macha degi.
Explanation: One should concentrate on the work instead
of worrying whether it will be liked or not. If your work
done is best, it will automatically get noticed, you need
Don't shout and tell.
Thought of the Day for Students in Hindi with Meaning | सुविचार हिंदी में छात्रोंकेलिए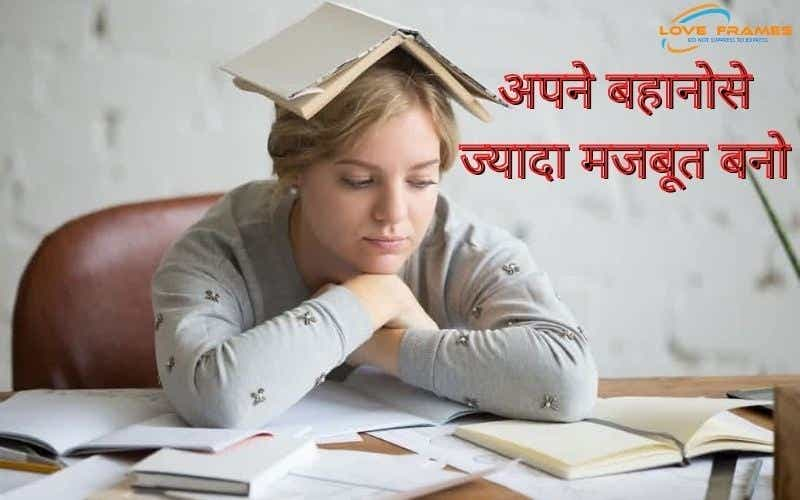 अपने बहानो से ज्यादा मजबूत बनो।
apne bahanose jyada majboot bano
Explanation: Be stronger than the Excuse.
We always make excuses to avoid any work.
Be strong and do the work, never give excuses for the
work not completed instead accept the weakness and start working on it.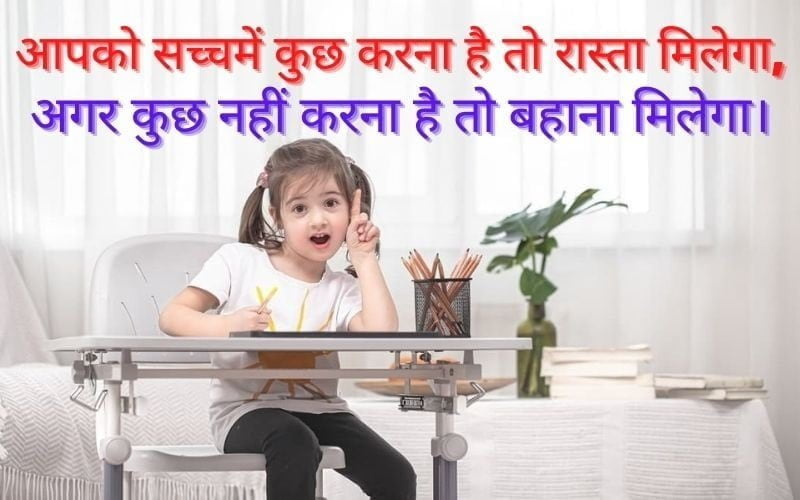 आपको सच में कुछ करना है तो रास्ता मिलेगा
अगर कुछ नहीं करना है तो बहान मिलेगा।
aapko sachme kuch karna hai to rasta milega
Agar kuch nahi karnahai to bahana milega.
Explanation: If you really struggle to complete any task you will get your way out of it
and if you are not interested in completing any task, you start finding the excuses.
Thought for the Day for Students Hindi
खुदही को कर बुलद इतना के हर तक़दीर से पहले
खुदा खुद पूछे बंदी बता तेरी रजा क्या है।
Khudhi ko kar buland itna
ke har takdir ke pahele
Khuda khud puche bandese
Bata teri raja kya hai?
Explanation: Make yourself so strong that even God will ask your choice
before designing your destiny.
This phrase stresses karma. what ever is your action in life,
Accordingly, your future is planned by God.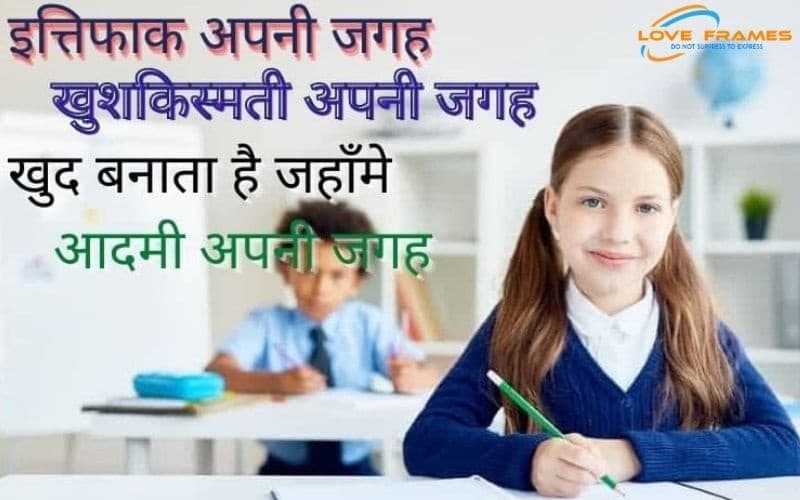 इत्तिफाक अपनी जगह
खुश किस्मती अपनी जगह
खुद बनाताहै जहाँमे
आदमी अपनी जगह।
Ittifaq apni jagaha, khushkismati apnijagaha,
Khud banata hai jahanme aadmi apni jagaha.
Explanation: Coincidence and Good luck is blessed.
But men make his position in life by his consistent hard work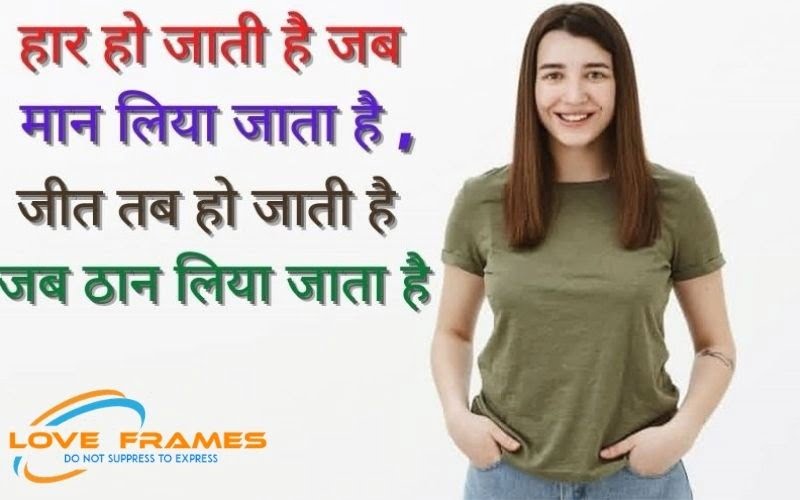 Thought with Explanation in Hindi
Hindi thoughts for students with meaning.
Related: Thoughtful Inspiring Quotes on Education for Students
हार हो जाती है जब मान लिया जाता है
जीत तभ होती है जब ठान लिया जाता है।
Harr ho jati hai jab maan liya jata hai,
Jeet tab ho jaati hai jab than liya jata hai.
Explanation: Determination is the cause of success.
You lose the game when you accept to and
you win the game when you decide to.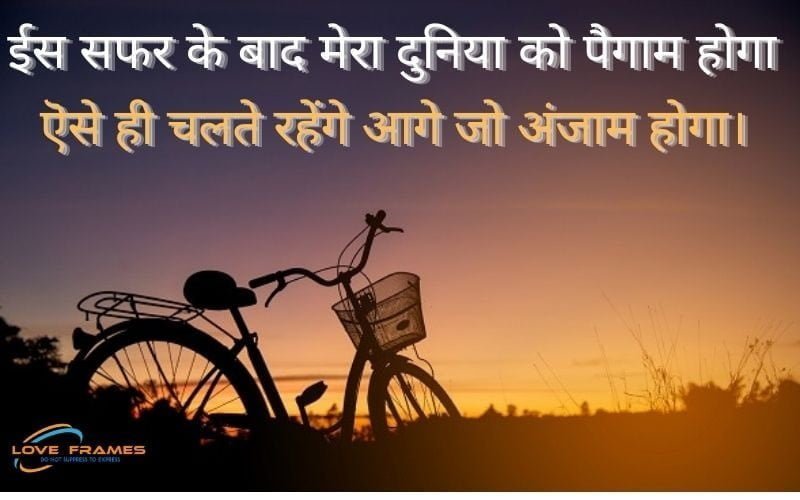 ईस सफर के बाद मेरा दुनिया को पैगाम होगा
ऎसे ही चलते रहेंगे आगे जो अंजाम होगा।
iss safar ke baad mera duniyako paigam hoga,
Aise hi chalte rahenge aage jo anjam hoga.
Explanation: This journey of my life will be a message to the world,
keep on walking happen what may, without expectations.
Best Thought in English with Hindi Meaning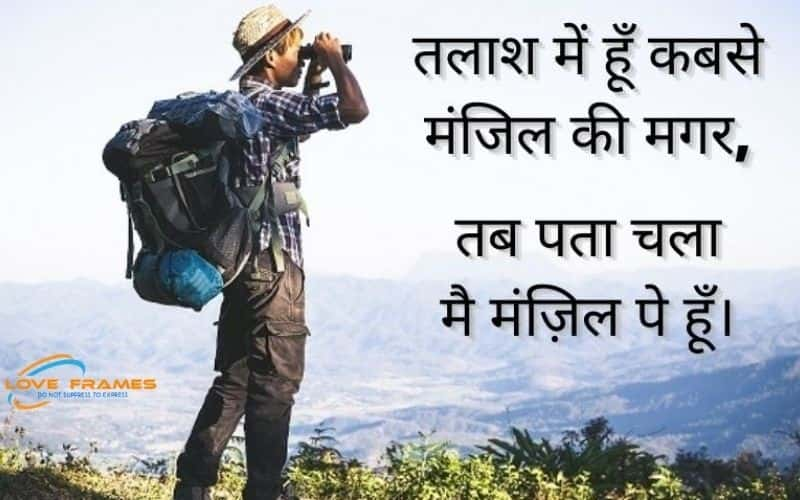 तलाश में हूँ कबसे मंजिल की मगर
तब पता चला मै मंज़िल पे हूँ।
Talash me hoon kabse manzil ki magar,
Tab pata chala mai manzil pe hun.
Explanation: We are all in search of happiness, there is so much of
happy moments in life which we never bothered. Our search for peace and
Happiness has always passed and passed in the journey of life
and we never noticed it.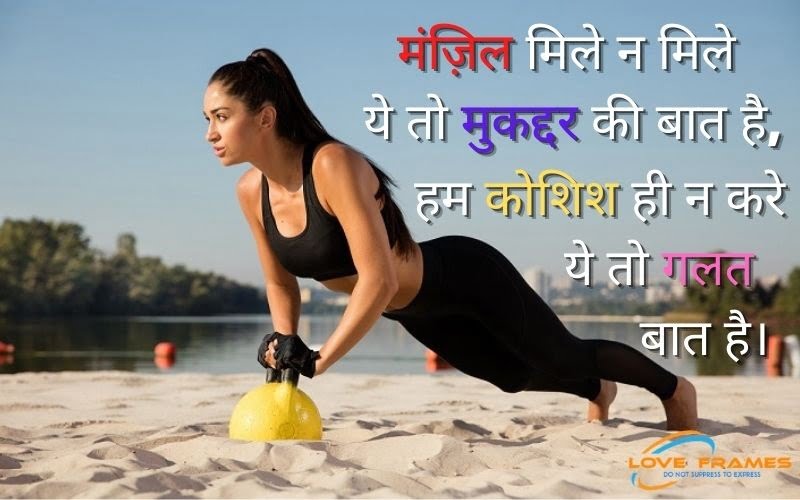 मंज़िल मिले न मिले ये तो मुकद्दर की बात है
हम कोशिश ही न करे ये तो गलत बात है।
Manzil mile naa mile ye mukkaddar ki baat hai,
Ham koshish hi na kare ye galat baat hai.
Explanation: Reaching and achieving decided goals in life may
be a part of destiny, but not trying to achieve goals
is also the wrong approach towards life.
Thought in Hindi for Students with Meaning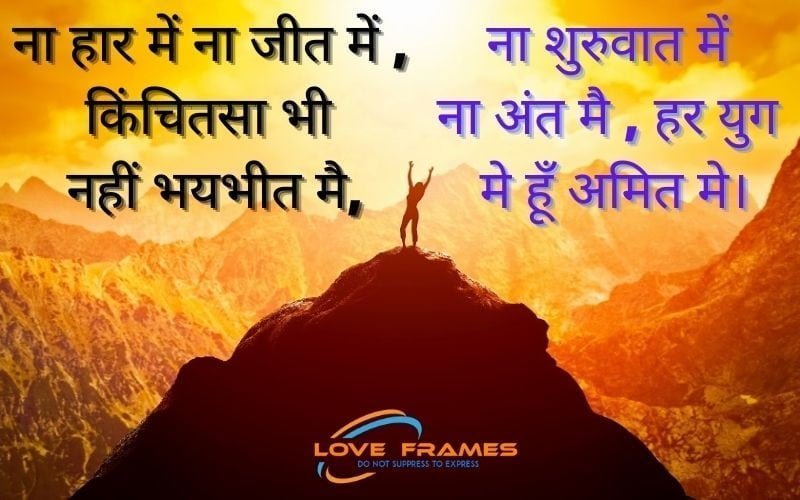 ना हार में ना जीत में , किंचितसा भी नहीं भयभीत मै,
ना शुरुवात में ना अंत मै , हर युग मे हूँ अमित मे।
Naa haar me naa jeet me, kinchitsabhi nahi bhaibit mai,
Naa shuruwat me na anta me, har yug me hun amit mai.
Explanation: I am not scared of anxiety of winning or losing.
Either at the start or at the end. I am blessed  to be in the
memories of my beloved once.
Hindi Suvichar with Explanation
Hindi thoughts for students with meaning.
"अपने जीवन को बदलने के लिए
आपको केवल एक व्यक्ति की आवश्यकता होती है,
वह है आप खुद। …
apne jeevan ko badalne ke liye
aap ko kewal ek vyakti ki avashkta hotihai,
vaha hai aap khud…
Explanation : You can not change your life with out your concent.
मेहनत
वो सुनहरी चाबी है
जो बंद भविष्य के दरवाजे भी खोल देती है
Mehenat Woh sunhari chabi hai
Jo bandh Bhavishya ke darwaje bhi khol deti hai
Explanation: Hard work is the golden key to open
all the impossible doors of the future.
अगर जीवन में कुछ पाना है,
तो अपने तरीके बदलो इरादे नहीं
Agar jeewan me kuch pana hai,
toh apne tarike badlo, irade nahi.
Explanation: If you are really chasing something in life,
then change the way you choose and not your desire.
बच्चे पढ़ते है और प्रेरित होते है. स्कूल, कॉलेज, और घरपर बच्चोंसे अधिक कार्य करवाने हेतु उन्हें नियमित रूपसे प्रेरित रखने के लिए प्रेरक खुराक बहुत महत्वा पूर्ण है। इस उम्रमे उनको प्राप्त वातावरण के अनुसार उनका व्यक्तित्वा विक्सित होता है।  इस ब्लॉग हेतु हम यहाँ ऐसे वाक्यांश देखेंगे जो उन्हें और उनके दोस्तों को साजा करनेमे लाभदायी रहेंगे। Hindi thoughts for students with meaning.
These daily thoughts in Hindi for students, rich with meaning and wisdom, serve as a guiding light for young minds. They remind us that knowledge is not confined to the boundaries of classrooms; it extends into the vast realm of life experiences.
Every day brings an opportunity to learn something new, to grow, and to aspire to become better versions of ourselves. By embracing the profound lessons these thoughts offer, students can navigate their academic journey and life's challenges with purpose and resilience.
May these thoughts continue to inspire, motivate, and nurture the intellectual and emotional growth of students as they forge their paths toward a brighter future.
आज का विचार हमें यह याद दिलाता है कि शिक्षा और ज्ञान हमारे जीवन के महत्वपूर्ण हिस्से हैं, और इनका उपयोग हमें सही दिशा में ले जाने में मदद करता है। यह हमें यह भी सिखाता है कि ज्ञान को सीखना केवल स्कूल या कॉलेज की पढ़ाई से ही सीमित नहीं किया जा सकता है, बल्कि हमें अपने जीवन के हर क्षण से सीखने का मौका मिलता है।
तो चाहे हम जो भी कर रहे हो, ज्ञान का सदैव साथ रखने का प्रयास करें और यह सोचते रहें कि हर दिन हमें कुछ नया सीखने का मौका मिलता है। इस प्रकार, ज्ञान और सीखने की प्रक्रिया हमारे जीवन को और भी महत्वपूर्ण और सार्थक बना सकती है।
RELATED:
Motivational Quotes For Students! Hindi Quotes! Inspirational 
Motivational Quotes for Students in Middle School
Inspiring Quotes for Students in College
Motivational Quotes for Students To Study and Grow
Motivational Quotes for Students in College to Focus on Career Path
Elon Musk Quotes For Students Education With Entrepreneurship
Motivational Quotes For Students To Study Hard To Excel
Welcome Quotes For Students In School! Quotes For Students
Motivational Quotes for Success for Students