This Too Shall Pass Quotes: The concept of "This Too Shall Pass" is a universal truth that transcends time and culture. This enduring wisdom encapsulates the idea that all things, both the highs and lows of life, are transient.
Throughout history, various individuals from diverse backgrounds have articulated this sentiment through their own unique perspectives. These "This Too Shall Pass" quotes serve as profound reminders of the impermanence of life's trials and triumphs. Offering solace and wisdom to those who find themselves navigating the ever-changing currents of existence.
In this exploration, we will delve into a collection of insightful quotes that illuminate the profound significance of this age-old adage, revealing the power it holds to inspire, motivate, and provide comfort in our daily lives.
This Too Shall Pass Quotes to Bounce Back in Tough Times
"This too shall pass." – Persian adage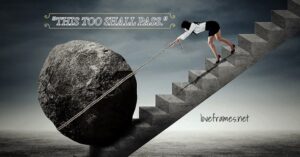 "Even the darkest night will end, and the sun will rise." – Victor Hugo
"The darkest hour is only sixty minutes." – Morris Mandel
"Pain is temporary. It may last a minute, or an hour, or a day, or a year, but eventually, it will subside, and something else will take its place." – Lance Armstrong
"When everything seems to be going against you, remember that the airplane takes off against the wind, not with it." – Henry Ford
"Tough times never last, but tough people do." – Robert H. Schuller
"Every adversity, every failure, every heartache carries with it the seed of an equal or greater benefit." – Napoleon Hill
"The pain of parting is nothing to the joy of meeting again." – Charles Dickens
"Out of difficulties grow miracles." – Jean de La Bruyère
"In the middle of every difficulty lies opportunity." – Albert Einstein
"There's an old saying, "This too shall pass, and change is good." – Joe Lando
"Life is short but it is wide. This too shall pass." – Rebecca Wells
This Time Will Also Pass Quotes
"See your hard times through the spectacles of your experiences. They, too, shall pass away."― Ogwo David Emenike
"We must accept finite disappointment, but we must never lose infinite hope."– Martin Luther King
"Problems are not stop signs, they are guidelines."– Robert Schuller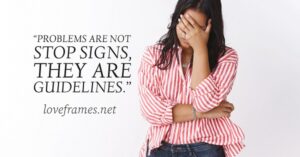 "The greatest glory in living lies not in never failing, but in rising every time we fail."– Nelson Mandela
"You're going to go through tough times – that's life. But I say, "Nothing happens to you, it happens to you." See the positive in negative events. " – Joel Osteen
"No matter how bad things are, you can always make things worse." –  Randy Pausch
"This Too Shall Pass Quotes To Fight Hard In Tough Times." – Loveframes
"That which does not kill us makes us stronger." – Friedrich Nietzsche
"This is the ending. Now, not only shall day be beloved, but night too shall be beautiful and blessed and all its fear pass away." – J. R. R. Tolkien
"We must embrace pain and burn it as fuel for our journey."– Kenji Miyazawa
"A problem is a chance for you to do your best."– Duke Ellington
"Don't dwell on what went wrong. Instead, focus on what to do next." – Denis Waitley
"Never give up, for that is just the place and situation that the tide will turn." – Harriet Beecher Stow
This Shall Pass Quotes
"Sometimes the tide is with us, and sometimes against. But we keep swimming either way." – Charlie Munger
"A problem is a chance for you to do your best." –  Duke Ellington
"Tough times never last, but tough people do." –  Robert H. Schuller
"RELATED: Jeff Bezos Quotes About Time To Work Hard To Change Time"
"Every adversity, every failure and every heartache carries with it the seed of an equivalent or a greater benefit." – Napoleon Hill
"Life's challenges are not supposed to paralyze you, they're supposed to help you discover who you are." – Bernice Johnson Reagon
"Our greatest glory is not in never falling, but in rising whenever we fall." – Confucius
This Shall Too Pass Quotes
"You're going to go through tough times – that's life. But I say, "Nothing happens to you, it happens for you.' See the positive in negative events." – Joel Osteen
"Tough times never last, but tough people do." – Robert H. Schuller