Kiara Advani Quotes: Kiara Advani is a professional name, her real name is Alia Advani. She is an Indian film actor who works in Hindi films, known professionally as Kiara. Her debut film is Fugly and later she also acted in Telugu films.
Kiara Advani quotes about her journey in the film industry and those are selected quotes for inspiration and to share on social media.
Kiara Advani Quotes about Her Journey
You have ups and downs in any field, but the wait will always be worth it if you love your job. – Kiara Advani.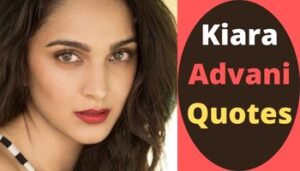 I am very excited for my special appearance in 'Kalank,' since it's a huge film and it's the first time I am doing something in the period space. – Kiara Advani
I just won't sing and dance in a film. But when you have a chance to star in an Abbas-Mustan film, why would anyone let it go? I have been lucky to do films which have been different from each other. – Kiara Advani
It is very touching that you are able to create some kind of impact through a character. –  Kiara Advani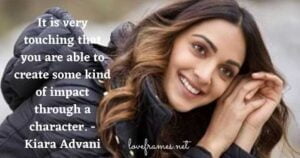 It is good to have healthy competition and be inspired by others, as all this helps you take up challenging roles. There are people who come from different backgrounds in this industry. In my case, my mom runs a play school, and Dad is into business. When I go home, conversation revolves around that and lot more topics other than cinema. – Kiara Advani
RELATED: Britney Spears Quotes About Love | Iconic Britney Spears Quotes
What I've realized is that I'm happiest when I'm at work, as I am always preparing myself for when the opportunity arises. – Kiara Advani.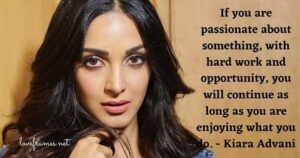 I was waiting for good films after 'Fugly' was released. My second film was important. I kept waiting, and the period strengthened me. I would rather wait and do something worthwhile than take up bad films. – Kiara Advani.
Kiara Quotes
My mom knew Salman sir as they grew up together in Bandra. He would often tell my mother Genievev Advani how one day he would be a star. They have been friends for the longest time and would go cycling together. – Kiara Advani
I don't stress about the outcome because I know the only thing I have control over is my own hard work. As long as I'm being honest about that and striving to be the best version of myself, I'm happy. – Kiara Advani.
RELATED: Kim Kardashian Inspirational Quotes To Feel Confident
I took part in plays in school and college, and that is when I realized this is what I wanted to do. My parents told me to finish my education and then do what interested me. This is what all parents say, and I am glad that I did that. I took mass media and advertising in under-graduation. – Kiara Advani
If you are passionate about something, with hard work and opportunity, you will continue as long as you are enjoying what you do. – Kiara Advani
'Machine' was one of the biggest decisions I have made in my life – it was the best narration till date. It is a typical Abbas-Mustan thriller. – Kiara Advani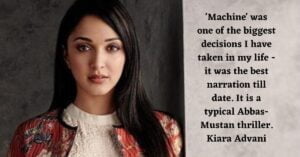 I love dancing and outdoor activities. I like going to the gym, trying different routines of fitness – kickboxing, martial arts. I try to do a bit of everything so I make it exciting for myself and so there are no shockers for my body. – Kiara Advani.
For me personally, fitness is more about a lifestyle. It's not just about looking good but also doing stunts. For me, it's a 360 degree approach – whether it's working out, the food we eat, sleeping on time, everything comes together to be fit. – Kiara Advani.
READ MORE: Famous Rocky Balboa Quotes | Rocky Balboa Quotes Life
I was born and brought up in South Mumbai. My father, Jagdeep, is a businessman and a Sindhi. My mother is half Brit and half Muslim. I am thus a cocktail of mixed blood. From the time I remember, I wanted to be an actress. – Kiara Advani
I just enjoy what I do – looking forward to going on a film set, being in front of the camera, interacting with many people. I'm fortunate to be living my dream. – Kiara Advani.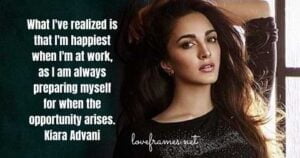 I studied at Cathedral School, where a lot of kids go abroad after Class XII. But I was clear that I wanted to be an actress, and thus, even though I got 92% in my board exams, I applied only to Jai Hind College for Mass Communication and got in and completed my graduation. – Kiara Advani
Kiara Advani Shayari in English
My first-ever meeting with Abbas-Mustan sir was for three-four hours! I haven't met anybody for so long, even those who I know well. – Kiara Advani
I think the most important thing in life is to be happy. If you're happy, it will show in everything that you do. – Kiara Advani
My dream is to get a role where I get to do a little bit of action. – Kiara Advani.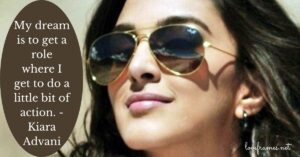 If my mother was taking pictures, I never wanted her to take the camera off me, ever. When I look at my videos from when I was even just two, I would be playing ballerina. – Kiara Advani
ALSO READ: Inspirational Taylor Swift Quotes To Take A Leap In Life
Sometimes, the fate of a film is not in your hands, and you can only take home some experiences and what you got to learn during the journey. – Kiara Advani
For me acting is passion, emotion, and creating the character and the whole world around the character. We enjoy all that. Sleeping on time, eating healthy, you are what your lifestyle is. –  Kiara Advani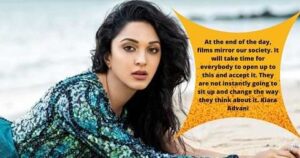 I think cinema is a reflection of society and whatever is being shown is because of the climate we're living in. It is relevant, topical, and surely somewhere it's impacting people who can relate to these circumstances. – Kiara Advani
People think it is such an easy life, and you just go get ready, and someone does your hair and make up, and all you have to do is say a few dialogs. But there is a lot more behind it. You get into a particular frame of mind to get into a scene; you have to get your emotions right. – Kiara Advani
RELATED: Robin Williams Quotes On Love, Life And Happiness
It's great that we have commercial filmmakers who make family films and understand esthetics well, taking this route. They know how to bring the emotions out there without being vulgar. After all, it's a natural instinct. – Kiara Advani
At the end of the day, films mirror our society. It will take time for everybody to open up to this and accept it. They are not instantly going to sit up and change the way they think about it. – Kiara Advani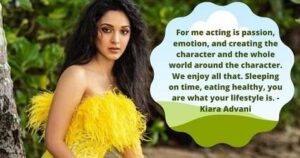 When I started with 'Fugly', I was excited that I was playing a raw and edgy character in the film. After I nailed the audition, I realized that the role wasn't something I was comfortable with. – Kiara Advani
I signed my first film soon after I graduated from college. So, my real struggle started after my first film didn't do too well. But I believe failure only makes you stronger. Kiara Advani.
Kiara Advani Dialogue From Kabir Singh
Life mein paida hona, pyaar karna aur mar jaana… Yeh 10% moments sabse important hote hain… Baaki 90% are just reactions to them.
I'm not a rebel without a cause, Sir…nor a murderer with a hand-blade; This is me.
When a woman is in love, her priorities change!
It's not the goodbye that hurts, but the flashbacks that follow.
Suffering is personal. Let him suffer.
Kabir Singh Dialogues in Hindi
Main chup nahi reh sakta, chup rehna ek aadat ban jati hai, jo field pe hi nahi, life mein bhi.
Khusrau darya prem ka, Ulti wa ki dhaar, Jo utra so doob gaya, Jo dooba so paar.
Tere liye kuch bhi kar sakta hoon Preeti…Agar tujme bhi mere liye waisa pagalpan hai na toh call me otherwise you know me.
Darya ka Paani, Lehren… Shor hai ya Shanti? Jisse shor lage usne kabhi pyaar kiya hi nahi…Or jinhe ye khamooshi choo jaye unhe Waqt, Halat, Pareshani juda kar sakti hai par alag nahi?
Kaisa chhichhora hai bey…Daily daily naada dheela hota jaa raha hai kya…
Kiara Advani's journey in the entertainment industry has been a successful one. Starting her career in the South Indian film industry, she made her Bollywood debut in 2014 and has since appeared in several critically acclaimed and commercially successful films.
Advani has established herself as one of the leading actresses in the industry and has also received several awards and nominations for her performances. With her talent and dedication, Kiara Advani's career continues to flourish and she is sure to be a prominent figure in the Indian entertainment industry for years to come.
Read Also