Message for Student Teacher Leaving: Class has just ended, so it's time to say goodbye to all of your amazing students! It's been such an honor to have had the opportunity to be your teacher and I wish you all the best in your future studies and endeavors!
Thank you again for being such a great class! You've definitely made my year as an educator very memorable. Here's to another semester of learning, growing, and making mistakes (and learning from them)! Good luck, everyone! You all deserve the best!
Here are the quotes to enjoy the farewell messages from teachers for students.
Message for Student Teacher Leaving
As the final bell of this school year rings, it's time to say goodbye to the children who are moving on to the next stage of their lives. As your teacher, I want to thank you for all that you've done and all that you've learned these past few months, and I hope that you'll take what you've learned here and use it throughout your life. The world isn't going to wait around while you catch up, so get out there and make something of yourself! Good luck to each of you in your future endeavors.
Go to this strength of dedication and do the impossible. All the best.
May you have a shining future ahead. Congratulations on your farewell.
My dear students, I was happy to have talented students like you all. Happy farewell.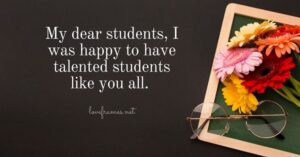 I will always pray for your bright future. Please continue to make me proud.
It's always hard to say goodbye. Wishing you the best for your future.
Wishing you the very best for all the new endeavors that life has in store for you.
Congratulations on your farewell. Always try to be a better version of yourself.
Grades are important but not everything. Keep that in mind. Goodbye.
Never get upset with a failure. It's just a new beginning of another journey.
Set up your goals always high and work hard to achieve them. You can do it.
Goodbye Message to Students from Teacher
All the best to you dear students as you move on to the next chapter of your life. God bless you all.
Good luck to you in this next level of adventure and dreams. I wish you all the best in life. Congratulations!
You are the best thing that ever happened to me. My joy is that you succeed in every aspect of life. I love you.
Happy farewell dear students. Wishing you all the very best for the future. May you all be successful and happy in life.
May you have a successful career ahead. Thank you for all the wonderful moments that you blessed us with.
It's been a remarkable journey with you all. All my efforts were only to bring out the hidden geniuses in you.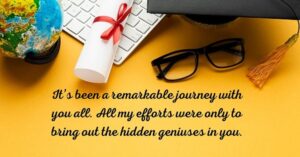 My thoughts and ideas flourish daily. All this is in response to your love for knowledge over the years. I will always cherish you.
The things you have learned so far will always guide you towards a bright tomorrow. All will always remember you.
Education does not stop you from making mistakes but it inspires you to take lessons from your mistakes.
You have been so courageous and consistent in every area of your life. Wishing you the best in life. I love you all so much, dear student.
Each of you has the potential to become the leaders of your working spheres. I wish you a bright future and a prosperous life.
Read More: Teacher Quotes for Students
Short Farewell Message for Students from Teacher
Happy farewell, dear students. May you all succeed in whatever you do in the future.
Wishing you great success. Keep up the good work and never stop aspiring to be the best in life.
Congratulations on your farewell! Always remember my teachings and try to be a good human being.
Make new friends, but do not forget the old ones who always love you. Wishing you all the blessings of life.
Your journey with this organization may stop here, but it is the beginning of another successful part of your life.
As your teacher, I will really miss the memories that we have shared together in this institution. Congratulations to you.
I pray that you will achieve a lot of success in your future career and may all your dreams come true.
Farewell to the most amazing class ever. This institute will always miss you so dearly. May you be victorious in all spheres of your life.
As another important phase of your life starts now, never allow academic excellence to be the thing of the past. All the best dear students!
I am happy that I met amazing, dutiful and good individuals like you. I hope that your paths will be imprinted on the paths of legend. Goodbye.
Your academic life may have ended but always remember that learning is a never-ending process. My heartfelt good wishes to all of you. Farewell.
Wisdom is the most precious gift you can ever have. Always desire to grow in wisdom because it will never leave your side.
Teacher Message to Students at End of Year
As students, you have strived well to be excellent in your studies, and you have shown again and again that nothing is impossible when there is dedication.
Be rest assured that I will be here for you whenever you need me. May you always find the wisdom to achieve your dreams and set goals in life. Congrats!
May new opportunities be open to you wherever you go to accommodate more success as you have always been a successful student in our school. Adios!
I wish you the very best for your next level of academic achievement. May you find happiness in your next future studies.
May you continue to be relevant as you have always been with us in this school and achieve greater heights in your future education. Good luck, dear student.
I had so much fun being your teacher, mentor and also as your second family. All the best for your brightest future. Lots of love!
Dear students, you have shown remarkable academic performance and achievements at different levels in this school. Thank you all for making us proud.
You have motivated me to invest in you and I am happy to see how much my investment has made you successful. I love you! Goodbye.
I will always be with you every step of the way because my heart is keen with your growth and success. Be rest assured that I will always wish you the best. Goodbye.
The moments we spent together will be missed. But today I'm happy because I can see the confidence in your eyes and the determination in your faces. Good luck with the future.
You are loyal and the most dedicated student of them all. Besides, it's easy to mentor you on other important things in life. Thank you for being part of me, dear student. God bless you.
Also Read: Quotes for Students
Message for a Student Leaving School
May every step you take be ushered you into greatness. Good luck to you.
May your place be with the great and successful be with you always. Wishing you the very best in life.
Don't give up on life challenges, always try harder to get the best in life. All the best.
I will continue to remember those sweet moments. Lots of love dear students!
Dear students, this is just to say goodbye, but you will always remain special to me as you start the bright future ahead of you. God bless!
I will keep those great memories we spent together forever. May your future journey be smoother and full of happiness. Cheers!
I am so lucky to have such fun loving students that made me happy surrounding during the class hours. Thank you all. I love you. Warmest wishes!
I will always miss you, dear students, because I know you all are the finest ones I have ever met. Wishing you a great journey to the future ahead.
A graduate with a positive attitude is more valuable than a graduate with good grades. Harvest 7 foster positivity in all spheres of your life. Farewell.
Set your goals high and always dream big. Because you're only as big as the dreams you dare to live.
Goodbye Message for Student Teacher
Graduating from our school today is all for the betterment of your future studies, but we will miss your presence in this school. Farewell, dear student!
The best thing about schools is that they teach you to think outside the box. No problem in life is big enough as long as you have that ability. Farewell.
You have gained all the knowledge, skills and wisdom you need in life. From now on, it's all about continuous self-improvement. Happy Farewell.
Don't be frustrated if you have a poor grade. You can always compensate for a poor grade with sincerity and hard work. All the best wishes to you.
The dedication you showed throughout your student life is unimaginable. There is no doubt that this dedication will take you to a new height in life. Farewell.
School is an essential part of life and I am happy you have allowed it to have the impact that is needed in your lives. May you all achieve success with your future studies.
I am proud to have taught the leaders of tomorrow and I am certain that you will put all you have been taught to practice. I believe you, I love you and I will miss you all.
I would love to be your teacher again and again. I am privileged to have tutored intelligent and brilliant students like you. I love you and I wish you the best in your endeavor.
I welcome you to the world of success you have always wished for. I am happy to know you will make your dreams come to reality. I wish you success in all areas of your life. Goodbye.
It was not the chairs, desks, whiteboard, and books that made my class interesting. Your presence made a difference. I love you and wish you the best in life.
Message to Students During Farewell/Leaving
God's favor is with you now and always. May you shine like a star dear student. Wishing you good luck.
If you can think it, you can achieve it. Best wishes for your bright future. Lots of love!
May you do amazing things in life and come out with flying colors as you move on to the next stage of your life. All the best.
Thank you for being there for us in this college. I wish you a great life ahead with lots of fun and opportunities. Blessings!
The future is good and colorful. cherish it, strive for it and dear student, I encourage you to always be goal-getter. Good luck to you.
My heart is filled with joy at the good news of your graduation from our school. Best of luck to you dear student.
Dear students, it is time to say goodbye. I wish you the best in life. Remain happy and purposeful. I will hold on to your memories forever. I love you all.
Always keep up the dedication and sincerity. We all believe that you have the ability to become great. Wishing you the very best for the future.
Dear students, Always desire to grow in wisdom. It will guide and direct your decisions in life. Remember, my heart will not fail to wish you well.
Teachers Message to Students at the End of The Year
It hurts to say goodbye but I have to say goodbye to you today! I know you are going out to do exploits and make your teacher proud. I'll miss you all.
Be strong as you strive for great success in life, the challenges you face in your way to success is nothing compared to the joy it brings. Good luck to you.
Life is not a bed of roses, but neither are you a naïve. You are wise, skillful and sophisticated enough to handle the hurdles of life, thanks to all these years of schooling. Happy farewell.
Anchor for the mind is what it carries. Let me tell you that you've learned what will strengthen your future while with me. No doubt you will do well in life. Congratulations!
May you not lack in receiving wisdom even as you give so much to learning. You deserve to reap much more in the future ahead of you. Farewell, dear student.
You are the motivation for the inter-house school game and debate. More importantly, you are an integral part of the success our school has experienced thus far. We love you!
Moving on to a new sphere of career and dreams can be a challenging process but you will surely turn out well. I wish you the best of luck in all of your future endeavors.
Farewell Message to Students
Knowing the journey is laced with challenges to bring you down, I am certain that you will bravely face all challenges until success becomes your name. Goodbye!
This is the beginning of your success. I will always pray that it will not be the last but the beginning because your success is my joy and pride for being your teacher. Goodbye.
Don't forget the 2 D's 'diligence and dedication'. It is your key to attaining success in every step of your life. I will be glad to hear about your success and impact. Goodbye!
My heart was always filled with happiness every time I saw you grow. You've carved a special place in my heart and I promise to always pray for your success. I love you! Goodbye.
As you move higher in the next stage of your life, don't forget to always aim for the best. My greatest joy is to hear the news about your success in the years to come. I love you.
May you continue to be happy and prosperous as you move to the next phase of your life. You have been wonderful to me. Thanks for being part of my experience. I love you.
The time has come to prove to the world that you are a genius. This is one quality that will help make a change in your next phase of life. I love you and wish you a blissful farewell.
I am very glad to see how mature you have become and I am certain that you will make the best use of all you have been taught. I will miss you all. Farewell.
School Leavers Messages from Teachers
"As you step beyond these school walls, remember that your potential knows no limits. Go forth with confidence and chase your dreams."
"It's been a pleasure to witness your growth and achievements. Your resilience and hard work will surely pave the way for a bright future."
"As you leave our halls, carry with you the values and knowledge you've gained. May your journey ahead be filled with success and meaningful experiences."
"Leaving school marks the beginning of a new chapter. Embrace every opportunity, learn from challenges, and continue to shine as you always have."
"You've shown determination and dedication throughout your time here. Carry those qualities forward and continue to make us proud."
"Education is a lifelong journey, and while this chapter ends, the story of your learning is far from over. Keep seeking knowledge and reaching for excellence."
"You're not just our students; you're like family. Remember that our doors are always open, and your achievements will forever bring smiles to our faces."
"Your potential is like a flame that can illuminate the world. Let your passions guide you, and may your future be as brilliant as the impact you've had here."
"The world is waiting for your unique talents and contributions. Always believe in yourself, and never underestimate the positive influence you can bring."
"Leaving school is bittersweet, but the memories and friendships you've made will last a lifetime. Keep growing, keep learning, and keep making a difference."
Teacher Saying Goodbye to Students Quotes
"How lucky I am to have something that makes saying goodbye so hard." – A.A. Milne
"Don't cry because it's over, smile because it happened." – Dr. Seuss
"The beautiful thing about learning is that no one can take it away from you." – B.B. King
"The greatest gift you can give someone is the gift of inspiration." – Cornel West
"Goodbyes are not forever, are not the end; it simply means I'll miss you until we meet again." – Unknown
"Education is the most powerful weapon which you can use to change the world." – Nelson Mandela
"The future belongs to those who believe in the beauty of their dreams." – Eleanor Roosevelt
"You have brains in your head. You have feet in your shoes. You can steer yourself in any direction you choose." – Dr. Seuss
"The roots of education are bitter, but the fruit is sweet." – Aristotle
"You are capable of more than you know. Choose a path that reflects your passion, and success will surely follow." – Unknown
Every year, teachers across the country say farewell to their students as they start a new school year. The Back to School season makes it easy to get nostalgic and sentimental.
But that doesn't mean you have to leave your students behind when they move on! With the right message of thanks and encouragement, you can still keep in touch with former students long after they've graduated and entered the workforce.
Inspiring quotes for students in College