Good Morning Romantic Messages: Early in the morning is the best moment to send a sweet loving message to your special one, to wish for a great day ahead. To show how much that person means to you in your life? Imagine a sweet smile on her/his face is going to last throughout the day. They will be thinking of you the entire day, thanking god for having such a loving partner in their life.
Here are some beautiful good morning romantic quotes to share with your loved one to make her/his day a remarkable one. Just select the best and shoot it to see the miracle happen.
Good Morning Romantic Messages
It's such a miracle that I found you. From the time we met, you brought so many wonderful things into my life which I will never forget, always remember it and be grateful for this forever. I dreamt of you all night long and couldn't wait for dawn to come to say how much I love you. I would like to share this delightful moment of this beautiful dawn with you as well as my whole lifetime.
Honey, nothing is impossible for me to achieve with you by my side. Good morning.
Waking up next to you is all I need to have a wonderful day. Good morning, my love.
Last night, a blizzard formed, keeping Spring at bay for yet another day. Thanks to your love, however, flowers have already begun to bloom in my heart.
The perfect morning for me is waking up on the beach next to you and watching your eyes sparkle like an infinite ocean on a starry night.
A beautiful world awaits. Wake up and greet yet another magnificent day.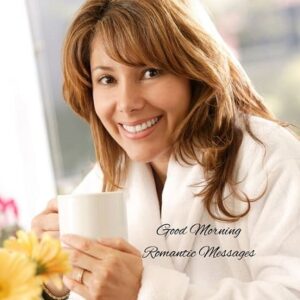 Every minute I hold you in my arms is a moment I treasure. The coffee is brewing but I don't want to let go.
The purity and sincerity of your love helped me navigate through troubled waters. I thank God each morning for having you in my life.
Want to start the day out right? Then, roll over beautifully and give me a kiss.
My beloved, there are billions of stars in the universe, but none compare to your splendor. Hope your day is as beautiful as yours!
Nothing is as beautiful as seeing your face without all the war paint on it. You are naturally beautiful inside and out. Have a wonderful day, sweetheart!
I love the way I live my life simply because you are in it. It's yet another beautiful morning filled with my undying love for you. Take care of yourself for me, please. Good morning my love!
All my thoughts feel empty without you being a part. My days are gloomy without your presence. It happens every now and then, but I hope an end finally comes to it today. Good morning dear, I love you.
Good Morning Romantic Messages for Him
Every time this new day greets us with sunshine, sometimes with black clouds. The sky can be clear and cloudy, but for me only one thing is clear and sure in this constantly changing world that you are my love, my life, my paradise. I will always be by your side and drive away all sorrows!
Kiss me beautiful, morning breath and all!
Good morning. I need you more than a cup of coffee.
I may not be a morning person, but I love waking up next to you.
I am so lucky and blessed: you are the first thing on my mind every day! Have a great day!
Your day will go how you decide it will go. It's all up to you! If you want a good day, decide you will have a good day.
Seeing your face in the morning is like a second rising of the sun. Good morning, sweetheart.
When I woke up and saw your face, I thought that I was still dreaming about a visitation from an angel.
The best dream my mind could conjure up is still not equal to waking up in your arms. Have a beautiful day, my love.
As the sun rises every morning to brighten our days, may each morning of my life also be blessed with your presence.
Good Morning Romantic Messages for Her
Honey, you're one of my biggest sources of motivation. Thank you for giving me the inspiration I need to make the most of every blessed day. Good morning.
No matter how bad things are, I'll never feel sad because I have you by my side, honey. Good morning.
And you'll always be mine forever, whether I am asleep or I'm awake. Good morning romantic quotes for her, my love!
You make me feel alive, sugar. I'm so grateful to you. Good morning and have a wonderful day.
I love the way the sun illuminates the room each morning, filling it with warmth and showcasing your beauty in the most mesmerizing way.
Good morning, beautiful. Your beauty took my breath away, but your care and kindness stole my heart.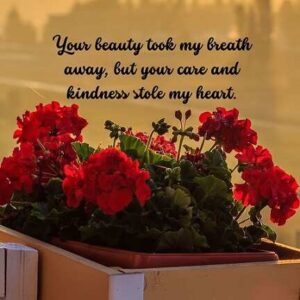 Hello Sunshine! I can't imagine starting my day without you. Let's always wake up together….k?
I wish to hug you and to be now by your side, to tell you how much I love you and give you a sweet kiss. Good morning my precious and only one.
You give me courage in gloomy days. You shine your light on me even in my dark ways, In every situation of life, your courage will be my take
You're so adorable all of the time but especially in the morning. Maybe it's the light or the sleepies in my eyes. Just kidding, you are perfect, even with 20/20 vision!
Good Morning Romantic Messages for Wife
I have finally found you, my love. Just take my hand and we will walk through our new road. Good morning my sunshine.
Every morning I look through the window – the world is so big and exciting and life is so charming and mutable.
To wake up near you in a morning and make a cup of coffee for you, to say good morning with kisses. It's all what I am dreaming about.
My sweetheart, I can't stop thinking about you and never get tired of this. All my life is not enough to express my feelings for you. Good morning my one and only.
You know, there is a little dream of mine to delight you with a tasty breakfast on Sunday morning. That's why I'm learning how to cook these days. I do it for you, sugar. Good morning romantic love message for wife!
No matter how well I slept at night and what wonderful dreams I had, I like to wake up every morning and realize that the reality I live in is much better. Because you are part of this reality, it's the best part. Good morning, darling.
I hope your morning is nice like your smile, and a day is full of joy as I feel myself being with you. Good morning my love, have the most of the day.
Good Morning Romantic Messages for Lovers
Thoughts of you overwhelm my dreams every night, and your beauty overwhelms my senses each morning when holding you in my arms.
Open your eyes and say hello to the wonderful world. It's your oyster, so dig in and find some pearls!
There were billions of stars shining last night. Guess what – our love will outlive all of them!
My special girl, your smile is the only inspiration I need to tackle the day. Thank you for more than you know!
I would run through fire and ice each day to watch every sunset and sunrise with you. The sunrise this morning is especially beautiful, just like you.
Let today be filled with unbelievable emotions and unforgettable memories.
Nothing compares to mornings with you. I love waking up to the sound of your voice, feeling you in my arms, so closely. May this morning bring you peace and harmony. Can't wait to see you, love.
Every time I wake up I feel an incredible urge to live fully. I feel like I'm able to move mountains and conquer space. I've never felt like this before.
Good Morning Romantic Messages for Love
Good Morning Princess, I hope your day goes as beautiful as you are! Love, Your Dashingly Handsome Prince.
Good morning. I hope you delight in the fact that we can conquer all our problems together.
Your shiny beautiful eyes are brighter than the morning sun. Your soft and smooth skin is so tender that I can't stop kissing it. You are so handsome, courageous and reliable that I can't help falling in love with you over and over again. Good morning Mr. Perfect! Sending you lots of kisses.
Good morning, my guiding star! Without you, I would have been lost in the darkness of the universe.
The best thing about waking up every morning is knowing that I have someone like you in my life. Good morning.
Good morning my love. All night did I wait, to tell you this moment you are my destiny, my fate.
All my mornings were nothing really special until we met. Since then for me it's one of the most beautiful times of the day. Good morning my love.
I hope that you are having the best morning ever. You deserve it so much, and I promise to do anything for you to have it. I love you, have a nice day.
Good morning my dear, the birds are singing, the sun is shining, and the world is right because you are awake.
Good morning my fabulous, I'm sending many warm kisses to you, and I wish you to take only the best of this beautiful day.
Good morning sweetheart. Leaving bed has become the hardest thing for me, mainly because I get to leave the woman of my dreams.
Good morning to the best decision I ever made. Have a good day!
Sleeping Beauty and you woke me with a gentle kiss, just like the prince from fairytale. You know, this part suits you admirably, darling, because you give my life love and magic. Good morning, my knight!
Good Morning Romantic Messages for Girlfriend
The secret to good morning is you. You're shining brighter than the Sun; your voice is music to my ears. I want to spend every minute of my life with you. Have the best morning, baby.
I've made a reconciliation that I want nobody else but you. I'm so in love with you and I hope you know that I want to stay with you and kiss you Good Morning for the rest of my life. I love you, baby!.
All my nights and days are filled with the wonders of your love. A lovely morning to you and thanks for being that special and wonderful woman in my life.
Nothing could be better than waking up next to you, the woman I love.
As the cool morning breeze blows you and opens those beautiful eyes of yours, let my unblemished love put a soothing smile on your pretty face. Good morning darling.
Every morning I thank the world for giving you to me. You are my sweetest addiction, I can't live without you.
Every time I wake up in the morning and look at you I think that I'm the luckiest man alive.
Good morning baby, I hope you slept like a queen that you are. Have a great day, I love you lots.
Good morning baby, may you have a hugs-and-kisses kind of day.
Good morning Beautiful. So many of my smiles start because of you. Good Morning have a great day!
The morning air is so fresh and enjoyable, but it still can't compare to the smell of your hair and skin. I'd just give anything to breathe your sweet scent right now. You are the air I breathe, baby, and I'll never get enough. Good morning and have a fantastic day!
Good Morning Romantic Messages for My Wife
The light that shines from you is more vital to me than the sunlight in the morning. Rise and shine my beautiful queen.
The morning breeze on my face makes me think of you. The sun on my skin makes me think of you. Even the birds singing their beautiful songs make me think of you.
It's such a great feeling to wake up near you my love, to see your beautiful face, sweet lips. I wish to kiss you every morning and all my life. Good morning my sweetie.
Rise and shine, baby! The sun is up, a new day is here, and we've got a lot to do. May your morning be filled with good vibes and amazing food. Can't wait to meet you and tell you how much I love you.
Are you saying that I have to make breakfast myself? That's why I hate waking up without you. Can't wait to see you and steal you and lock you in my house so you can never leave me. Good morning, baby!
Today I woke up feeling grateful for having you in my life, and I just wanted to tell you that. I wish you were here with me. May today's morning be filled with peace and harmony. Have a great day, love!
Good morning, baby! I hope you slept well. Do you remember any of your dreams? I would very much like to know what's going on in that pretty head of yours. See you soon, have a wonderful day!
Good Morning Romantic Messages for My Lover
I really love sunrises. They remind me of you. The morning sky with its fuzzy golden and pink clouds is as beautiful and inspiring as you are.
I can't believe I'm still falling for you. This feeling has no boundaries. You're giving me so much without even knowing. I love you more than anything in the world; if I can make your day better – just text me, and I'll do anything for you. Good morning, baby.
Hi, baby! It's a beautiful morning, and I hope that you're enjoying every second of it. May your day be full of pleasant surprises and happy moments. I love you more than you can imagine!
It's so hard to start my day without you. Even my favorite coffee doesn't taste good if it wasn't made by you. I miss you so much, and I love you even more. Have a blessed day and take care of yourself.
I know it's pretty early, but I just wanted to wish you a wonderful day. You're the most amazing human being on Earth, and this world is ready for you to come and conquer it.
This message is from me to you. A sweet message for a sweet person from a sweet lover for a sweet reason at a sweet time on a sweet day in a sweet mood just to say good morning with a wonderful smile! I love you so much. Good morning my love.
Your love is something that keeps me up at night. That's why I'm always so sleepy whether it is day or night.
Stars in the sky have already faded, but my love for you, sugar, will never go out. Every morning it flames up even brighter than the sun can shine. I'm so happy we are together. Hope you slept well and are ready to have an exciting day. Good morning, my dear!
The sun has already woken and now is shining bright. Every time it shines for you. It's time to wake up, my princess. An incredible day is waiting for you! Catch my kisses.This morning I woke up with the feeling that I'm the luckiest girl in the Universe because I'm in love with the best guy ever. I can't even find the right words to express my love, so I'd better send you lots of warm kisses. Good morning, handsome!
Good Morning Romantic Messages for My Love
Though we are miles apart, we are not far apart in heart. As you wake up to this wonderful morning, I just want to let you know that there is someone on the other side of the horizon who truly cares so much about you. Good morning my love and have a great day!
The reason for my happiness is your love and care, and I hope you are feeling the same way as me. I wish that these feelings never disappear, I wish our love lasts forever. Good morning my love.
My dear, your love and support makes my life complete and I can't imagine how it's possible to live without you. I will do my best to give you all the best that I can and never let you down. Love you and have a great morning and day ahead.You came into my life and lit it up just like rays of the sun, making it so beautiful and colorful like a rainbow after the rain. Have a nice morning and a wonderful day ahead my sunshine.
In conclusion, sending a romantic good morning message to your loved one is a small yet significant way to show them how much they mean to you. It sets the tone for a positive and loving day ahead and lets them know they are thought of and loved. Whether it's a sweet and simple text, a heartfelt quote or a cute meme, a romantic good morning message is sure to bring a smile to your loved one's face and start their day with love.
Read More
First Kiss Quotes to Remember the Romantic Journey of Your Life
Heart Touching Good Morning Love Quotes
Inspirational Good Morning Quotes with Beautiful Flowers
Good Morning Quotes to Girlfriend
Heart Touching Good Morning Love Message for Her
Romantic Good Morning Message to Make Her Fall in Love
Lovely Good Morning Quote for Her to make Her Feel Special