Sweet love you message for him: In a relationship we may end up giving too much importance to fancy vacations and expensive outings. But the reality is the big happiness lies in the small things. There are several ways to show affection to your loved one, apart from giving expensive gifts and grand displays of love. There may be some reasons why you could not express your feelings.
If you are new in a relationship, then you may hesitate to impress your partner with fabulous words. And 2. If you have been in a relationship for long time, then you may have taken the relationship for granted.
Take time to show your base how much you adore him to keep healthy and happy relations. Give him your undivided attention whenever he is talking to you. Clear your mind of all the obstacles, keep away your gadgets like mobile and laptop and concentrate on the talk. Give him the same attention you were giving him when you started dating.
You may have extraordinary multitasking qualities in you, please use your talent at your work place, there it is needed more. Whenever you are talking to him give him undivided attention.
You may use heart touching messages to make him happy, but words without feelings are just like food without salt.
Sweet Love You Message for Him
I love you more than the stars in the night; even every day we fight, my love will never change, even slightly. I just love you; I simply do.
Each time I make a wish, I wish for us to be together forever. I know it will come true because you already live in my heart. I love you.
You always give me a million little reasons to smile. I have never had anyone in my life who was as amazing as you. I love you!
When I look into your eyes, I see a world full of love and affection. I want to be lost in your eyes and find myself again in a new world. I love you!
You are perfect, but it is your imperfections that make me love you more and more every day.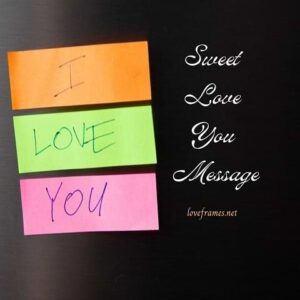 You are not only my lover. You are my love doctor of mental health. Your love is the best medicine that keeps me going on, and I cannot love you enough for that.
The love you have in your heart for me is the truest and purest form of affection, and I seek madly for it.
If I were given all the time to live from the big bang to the big crunch, I would spend the entire time loving you.
It's hard to find someone willing to stay with you in every up and down of your life. I feel blessed to have you in my life because I know no matter what happens, you will never stop loving me!
Love can never be measured. It can only be felt. I don't want anything else as long as your love is with me!
Even if the stars fail to shine and the moon refuses to light up the world, I know I have nothing to fear. I have my guardian angel to look after me, care for me and love me forever and always. I love you!
My love for you is always growing stronger and I'm slowly losing myself deeper into it.
Sweet Loving You Message for Him from the Heart
Love is so short, forgetting is so long. – Pablo Neruda
I wish I knew how to quit you. – Brokeback Mountain
Loved you yesterday, love you still, always have, always will. – Elaine Davis
I need you like a heart needs a beat. — One Republic
When I look into your eyes, I know I have found the mirror of my soul. — Joey W. Hill
Pleasure of love lasts but a moment. The pain of love lasts a lifetime. – Bette Davis
Since I can't be with you right now I will have to be content just dreaming about when we will be together again. – Susan Polis Schutz
Some people are going to leave, but that's not the end of your story. That's the end of their part in your story. – Faraaz Kazi
You can't buy love, but you can pay heavily for it. – Henny Youngman
You can close your eyes to things you don't want to see, but you can't close your heart to things you don't want to feel. – Johnny Depp
Part of me aches at the thought of her being so close yet so untouchable. – Nicholas Sparks
It's amazing how someone can break your heart and you can still love them with all the little pieces. – Ella Harper
Sweet Love Message
Love is being stupid together. – Paul Valéry
You had me at hello. – Jerry Maguire
My heart is and always will be yours. – Jane Austen
Morning without you is a dwindled dawn. — Emily Dickinson
I am in you and you in me, mutual in divine love. – William Blake
It was love at first sight, at last sight, at ever and ever sight. ― Vladimir Nabokov
Your love shines in my heart as the sun that shines upon the earth. – Eleanor Di Guillo
I would rather share one lifetime with you than face all the ages of this world alone. – J.R.R Tolkien
Each day I love you more, today more than yesterday and less than tomorrow. – Rosemonde Gerard
I don't wanna close my eyes, I don't wanna fall asleep, cuz I'd miss you babe and I don't wanna miss a thing. – Aerosmith
If I had to choose between breathing and loving you I would use my last breath to tell you I love you. – DeAnna Anderson
Absence is to love as wind is to fire; it extinguishes the small and kindles the great. — Roger de Bussy-Rabutin
Your absence has not taught me how to be alone; it has merely shown me that when together we cast a single shadow on the wall. — Doug Fetherling
Sweet Love You Message for Her
I love you more each and every day.
I just wanted to let you know I'm thinking of you! Love you lots!
I wish I was there with you! Sending my love!
Missing you lots and looking forward to seeing you soon!
Just another reminder of how much I love you! Have a great day!
Something made me think of you today. Now I can't stop thinking of you.
I'm so lucky to have you in my life, and I'm counting the days/hours until I can see you again!
I wanted to send a friendly reminder that you're the best thing in my life. Thank you for being you.
Sweet Love Message for My Wife
You're half a part of my heart and my life you are one who will do anything, and you do care for me too, love you, honey!
I have to thank you, although I have a lot of reasons to complain about you!
They say that you only live one life, but I live it every morning when I wake up by your side.
You are perfect even with all of your imperfections. You are amazing, even at times when you are annoying. I love you for everything!
I find peace when I am with you. I want nothing more than you and nothing less than you!
Every moment with you is a blessing. You are the strongest and kindest soul I have ever met and I am lucky to have you as my companion.
I don't think I will ever be able to thank God enough for sending you into my life and blessing me. Thank you for being the best! I love you.
Through thick and thin, we have been together. May God bless our bond and keep us safe. I will love you for a thousand years more, husband.
Every single day that I spend being your wife, I realize how blessed I am to live a beautiful life. I love you.
Every time I look at myself, I smile at you and think,'I could not have done better'. You're perfect the way. I love you, honey.
Sweet Love Message Her
I love you so much that you and I'd have married though I had to kiss your frog variation.
I love you, my hubby, your kisses make me feel the happiest woman on Earth; there isn't anything else but me and you, once I'm in your arms.
Every single day that I spend being your wife and mother of our children, I realize how blessed I am to live an exciting life all because I have you. I love you, honey.
The things you do for our family and me melts my heart and makes me realize how lucky I have you by my side forever. Stay with me always, dear husband.
You captured my soul with your unconditional love for me. I wish to make you feel just as much love as you always make me feel!
In this life, God has blessed me with many things, but the best one is obviously you, my dear husband.
If my life were a boat, you would be the anchor that holds me in place and the sails that take me. I love you.
All the guys in this world should learn a thing or two about being a husband from you. I love you, sweetie.
I am happy to be your partner for the rest of our lives: thank you for making me happy every day of my life.
It matters as we finish the day with a hug and kiss that is intimate. I love you.
The Best and Sweetest Love Message
I wanted to be with you, my love. You hug your kiss and your smile is what I die for!
It's not true that love doesn't have boundaries. In actuality, my love for you has generated limits in your heart that no one else could come in. I love you.
You can kiss me a million times each day and every one of them would feel like the first kiss I ever had in my life.
Even your smile can shine brighter than a thousand sun. You light up my life in every conceivable manner. Never stop doing this!
What could I have done in life to deserve something as dashing and handsome as you?
A love message with words can't accurately describe how your love has obtained a firm foundation within my heart.
Thus far, every moment we have spent together has been excellent. But I guarantee you, the best is yet to come. I love you.
You're the beginning of a never-ending love story. You're the prince charming, and I am the princess in the tale.
If you ask me how many times you've crossed my heart, I'd say. Because you came and never left.
Every time I try to keep my heart from you, it escapes and revolts. My heart would like to be locked in you and find you!
Each day we spend apart makes me more excited to be reunited with you. Meanwhile, know that you are in my mind (and my heart) every day!
Independence is terrific. However, interdependence is nothing less than Godly. My friend, my world, my lover. I love you.
Love Messages for Him
Since I met you, I have not spent a single moment without thinking of you. You're in my mind, in my heart and my thoughts.
Every time I look at you, I believe and smile to myself, I couldn't have done better, You're perfect the way. I love you, honey.
My love for you is real; it makes me want to do things like scaling on the rainbow and jumping on the clouds. I love you.
In your arms, I have found a hiding spot for me. I can prevent the rest of the world and feel like I have everything right here.
Nobody can take your place in my heart; you are the one who makes me happy. You're all I want in my life. I am waiting to return.
I was used to seeing clouds. I forgot what a blue sky would look like. I love you for being the blue skies of my life.
I feel secure when I am in your arms, and it makes me believe I am the luckiest person on earth because I have a wonderful partner. I wish to devote the rest of my life to you.
The majority of women have a certain level of fear about growing older, as did I. But so long as I get the chance to grow old with you, I know I will be just fine.
Falling in love with you, I do not know how or when it happened. All I know is the best thing. I love you.
I was nobody going. However, you made me feel like the luckiest woman on earth. Your love is what I want and what I need for the rest of my life.
I know my feelings rather than worrying about myself when I spend time thinking about 16, for you were real. I love you so much.
Never believe that you must flatter me with worldly things. All I want is love because unlike earthly things; your love will not fade away. It embedded inside my heart.
From laughs to kisses, our love has set me that I never want to come out of. I love you.
Long Love Messages for Him
You're the brightest thing in my life right now. I'll keep thanking you for inspiring me to be on top of the game and pushing. I hope that I'm the best for you because all I want for you is your best.
Your love awakened my spirit. It brings peace and fills my heart with a thousand wants. Your love started a fire in my heart that's burning. The light of that is currently becoming brighter every day!
I have always dreamt of having a loved one breathtaking and unique, just like it's in the movies. To get love is exquisite and astonishing, just like it's in love books. And here I am today, living that dream, because of you, my life is all brilliant, meaningful and ecstatic. I am glad I have you in my life. Thank you.
You're the sun that fades all of the darkness in my life. You're my road to salvation. I've never loved someone so profoundly. I love you more than I can say. Nothing can change my love for you!
My heart beats for your love, to love you. You're the tone of my fire, the person I have ever met in my life. I love you!
You've always seen my joy, and I can't forget you if I'm left with nothing. I will show you what you are to me. I'll love you so much that you'll never lack love all through your lifetime.
My heart desires to be with you at every moment of my life. Your love draws me nearer to you like a magnet. You're the only person with whom I could be myself without all the worries of being judged.
Value relationship I've met a range of attractive, responsible, witty and beautiful girls. But every time I get closer, I find that they are not able to fill the emptiness in my heart. Boom, you showed up from the blue like stars. I wowed with the feeling and your gap in reasoning. There is no one distinguished and spectacular as you. With all my heart, I will love you eternally.
Long Loving Messages for Him
When I first saw you, I was attracted by your face and your smile that was charming. Nevertheless, it was the beauty of the heart that I fell for. I found it.
You're mine, and you're the one my heart has selected, a life without you is nothing but boredom. I appreciate you for all you've done in my life. For being there for me, Thank you. I love you.
I love you because you share my fantasies. I love you because everything about me worries you. Thank you for being a contributor to my life. We are there, and we'll live the life we have worked for.
It is funny how to go through life, not knowing what love is. But this. This indescribable feeling I have never felt before. I guess that is what it is like to be with a person that is real.
My love, you're half a part of my heart and my life, and I love it. You're only one who will do anything for you and I do care for our loved ones and me too. I love you, sweetheart, and I will do it. Thanks, honey!
Some people today think that unions are dicey. We show that marriage doesn't end the love, but nurtures it every day. I acknowledge that ceases to amaze me. I adore you!
Folks say that after you get married, the love is over. You don't know the pride I take in our relationship because no day passes by without each other filling with words of kindness and love. Thank you for being you, I love you
I'd be a mouse so I could nibble you bit by bit if you were cheese. I'd be a cat so I could drink you sip by sip In the fact that you were milk. So I could devour one piece by one, but if you're a mouse, I would be a cat. I love you.
Does it take much to make someone's day. Surprise him with his favorite dish for dinner today. Place a loving note like "I miss you throughout the day" or "I love you from the bottom of my heart". Try to figure out what your significant other needs are before he realizes it.
This comes with experience. Anyway, at least use this quote above and start a loving conversation with him today. "Sweetheart, you mean everything to me and I want you to know how much I love you.
You bring happiness and joy into my life and I am grateful to have you by my side. I can't imagine a day without you and I promise to always be here for you, through thick and thin. I love you more and more every day. Yours forever."
Read More
Love on the Beach Quotes to Make Your Life Loving and Healthy
55 Ways Love Adventure Quotes Will Change Your Life
You are My One and Only Love Quotes