Shayari on Beauty: Particularly, Sweet Shayari in Hindi attracts the attention of a person. Khubsurti Shayari in hindi are the golden phrases loved by all the beautiful girls. Shayari on beauty is liked and loved to hear by all. Khubsurti shayari in hindi has made so many writers popular shayars. Tareef shayari or tareef shayari in hindi or tareef shayari for beautiful girl, Shayari on beauty is adored by many lovers of hindi literature.
In order to impress your beautiful friend, some of the beautiful love Shayari chalked out below. This can be used as beautiful love sms, true love sms, new love sms. sweet love sms in hindi, shayari on beautiful face.
#beautiful quotes about love, #khubsurti ki tareef shayari in hindi, #tareef shayari in two lines, #khubsurat shayari 2 line,
अंगड़ाई लेके अपना मुझ पर जो खुमार डाला,
काफ़िर की इस अदा ने बस मुझको मार डाला।
Angdai leke apna mujhpar jo khumar dala,
kafir ki is adane baas mujhako maar dala.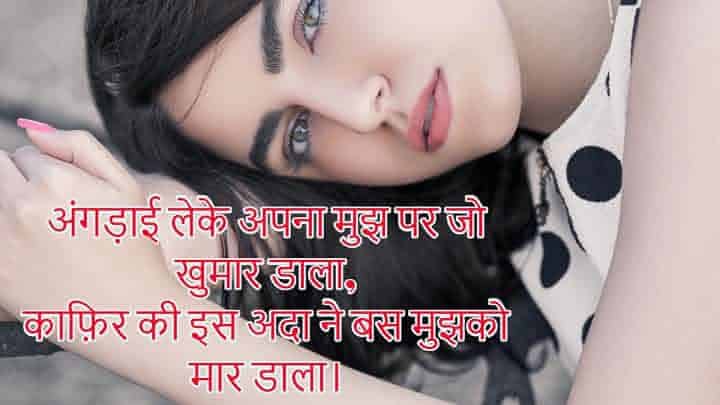 छू गया जब कभी ख्याल तेरा,
दिल मेरा देर तक धड़कता रहा,
कल तेरा ज़िक्र छिड़ गया घर में,
और घर देर तक महकता रहा !
Jhu gaya jab kabhi khayal tere,
Dil mera der talak dhadakta rahs,
kal teri jikra chidgaya gharme,
aur ghar dertalak mahakta raha.
उसको सजने की संवरने की ज़रूरत​ ​ही नहीं​​,​
​उस पे सजती है हया भी किसी जेवर ​की तरह।
Usko sajneki sawarneki jaroorat hi nahi,
Uspe sajti hai hayabhi kisi jewarki taraha,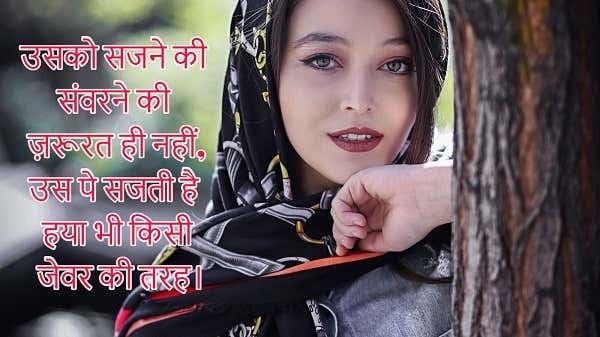 नशीली आँखों से वो जब हमें देखते हैं ।
हम घबराकर आँखें झुका लेते हैं,
कौन मिलाए उनकी आँखों से आँखें, सूना है,
वो आँखों से अपना बना लेते है।
Nashili ankhonse wo jab hame dekhtehai,
ham ghabrakar ankhe jhuka lete hai,
kon milaye unki ankhose ankhe, sunahai,
wo ankhonse apna bana leti hai.
कातिल तेरी अदाओं ने लूटा है,
मुझे तेरी वफाओं ने लूटा है,
शौंक नहीं था मुझे मर मिटने का,
मुझे तो आपकी इन्ही निगाहों ने लूटा है।
katil teri adaone luta hai,
mujhe teri wafaon luta hai,
shauk nahi tha mujhe marmitneke,
mujheto aapki inhi niganhone loota hai.
Khubsurti Shayari In Hindi
आपकी पसंद हमारी चाहत बन जाये;
आपकी मुस्कान दिल की राहत बन जाये;
खुदा खुशियों से इतना खुश कर दे आपको;
कि आपको खुश देखना हमारी आदत बन जाये।
Aapki pasan hamari chahat ban jaye,
aap ki muskan dil ki rahat ban jaye,
khuda khushiyonse itna khush karde aapko,
ki aap ko khush dekhna hamari adat ban jaye.
है विश्वास खुदा में उसका, मुझ पर भी भरोसा पूरा है…
मेरी रूह मे वो रहती है, उसके बिना ये जीवन अधूरा है….
Hai vishwas khuda me uska, Mujhpar bhi bharosa pura hai,
Meri ruhame wo rahati hai, uske bina ye jeewan adura hai.
है लाज शरम का गहना भी, महोब्बत भी करती बेशूमार है…
सादगी से सजना, सुन्दरता की मूरत, खुदा की सूरत मेरा यार है…
Hai laaj sharamka gahana bhi, mohobaatbhi karti beshumar hai,
Sadgi se sajna, sundartaki murat, khuda ki surat mera yaar hai.
आँखो की चमक पलकों की शान हो तुम,
चेहरे की हँसी लबों की मुस्कान हो तुम,
धड़कता है दिल बस तुम्हारी आरज़ू मे,
फिर कैसे ना कहूँ मेरी जान हो तुम..
Ankhon ki chamak palkon ki shaan ho tum,
chareki hansi labon ki muskan ho tum,
Dhadakta hai dil bas tumhare aarjume,
phir kaise na kahun meri jaan ho tum.
उसके नैना जैसे नील कमल..
उसका चेहरा जैसे सुबह की किरण..
उस पर ये बाल घनेरी सी..
कर देता है पागल तन मन..
लगता जैसे मैं पिछले जनम से ही उससे मुखातिब हूँ..
शायद लोग तभी कहते 'आवारा आशिक़' हूँ..
Uske naina jaise neel kamal,
uska chehera jaise subahaki kiran,
uspar ye baal ghanherese,
kardetahai pagal tan man,
lagta jaise mai pichle janam se hi usase mukhatib hoon,
shayad log tabhi kahate awara ashik hoon…
Conclusion
It is an old saying that "beauty is a joy forever. It is so true, beauty is a god's gift which should be respected, loved and adored.