Sad Shayari Hindi 2 Lines: 2 lines Shayari is the most liked and viewed by readers. In the frame "sad shayari hindi 2 lines" the depression of separation  is expressed in the form of images with poetic words to make it more decorative, without effecting the essence of the poem.
Unquestionably Love Frames is making an effort to make the most valuable literature available to the readers at ease. Hope you like and enjoy the content in the frame.
💚महबूब की #मोहोब्बत किस्मत की बात है
ये #जन्नत हर किसी की तकदीर नहीं।💝
Mahboob Ki #Mohabbat Kismat ki baat hai
yaha #janaat har kisiki takdeer nahi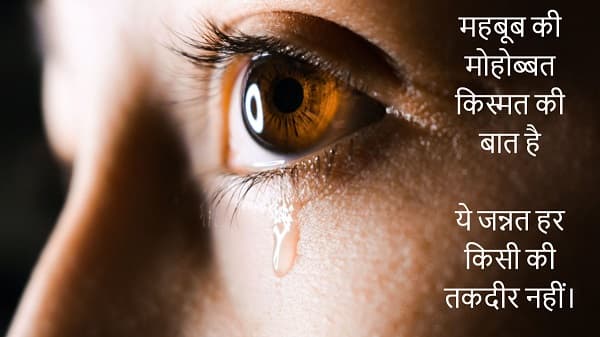 💛सुना था #मोहोब्बत तो सात जनम की होती है
मगर हमसे तो इस जनम में ही रुठ कर चली गई।💘
suna tha mohobbat to sat janam ki hoti hai
magar hamse to is janam me ruth kar chali gayi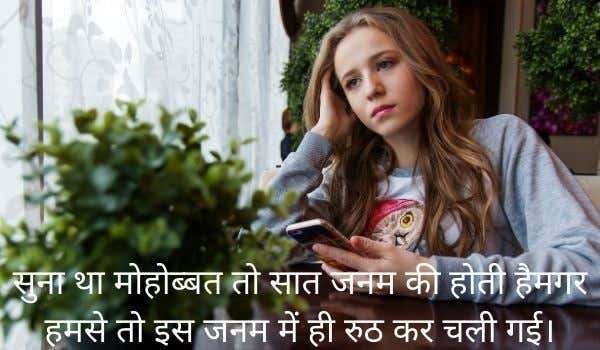 💖वह नाही मिलती हमसे तो अच्छा था
बेकार में #मोहोब्बत से नफरत हो गई।🤎
waha nahi milti hamse to accha tha
bekar me #mohobbat se nafrat ho gayi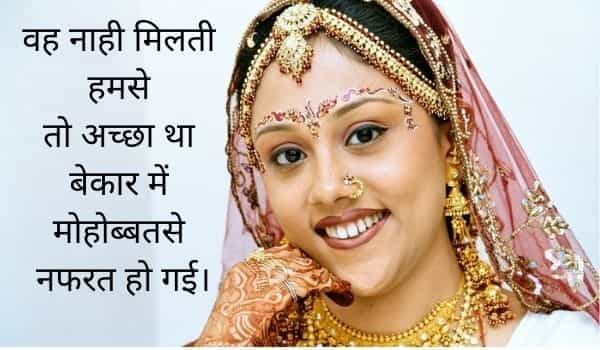 💔ये इश्क, #मोहब्बत, प्यार, लव शौक तो अमीरो के है बाबू ,
हम गरीब तो बस मनबहलाने के काम आते है इनके।😪
ye ishk mohabbat, pyar, love, shauk to amiron ke hai babu,
ham garib to bas manbahalane ke kaam aate hai inke.
💦मेरी हालत देखकर मेरी #मोहब्बत भी हैरान है
की ये शख्स सब हार कर अभीतक जिन्दा है।💔
meri haalat dekhkar meri mohabbat bhi hairan hai
ki ye shaks sab har kar abhitak jinda hai.
In addition to this sad shayari also finds best love shayari
💚हर दिलके अपने #दिलोदर्द होते है
कुछ फीके तो कुछ #लाजवाब होते है।💙
har dil ke apne #dilodar hote hai
kuch fike to kuch #lajawab hote hai.
👩‍🦰क्या किस्मत वालों को ही मिलती है पन्हा किसी के #दिल में?
ऐसा न होता तो हर शख्स इस #जन्नत का हक़दार होता।👩‍🦳
kya kismat walonko hi milti hai panha kisike dilme?
aisa na hota ho har shaks is jannat ka hakdar hota.
💔इश्क़ में कोई #"दिल तोड़" जाता है,🧙‍♀️
कोई दोस्ती में #भरोसा तोड़ जाता है,
#जिंदगी जीना तो कोई उस #फूल से सीखों,
जो खुद टूट कर भी दो #दिलो को जोड़ जाता हैं 👸
ishk me koi #dil tod jata hai,
koi dosti me bharosa tod jata hai,
jindagi jina to koi us phool se sikho,
jo khud tootkar bhi do #dilonko jod jata hai.
#जवाब मांगने के हक़में नहीं सवाल मेरे🧑 ,
💚गर साथ चल सकता है मेरे तो #साथ चल👸।
#jawab mangne ke hakme nahi sawal mere,
gar saath chal sakta hai mere to saat chal.
👩‍🦱सोचता हु अपने #दिल को भी बेईमान कर लूँ ,
सुना है झूट बड़े गौर से सुनते है मेरे शहर वाले.👩‍🔧
sochta hoon apne #dil ko bhi beiman kar l00n,
sunahai jhoot bade gaurse sunte hai mere shahar wale.
👷‍♂️जिन बस्तियोंमें हमारे #सपनो ने
हमसे मुँह मोड लिया
हमने भी उन #गलियोंसे
गुजरना छोड़ दिया.👩‍🌾
jin bastiyonme hamare sapnone
hamse muha mod liya
humne bhi un galiyonse
gujarna chod diya.
🧛‍♀️उसकी याद आई तो #दिल तड़पने लगा
उसको महसूस किया तो #मन महकने लगा🧕
तेरे #खुशबु का अहसास होतेहि फिरसे
दुनिया का पल #खूबसूरत लगने लगा.👧
uski yaad ayi to dil tadapne laga
usko mahasus kiya to man mahakne laga
tere khushbu ka ahasa hote hi phirse
duniya ka pal khubsurat lagne laga.
👼वो दरिया है तेरी #निग़ाहोंमे
काइयोंको डूबते देखा है इन #रांहो मे.👩‍🦳
wo dariyan hai teri niganhomai
Kaiyoko dubte dekha hai in rahon me.
💔तुम्हारी #मुस्कान बन सकू मुझे वो #इंसान बनना है
तुम हिफाजत से रहो जिसमे वो #माकन बनाना है🏪
और चोट मुझको लगे , #दर्द तुम्हे महसूस हो
दिवानोकी तरह दो #जिस्म एक जान बनना है।🏰
tumhari muskan ban saku mujhe waha insan banna hai
tum hifajat se raho jisme wo makan banana hai
aur chot mujhe lage, dard tumhe mahasus ho,
diwano ki taraha do jism ek jaan banana hai.
👨‍🦰जिनपर लगाई थी हमने अपनी #जान की बाजी
आज उन्होंने ही हमसे #वास्ता तोड़ दिया👩
और किस #रिश्ते की बात करते हो जनाब
जरासी हवा से #रोशनीने दिए का साथ #छोड़ दिया.👩‍⚕️
jinpar lagaithi hamne apni jaan ki baaji
aaj unhone hi hamse wasta tod diya
aur kis rishte ki baat karte ho janab
jarasi hawa se roshnine diye ka saath chod diya.
👮‍♂️कोई पूछेगा तो सुबह का #भूला कह देंगे..
तुम आओ तो सही…..👩‍⚖️
हम शाम को #सवेरा कह देंगे..👩‍🚒
koi puchega to subaha ka bhula kaha denge..
tum aao to sahi..
ham shaam ko savera kaha denge..