Romantic Love Shayari Hindi language is appreciated and loved worldwide. In Hindi Love Shayari or बेहद प्यारवाली शायरी padhke hame romanchi kardetehai.
लाल बहादुर शास्त्री कहतेथे। इस धरतीको लैला की तरह चाहो, माँ की तरह नहीं। क्योंकि इंसान लैलाके प्यार में जान देता है माँ के प्यारमे नहीं।
Love is the purest and the strongest form of expression a human possesses.
💘दिल की किताब में गुलाब उनका था
रात की नींदों में ख्वाब उनका था
कितना प्यार करते हो जब हमने पूछा?
मर जाएंगे तेरे बिना ये जवाब उनका था💝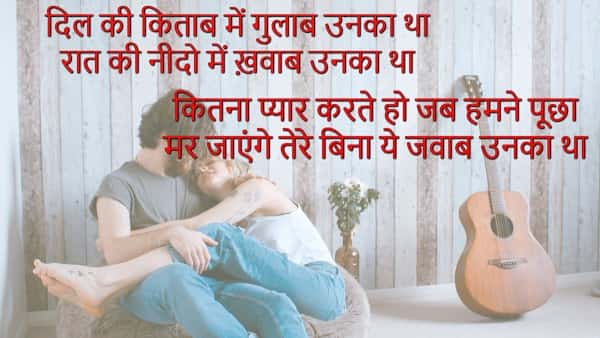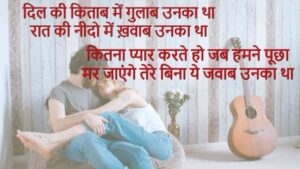 💛Dil ki kitab me gulab unka tha
raat ki nindon me khwab unka tha
kitna pyarkarteho jab hamne pucha
mar jayenge  tere bina ye jawab unka tha.💚
Love shayari in hindi, romantic love making, romantic love quotes.
🧡वो बात जो तुमसे कहानी है ,
वो "…..
रहने दो
गर बात सायानी कहनी है तो ,
रहने दो
गर कोई गिला बताना है तो,
रहने दो
गर दिल का रोश सुनाना है तो ,
रहने दो
और वो बात जो तुमने कहनी थी
रहने दो.😀
💚Jo baat tumse kahani hai …to rahnedo…
gar baat sayani kahani hai.. to rahnedo…
agar kaoi gila batana hai.. to rahnedo…
gar dil ka rosh sunana hai..to rahnedo…
aur jo baat tumne jo kahni thi..to rahnedo..👩‍🦰
👩‍🔧जिस जगह जाकर,
कोई वापिस नहीं आता।
जाने क्यों आज वहां,
जाने को जी चाहता है।👸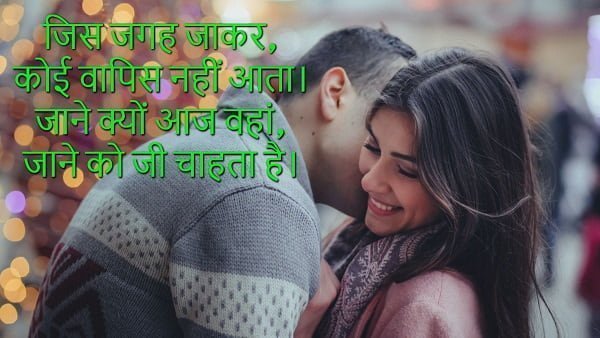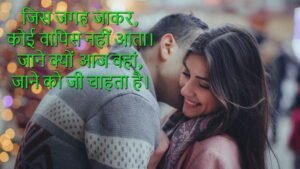 💕Jis jagaha jakar koi wapis nahi aata,
Jane kyon aaj waha jane ko ji chahata hai.👮‍♀️
👩🏾‍🤝‍👩🏽कुछ बूँद आसमां की समेट ली हमने ,
की हर रोज़ ये जहाँ मेहरबां नहीं होता।👧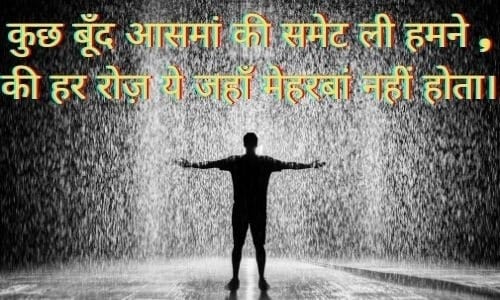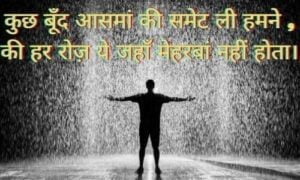 🧖‍♀️Kuch bunde aansmaki samet li hamne
ki harroz ye jahan meherban nahi hota.👩‍🍳
🤼‍♂️मखमली सी रातो मे,
बातें झिलमिलाती है,
बहते है जब ख्याल सुरीले,
तुम्हारी आँखे जगमगाती है।🏃‍♀️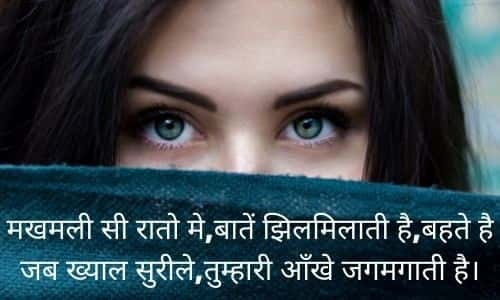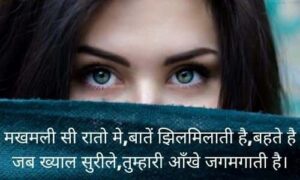 👩‍🔧Makhmal si raaton me
baten zhilmilati hai
Bahatehai jab khayal surile
tumhari aankhe jagmagati hai.👨‍🔬
👀अकेले खुश हो तुम
तो परेशान हम भी नहीं करेंगे
तड़पते रहेंगे आपके प्यार में रात दिन
मगर आपको पाने की तमन्ना नहीं करेंगे🧞‍♂️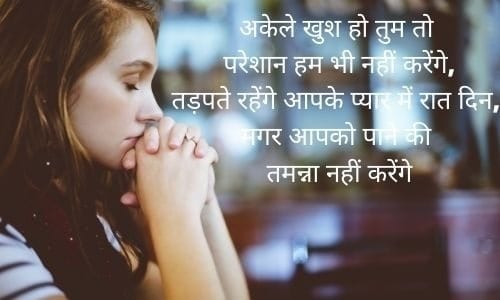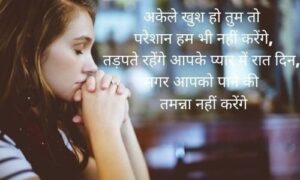 ✨akele khush ho tum
to pareshan ham bhi nahi hai
tadapte rahenge pyarme aapke raat din
magar aapko pane ki tamanna nahi karenge.👨‍🎤
💟कुछ भी जहन में अब आता नहीं
तेरे सिवा और मुझे कोई भाता नहीं
इतनाही कहेंगे दो लफ्जोंमे हम
शायद आप जैसा दुनियाँ मे आया नहीं🤷‍♂️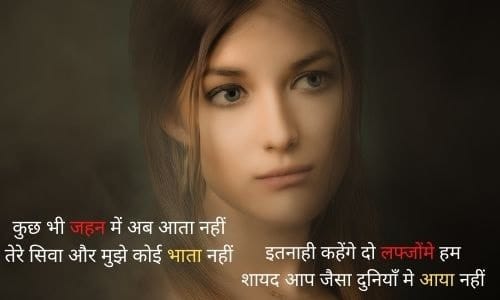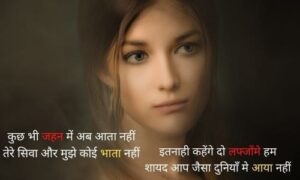 👩🏾‍🤝‍👩🏽kuch bhi aab jahanme aata nahi
teresiva aur mujhe koi bhata nahi
itnahi kahenge do lafjon me ham
shayad aap jaisa dhuniyame aayanahi.🕊
Conclusion
Shayad Romantic Love Shayari Hindi ki shayari aapko pasand aayi hogi. Hope you have liked the love quotes in hindi. Do refer our other collections on love quotes.