Short promise ring quotes serve as poetic whispers that carry the weight of promises and emotions in brief. The delicate exchange of promises rings, where sentiments are encapsulated in a circle of commitment. Finding the right words to express a profound pledge can be both an art and a heartfelt endeavor.
These concise yet powerful snippets of expression encapsulate the essence of commitment, love, and shared aspirations. Etching sentiments onto the timeless metal circle that symbolizes a bond destined to endure.
As we explore these short promise ring quotes, each word becomes a testament to the sincerity and depth of a promise, creating a lasting imprint on the journey of two hearts intertwined in the beautiful tapestry of devotion.
Short Promise Ring Quotes
"Keep me in your heart, and I'll stay forever."
"You're that 'Once in a lifetime dream come true.'"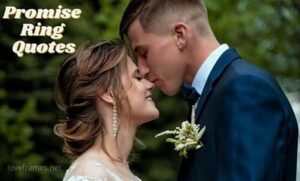 "Gratitude is all I have to God for giving you to me."
"I've fallen in love many times… but always with you."
"I promise to love you and cherish you every day of my life."
"Promise someone that you'll be there until the end of time."
"The only promise is a debt that you never have to pay back." 
"You are my forever confidant. My love for you will end never."
"Now I know why I belong here on this earth; it is because of you."
"I love you with the breath, the smiles, and the tears of all my life."
"I do not know what the future holds, but we embrace it together."
"There's no better time than the present to get yourself a promise ring."
"I really believe that you are the greatest thing that ever happened to me."
"Promise yourself that someday you'll look back on this moment and smile." 
"I don't want to be your favorite or your best. I want to be your only person and forget the rest."
"Because I could watch you for a single minute and find a thousand things that I love about you."
You're gonna have to stop being so gorgeous because my heart is about to beat completely out of my chest."
"If you live to be a hundred, I want to live to be a hundred minus one day, so I never have to live without you."
"No matter what has happened, no matter what you've done, no matter what you will do, I will always love you." I swear it."
Grow old with me. Let's count each other's wrinkles as the years pass by. Let's see who loses all of the teeth and who will need the help of the walking stick first."
Promise Ring Quotes
"I never for even a second doubted your love. "Malika E. Nura
"Let's sink the roots of our relationship deep into love." – Peter Marley.
"I'm not in college anymore, but you still make me feel like one." – Drake.
"My love is deep; the more I give to thee, the more I have. Both are infinite." – Rose Big.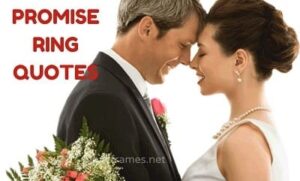 "I love you, and I will love you until I die, and if there's a life after that, I'll love you then." – Cassandra Clare.
"When you look at me; my heart stops its beat, for it knows that your eyes are giving me oxygen." – Sana Serdyuk.
"You were my first, my last. There shall never be another you. You are a lifetime, you are my life." – Malika E. Nura.
"I am not always happy, but when I'm sure you are at peace with me, my heart feels no pain. You are my light." – Terry Mark.
"I saw that you were perfect, and so I loved you. Then I saw that you were not perfect, and I loved you even more." – Angelita Lim.
"I choose you. I'll choose you over and over and over. Without pause, without a doubt, in a heartbeat. I'll keep choosing you."- Anonymous.
"To love another deeply and express it openly gives one a feeling of want, peace, and hope, something that would last beyond the ages and times." – Hanna J. Steinherr.
"I won't hesitate no more on giving you my all. I have never been so sure about my feelings until I finally held your hand. I found my new home in your arms; it feels so right." – Unknown.
"I love you without knowing how, or when, or from where. I love you straightforwardly, without complexities or pride; so I love you because I know no other way." – Pablo Neruda.
"I love that you're strong, dependable, and loyal, and I would trust you with my life. You're the most honest person I have met in my life; I will love you for a thousand years and more." – Chloe Williams.
"Sincere love comes from the bottom of the heart, and it doesn't keep a record of wrongs. Your sincere love provides you with wisdom. And a clear mind, with its influence over every moment of one's life, will lead to happiness. – Dudung Ruhiat.
"It's you who makes me smile, all the time and all the while…The things I share with you, no one has a clue… You support me in everything I do, a special part of my life, and my days is you… Without your company, how can I survive?" Thank you for being my best buddy in this lonely life." – Srujana Priya
Short Promise Ring Quotes as a Token of Love
Don't ever let go of me
If you love to travel, I promise to take you there.
Let me know what you think we can do for each other. 
Wearing this isn't just some promise; it's my promise to love you.
No one can love or be loved better than a person with a sweet tooth. 
I wanted to be sure and tell you I'm serious, so…I got a promise ring. 
We don't have to waste time being apart; you are always in my heart 
If you held up 11 roses into a mirror, you'd see 12 of the things you love the most.
Learning that relationships aren't always easy. Accept yourself for who you are. 
You can add an even cuter ring to your collection when you pay $22.99 at Zales today. 
Your presence blesses me. I'm thankful for our friendship. Marriage will just be a formality. 
Promise me that your love will never change because it's always been enough to hold me up & to keep me safe.
Promise yourself to keep love in your heart. A life without it is like a sunless garden when the flowers are dead
Promise Ring Quotes for Her
It's a promise.
You're my forever ring 
Promise me you'll always.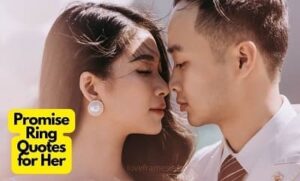 Angels came when I called.
When I'm with you, time stops.
Promise me the moon and the stars 
Each day spent with you is my favorite day.
This promise will be kept when all else falls away.
I want to spend forever with you. I am so glad I found you!
If I can't have you forever, then at least I have you for now.
May all your dreams come true, unlike the one you crushed on.
Your promise is the only thing I need to make today complete…
It's not the size of the ring, it's what you do with it that matters…
I took one look at you and knew I was looking at the rest of my life.
Love is at the center of all that I do, in this season and every season. 
It's always better to have loved and lost than to have never loved at all.
It's been a tough road, but we found each other. Now it's forever. Promise
This is me, promising to be by your side no matter what life throws our way.
I promise to be your biggest fan and cheerleader, and I'll always be there for you.
Tulips are a sign of spring, but when you're in love, it's always springtime in your heart!
You're braver than you believe and stronger than you seem, and smarter than you think.
Promise Ring Message for Girlfriend
This ring means more to me than anything. It's a symbol of seeing the best in my soulmate, even in their darkest hour.
I promise to be right here when you need me, to remind you that you are brave, strong, and loved. And that life is hard, my love, but it's good.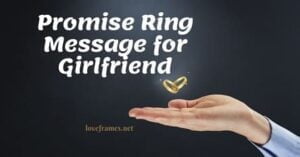 I don't need a castle with battlements or a sword to keep you. You have my promise ring—but most importantly, you have me… with love, your fiancée.
We captured the look that many people wait for in their lives. This is the moment when you know that the ring is perfect for you, just like you are perfect for her. 
It's always good to reflect on the past, but don't forget that your story is an ever-changing one. This year, remember to stay present and be aware of what you're doing and who you represent. 
When I was 10 years old, I wished that you and I would be friends on a star. Today as a grown man, I can say that wish came true, as want as it may be the day that you're the one. Love you always. 
A promise can be both tangible and intangible. It can mean "I will always remember" or "I will always hope." An exemplary commitment inspires confidence in the future. And it is the first step toward making dreams a reality. 
It is all about having fun while you are dating. One must not forget the importance of enjoying one another's company. When you find someone who makes you laugh daily, you are onto something good. It will take more to keep. 
Promise me you'll never change.
Life is just better with you around. 
I want my heart, not my ring finger.
I promise to always be your plus one.
I see all the best parts of myself in you.
I promise to fill your heart with laughter.
When someone tells you who they are, believe them.
The only promise I'm making is that it'll be a ton of fun.
Promise yourself–and the world around you–to do more good.
I may not have a lot of money, but I do know the love of my life.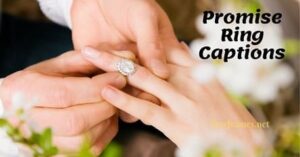 I promise to remember you for this ring, if not for other reasons.
If you waited until now to make me feel like this, then I'm honored.
This holiday season, give her a gift that's as precious and pure as she.
I never thought I could love you more, but each day it proves me wrong.
Promise me you'll always stay with me and I'll marry you sooner than later. 
I promise you the most precious gift in the world—my crazy passion and love.
Promise you'll always keep growing, keep going… and never forget to be a kid. 
Promise Ring Message
Promise rings are reminders of a commitment, a promise from one person to another.
A girl is like a tea bag—you cannot tell how strong she is until you put her in hot water.
That moment when you realize I'm not just the girl in your dreams; I'm your dream girl.
A promise is a promise, and a ring is a sign of love. I'll be with you every step of the way! 
I promise to let go of the past, take hold of the present, and cherish you for all of the time.
Be Mine. Be yourself. Stay true to yourself. Be happy #MarilynMonroesWordsOfWisdom.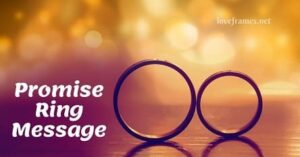 No matter how big the world gets, my heart will always fit inside your hands. Love you always.
I promise to be here for you when one door closes; always open another one because I love you.
A promise is a commitment to yourself to become better in the future. This ring is a symbol of that.
Something has brought us together, and I know that something is more significant than both of us.
It's a promise ring. Use #ZalesPromiseRings to share how you gave her something to look forward to.
When someone takes the time to make you feel like the most special person in the world, don't let them go. 
I promise to carry you with me always. No matter where I go, no matter what the future holds, I promise you'll be there with me.
Boyfriend Promise Ring Quotes
My heart is always yours.
Say "I do" to everlasting love.
Promise me the moon and the stars 
Cherish you to infinity and beyond…
We look forward to growing with you! 
I promise to always leave you breathless 
The best ideas come when my mind is still. 
Promise me you'll fall in love every day. Love.
With this ring, I promise to be your biggest fan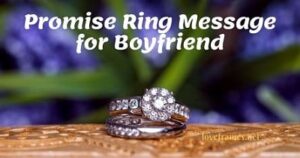 Engage in your boundless potential with this stylish promise ring.
You are my dream come true! The promise is a timeless treasure.
When you love someone, they become a part of your story forever.
I love you more than cinnamon buns love frosting. And that's a lot.
There's a perfect imperfection in your imperfection. I'll fix it. Marry Me.
One day I'll find the right words to tell you why I love you, but until then—I love you.
I don't know why I don't even look anymore. You're still the prettiest girl in the room.
Your time is coming where you are going to get proposed to, so always keep these handy.
Before I met you, I never knew what true love was… But when I see your face, I know it's real.
I promise to listen to all of your favorite music, eat all the mac and cheese, and drink all the coffee.
There's something about you that makes me want to try harder, work better. To be a better person.
You are my best friend, my human diary, and my other half. You mean the world to me, and I love you.
Your presence infuses my life with such joy and wonder. With you, I feel like I am falling in love forever.
I promise to love, honor, cherish and always give a ride to a stranger who asks for one… after I buy a lottery ticket. 
We know our love is a promise. We wanted to celebrate that promise with a ring that reflects our love for one another. 
The fact that there's a ring on my finger still hasn't completely hit me, but I'm SO excited to be getting married to the best guy in the world.
Say yes to the dress one last time. Yes, to dessert, every night. Yes, to a spontaneous adventure, whenever possible. Yes, to this promise ring.
Let me not let the marriage of true minds admit impediments. Love does not love, which alters when it alteration finds or bends with the remover.
I promise to be honest, work hard, and contribute to the growth of our relationship. I also love you more today than yesterday, but not as much as tomorrow.
Promise Ring Quotes for Him
I promise to always be there for you.
When I'm with you, I feel like I'm home.
A symbol of something that never ends.
These are the promises that last forever.
Will you do me the honor of marrying me?
Promise me, promise me; you'll love me forever.
Baby, you are the most critical diamond in my life.
I'm obsessed with you and all of your eccentricities. 
Promise rings have a way of sticking with you for life.
I promise to share something new about myself every day.
Whit & Woll is for the couple who's head over heels in love.
Promise to always share the little things in my life with you. 
We promise to mean so much more than your Instagram likes.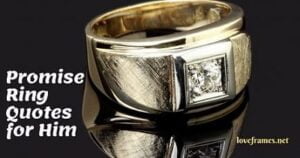 I don't give it out often, but this ring will put you under my spell.
As a promise to him, I am going to post this photo on Instagram.
You are all I constantly need to remind me why I'm so in love with you.
Promise me that we will never give up, and we will always stay positive.
Promise me to take care of myself and promise me we'll never grow apart.
My promises to you are like the silver in this ring. Light, vital, and precious 
Sooooo…….I really couldn't think of a cute caption for this picture. just say in.
Promise to match my style and class with your swag and charm. Perfect Match
Happy birthday, babe; I am going to show you every day how much I love you. 
Thanks for being my +1 in adventure. Promise to share all the good times with you.
One is silver and the other is gold. They're not only beautiful, but they're special, too.
Promise to dream big, work hard, and be kind to others. That's all the love you need.
Promise him you'll "always" love him with this one-of-a-kind promise ring. It says it all.
Life's better when you make a promise and keep it—whether it's to someone or yourself.
Say "I Do" to the promise of a brighter future together… We believe in happiness ever after.
Baby, I promise to accept you for everything. Even your inability to parallel park. Love you. 
Lover, I am offering you my breath of life. For as long as you are alive, I will not leave your side.
Promise Ring Message for Boyfriend
I'm not even sure where to take you first. Niagara Falls? The wineries of Napa? This weekend is going to be so hot.
Well, if we may be so immodest… we love you all dearly and look forward to your company over the next few years.
I promise all this love to you. I promise to stay by your side through the best days, worst times, and everything in between.
Some promises are easily made, some aren't. They are hard to keep, even harder to break, but impossible not to remember.
Promise me that if you wake up on the wrong side of the bed every day, you'll smile anyway because life is too short not to smile.
Just because I like you doesn't mean I'm not still going to poke fun at you every chance I get. Because I can, and because I love you. 
There is someone I am hoping will ask me to marry him. Would you like to come up with some cute 21st-century ring quotes and captions?
I want you to feel my heart without touching it. I want you to hear my voice without listening to it. I want you to see me more than every day. 
It's not a promise ring. It's never taking this off, I promise. A simple circle I designed with the letter G in the center- for you to do whatever you like with it. There is no right
These five rings are one to promise you our hearts, one to symbolize the link between every woman in the circle of life, one to represent the struggle of woman's strength, one to help protect you from the pain in the world.
Promise Ring Captions Instagram
Love is a promise; love is a souvenir, once given never forgotten…
I gave her my heart, and she gave me her hand in marriage. I would give every piece of silver in my pocket for the rest of my life to spend one moment with you. I could not imagine spending the rest of my life without you.
The best gift I ever gave.
My heart is yours…forever.
I promise to let you hold me.
Promise me you'll be mine all mine.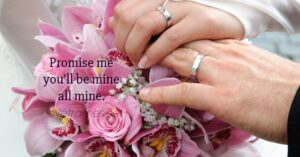 Here is to always be your most beautiful. 
Promise me you'll never forget about me.
Someday it won't be a promise anymore…
How did I get so lucky to have you in my life?
I can never promise you a life without troubles.
The happiest day of my life was when I asked you to be mine.
I promise to laugh at all your jokes and not tell any of my own.
I promise to walk beside you, hand in hand, wherever life takes us.
This is the ring of being past being single. Congratulations on your engagement!
Because I want to spend every day reminding you how happy you make me feel. 
I promise to be your biggest fan, your fiercest defender, and always your friend.
I love you because I loved you before I met you—I loved you when I wasn't even me.
True love is being able to laugh at the fact that you are still holding on to each other.
If you need a reminder of how lucky you are, take a look at this sweet cutie on your finger.
The perfect way to promise yourself it's all possible when you're in love with your best friend. 
You shine brighter than even the rarest stone. I promise to always make you more optimistic. So, yours truly. 
I promise you the world to show how much I love you—all its wonders, and all its delights to dazzle your eyes. 
This oversized promise ring is timeless, tasteful, modern—perfect for any woman on your holiday shopping list. 
Few things in this world are as accurate, pure, and forever as our love for one another. That's why I want to put this stone on your finger. 
Love has no other desire but to fulfill itself. To melt and be like a running brook that sings its melody to the night. To wake at dawn with a winged heart and give thanks for another day of loving.
At this point in your life, you should know that not all things are as they seem. The internet is a vast world of information, and it's easy to become overwhelmed by all of the possibilities. So much so that you find yourself getting lost and not even knowing where to begin. To help you cut through all of the noise, we've compiled a list of good quotes on life, friendship, and relationships.
Jewelry, no matter what type it comes in, is an important part of any girl's life. It is often a girl's first piece of jewelry, and the one she wears everywhere. Promises are like that too — they are symbolic. They do not have to be expensive, yet they represent a tremendous amount. Hope you liked these great promise ring quotes for your personalized engagement rings, just like the ones here at Loveframes.
250 Elegant Wedding Anniversary Wishes, Messages and Quotes
101 Love Quotes for Wife on Anniversary
1st Love Anniversary Wishes For Girlfriend
100 Happy Engagement Anniversary Wishes
250 Best Quotes for Wedding Anniversary Wishes for Everyone
100 Exclusive Anniversary Wishes for Daughter and Son in Law