Poor people quotes offer insight and perspective on the challenges and struggles faced by those living in poverty. Poverty is a complex issue that affects millions of people around the world, and can be caused by a range of factors including economic inequality, lack of access to education and employment opportunities, and natural disasters.
Poor people quotes can help to shed light on the daily realities of living in poverty, and the resilience and strength that is often required to survive and thrive in difficult circumstances. These quotes can also serve as a reminder of the importance of addressing poverty and working towards a more equitable and just society. Whether they come from political leaders, activists, or those with personal experience living in poverty, poor people quotes offer a valuable perspective on this pressing global issue.
Poor People Quotes
"no one asks poor people if they want war." ― Viet Thanh Nguyen. 
"Poverty of goods is easily cured; poverty of the mind is irreparable."  — Michel de Montaigne, French philosopher 
Poor people have more fun than rich people, they say; and I notice it's the rich people who keep saying it. – Jack Paar
"Poverty does not belong in civilized human society. It's a proper place to be in a museum."  — Muhammad Yunus, entrepreneur
"If money is all that a man makes, then he will be poor. Poor in happiness and poor in all that makes life worth living."- Herbert N. Casson
"Where you live should not determine whether you live, or whether you die."  — Bono, singer-songwriter and philanthropist
"The difference between rich and poor," said Francie, "is that the poor do everything with their own hands and the rich hire hands to do things." ― Betty Smith
"It is a common condition of being poor. You are always afraid that the good things in your life are temporary, that someone can take them away, because you have no power beyond your own brute strength to stop them."  — Rick Bragg, journalist
"Overcoming poverty is not a gesture of charity. It is the protection of a fundamental human right, the right to dignity and a decent life."  — Nelson Mandela, Former President of South Africa 
Poor People Status
"You can't get rid of poverty by giving people money." – Unknown
"Poverty is a very complicated issue, but feeding a child isn't."  — Jeff Bridges, actor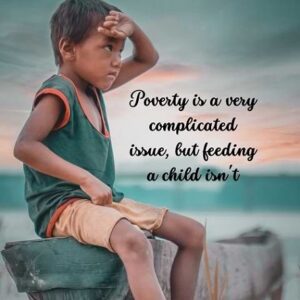 India happens to be a rich country inhabited by very poor people. – Manmohan Singh
The way to turn our economy around is not by making rich people poorer, it's by making poor people richer. – Marco Rubio
Poor people cannot rely on the government to come to help you in times of need. You have to get your education. Then nobody can control your destiny. – Charles Barkley
Neither one of the parties is doing anything for poor people. They're both full of it. Black people have been voting Democratic their whole life, and they're still poor. And Republicans don't do anything for poor people, either. – Charles Barkley
Help Poor People Quotes
You can spend the money on new housing for poor people and the homeless, or you can spend it on a football stadium or a golf course. – Jello Biafra
I don't think anyone sets out to malign poor people but certainly that's what we do through organizations such as the World Trade Organization, the World Bank and the International Monetary Fund. – Bob Geldof
Poor people, people of color – especially – are much more likely to be found in prison than in institutions of higher education. Angela Davis
What many economists fail to understand is that poor people are no less concerned about improving their lot and that of their children than rich people are. Theodore Schultz
My perspective is never going to change on that… We've got to do a much better job of taking care of poor people, because you cannot put all the poor people in bad neighborhoods, send them to bad schools, and say, 'Good luck in life.' That's just not right. – Charles Barkley
helping poor people quotes
Poor people put a low value on themselves and their efforts. – Daymond, John.
Anything that is not good for the poor people of India is not the policy of the Congress Party. – Sanjay Gandhi
Ours is not a poor country and even though we are now poor people, there should be no room for the despondency that has settled on large sections of the population. – John Agyekum Kufuor
I contend that, in spite of all that might be said about Watergate, Richard Nixon was good for the poor people of America. – Tony Campolo
Poor people aren't making dumb decisions because they are dumb, but because they're living in a context in which anyone would make dumb decisions.-  Rutger Bregman
You've got to gamble on yourself. If you don't, no one else is going to. It's very hard when you're poor to turn down money. When you've got money, it's easy. When you're poor, you need money today. People take advantage of poor people. – Jim Jefferies
Quotes about Poor People
Poverty must have many satisfactions, else there would not be so many poor people. – Don Herold.
"When I was poor, I was rich because I was happy; when I was wealthy, I was poor because I was sad." ― Matshona Dhliwayo
The real purpose of welfare is to get rid of poor people entirely. Everybody knows welfare has bad effects; that's the point. – P. J. O'Rourke
It isn't the rich people's fault that poor people are poor. Poor people who get an education and work hard in this country will stop being poor. That should be the goal for all poor people everywhere. – Ben Stein
The pleasures of the imagination are as it were only drawings and models which are played with by poor people who cannot afford the real thing. – Georg C. Lichtenberg
Quotes on Poor People
"Don't be so poor to the point that you can't afford to pay attention." ― Mwanandeke Kindembo. 
"One who is happy has everything, though poor. One who is sad has nothing, though rich." ― Matshona Dhliwayo
"The greedy are poor, even if they are rich; the charitable are wealthy, even if they are penniless." ― Matshona Dhliwayo
"If you want to know how fortunate you are, visit three places: the slum, the hospital, and the cemetery." ― Matshona Dhliwayo
"Money doesn't help if your mind is poor; strength doesn't help if your heart is weak; possessions don't help if your soul is empty."― Matshona Dhliwayo
Helping the Poor Quotes
Be the sun in someone's dark sky. ― Matshona Dhliwayo
No act of kindness, no matter how small, is ever wasted. – Aesop
The thrill of taking lasts a day. The thrill of giving lasts a lifetime. – Joan Marques
Those who are happiest are those who do the most for others. – Booker T. Washington
The smallest act of kindness is worth more than the grandest intention. – Oscar Wilde
If you're not reaching back out to help anyone, then you're not building a legacy. – Germany Kent
The meaning of life is to find your gift. The purpose of life is to give it away. – William Shakespeare
Those who bring sunshine to the lives of others cannot keep it from themselves. – James Matthew Barrie
Volunteers don't get paid, not because they're worthless, but because they're priceless. – Sherry Anderson
No one is more cherished in this world than someone who lightens the burden of another. – Joseph Addison.
What we have done for ourselves alone dies with us; what we have done for others and the world remains and is immortal. – Albert Pike
Inspiring Poor People Quotes
"Success is not final, failure is not fatal: it is the courage to continue that counts." – Winston Churchill
"The only way to do great work is to love what you do." – Steve Jobs
"Don't watch the clock; do what it does. Keep going." – Sam Levenson
"Believe you can and you're halfway there." – Theodore Roosevelt
"Successful and unsuccessful people do not vary greatly in their abilities. They vary in their desires to reach their potential." – John Maxwell
"Opportunities are usually disguised as hard work, so most people don't recognize them." – Ann Landers
"You miss 100% of the shots you don't take." – Wayne Gretzky
"Success is not how high you have climbed, but how you make a positive difference to the world." – Roy T. Bennett
"Success is not final, failure is not fatal: it is the courage to continue that counts." – Winston Churchill
"Successful people do what unsuccessful people are not willing to do. Don't wish it were easier; wish you were better." – Jim Rohn
Life Poor People Quotes
"Poverty is the parent of revolution and crime." – Aristotle
"Poverty is not an accident. Like slavery and apartheid, it is man-made and can be removed by the actions of human beings." – Nelson Mandela
"The poor man is not he who is without a cent, but he who is without a dream." – Harry Kemp
"Poverty is not just a lack of money, it is a lack of hope." – J.K. Rowling
"Poverty is not a lack of character, it's a lack of cash." – Ruth Bader Ginsburg
"Poverty is a symptom of a deeply disturbed society." – Martin Luther King Jr.
"The test of our progress is not whether we add more to the abundance of those who have much, it is whether we provide enough for those who have too little." – Franklin D. Roosevelt
"Poverty is like punishment for a crime you didn't commit." – Eli Khamarov
"The greatest challenge of the day is: how to bring about a revolution of the heart, a revolution which has to start with each one of us." – Dorothy Day
"Poverty is a scourge that affects the whole of society. It creates instability, undermines social cohesion and leads to the loss of human potential." – Ban Ki-moon
Poor people quotes provide a powerful and poignant perspective on the challenges and struggles faced by those living in poverty. These quotes serve as a reminder of the strength and resilience of the human spirit, and the ways in which people living in poverty often find ways to persevere and thrive despite difficult circumstances.
They also highlight the need for action to address poverty and work towards a more equitable and just society. By reflecting on these quotes, we can gain a deeper understanding of the realities of poverty and the ways in which we can work to support and empower those who are struggling. Ultimately, poor people's quotes serve as a call to action, urging us to take steps towards creating a more just and compassionate world for all.
Read More
Reasons Why Do I Feel Like No one Wants to Date Me
You are Amazing Quotes and Sayings