John McEnroe, a legendary figure in the world of tennis, is not only renowned for his exceptional skills on the court but also for his candid and often controversial remarks off the court.
His witty and unfiltered comments have left an indelible mark on the sport, making "John McEnroe Quotes" a captivating subject of interest for tennis enthusiasts and fans worldwide.
In this exploration, we delve into the world of McEnroe's memorable and thought-provoking statements, providing insight into the man behind the racquet and the impact of his words on the tennis world and beyond.
From his book "You Can Not Be Serious". It is almost 40 years from now, this line "You Can Not Be Serious" became popular in the game of tennis. That was the line when John McEnroe screamed at the Wimbledon umpire while disputing a line call.
John McEnroe has been labled as superbrat by British tabloid media for his verbal volleys at previous Wimbledon matches. He screamed "You Can Not Be Serious" that the ball was on the line. The umpire announced that he is going to announce a point against McEnroe.
It made little difference in the end as McEnroe won in straight sets with his final victory over Bjorn Borg. Later John McEnroe wrote a book with the title "You Can Not Be Serious" and his other publication an autobiography with the title "But Seriously".
Some of the lines from his book "You Can Not Be Serious" are mentioned for reference as a token of love for John McEnroe.
John McEnroe Quotes from "You Can Not Be Serious"
When they went longer, I became much more vulnerable, because I wasn't in the amazing physical condition of a Borg or a Lendl; even then, my ability, my intensity, and my desire would always take me a long way. I'm a fighter. I'm going to hang in there and win a lot of my matches." ― John McEnroe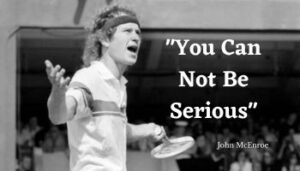 "The final score was 6–4, 6–2, 6–3. I gave young Andre a hug at the net, and said, "Why did you listen so well?" ― John McEnroe
"And very few people have great natural ability. Everyone else—and this is true of most players these days—is in the middle: On a given day, a guy is a world-beater, then the next day he's just not there." ― John McEnroe. 
"Tony Palafox drilled it into me: Be ready for the next shot. Know what you're going to do next. As a result, because of my talent, my mental preparation, and a reasonable state of conditioning. I always figured that for two hours it was going to be a real pain in the behind to play me—and that 90 to 95 percent of the time, my matches weren't going to last more than two hours. ― John McEnroe
McEnroe You Cannot Be Serious
"For fifteen years, I had been a presence—terrible or wonderful, but never boring—at Wimbledon, stirring conversation and controversy even when I didn't show up. In my own inimitable way, and without even willing it, I had become part of Wimbledon's tradition." ― John McEnroe 
"Arthur and I had had our differences, even our clashes, but I'd had a huge amount of respect for him as a man, a black man, and a positive force for world tennis. ― John McEnroe. 
I realized too late that he was the greatest ambassador our sport had ever had, and I was determined to try to do better myself." ― John McEnroe 
"It was as if Chang had read right through me: He's lost a step. He can't get back fast enough. The helplessness was terrible. However, I still took pride in the fact that opponents—even the young bucks—were always very up when they played me. Maybe I was a notch in their belts; maybe they felt, This guy's a prick; I'll show him. I like to think it was because I was a great champion." ― John McEnroe
"I wouldn't have told this to a soul back then, but as early as my first Wimbledon in '77, I realized I had the potential to be the very best: the best tennis player in the world. I confirmed it for myself as I rose through the rankings. But then, more and more, the problem became that almost everybody was somebody I shouldn't lose to. The pressure became incomprehensible." ― John McEnroe
RELATED: Inspirational Quotes About Tennis | Tennis Quotes Motivational
McEnroe Famous Quotes
"And I want you to understand: I felt terrible. I've felt awful virtually every time I've had one of my on-court meltdowns, with the exception of a few occasions when I really believed I needed to let someone have it. ― John McEnroe. 
But those really are the exceptions. I've apologized a number of times afterward to umpires and the players. And to anyone out there who felt they deserved an apology but didn't get one: I apologize now." ― John McEnroe. 
"when you're young, you feel invulnerable. I don't feel invulnerable anymore." ― John McEnroe.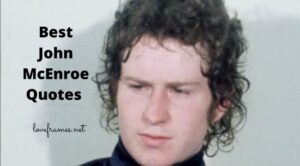 "Where money and publicity meet, there's always excitement, but good behavior is rarely a part of the mix. Manners are the operating rules of more stable systems. I got caught up in the rising excitement of pro tennis—in some ways, I was the personification of that excitement—and yes, my behavior got away from me. That's a big subject." ― John McEnroe
RELATED: Stefanos Tsitsipas Quotes Sharing His Inspirational Experiences
"My shtick, of course, was getting upset. Did it help me more than hurt me? I don't think so. Ultimately, my father was right—I probably would have done better if I hadn't ever gotten into that. But I could never rest easily on my talent—or on anything. If I was ahead of a service break, I liked to try to make it two—or three. I was always a better front-runner than a comeback player, because I could keep the doubts at bay when I was ahead, but they tended to seep in when I fell behind." ― John McEnroe
John McEnroe Famous Quotes You Cannot Be Serious
"Two days later, Michael Stich and I won the dark-delayed doubles final against Jim Grabb and Richey Reneberg, 5–7, 7–6, 3–6, 7–6, and 19–17. It was the longest Wimbledon final ever, in terms of games—eighty-three!—and the energy of the crowd, which had been let in for free on the extra day, made me forget how tired and stiff I actually was. It's not too shabby for an old man." ― John McEnroe   
"To me, "manners" meant sleeping linesmen at Wimbledon, and bowing and curtsying to rich people with hereditary titles who didn't pay any taxes. Manners meant tennis clubs that demanded you wear white clothes, and cost too much money to join, and excluded blacks and Jews and God knows who else. Manners meant the hush-hush atmosphere at tennis matches, where excitement of any kind was frowned upon." ― John McEnroe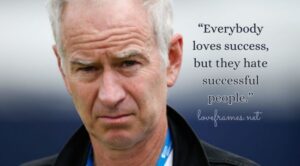 "Why couldn't the game be more accessible to the average person? Why shouldn't tennis get the same kind of treatment—and interest—as baseball, basketball, or football?" ― John McEnroe. 
In between rounds at Wimbledon in 1982, I struggled to learn David Bowie's "Suffragette City" and "Rebel, Rebel" in my hotel flat. I heard a knock on my door. It was David Bowie. "Come up and have a drink," he told me. "Just don't bring your guitar." ― John McEnroe. 
Kim Kardashian Inspirational Quotes To Feel Confident
McEnroe You Cannot Be Serious
"Tennis really is single combat, and it's exhausting to be a gladiator." ― John McEnroe. 
"Week by week, I was rising to new heights, and when you ascend that quickly, and at such an early age, the oxygen doesn't always flow to your brain." ― John McEnroe
"I always had to fight to find my best self, to be aware of other people's feelings—and the devil's bargain of it is, the players who are more aware of others struggle more. Boris Becker was like that, too. We will have brilliant moments on the court and total meltdowns. There was just too much going on inside." ― John McEnroe
"It was the end of my marriage and the end of my tennis career, both at the same time, and almost nobody knew about it except Tatum and me. I felt as though the bottom had dropped out of the world. I couldn't go on, but I had to go on. In Paris, I was literally crying on the changeovers. I would put my head in a towel and fake being angry." ― John McEnroe
"I firmly believe that one of the hallmarks of a champion—any champion—is the ability to absorb losses and regain confidence immediately." ― John McEnroe. 
"Once you've put in the work, though, the game becomes extremely mental. I had enough inner strength to know I could beat anyone at all, anytime, on any surface. But behind my defenses were some very dark places. There was always a devil inside me whom I had to fight. And the devil was fear of failure." ― John McEnroe
READ: Inspirational Rocky Balboa Quotes To Knockdown The Difficulties
John McEnroe Sayings
The perception is I didn't get along with umpires, obviously, and I didn't, on the court. But off the court, we had a good vibe. – John McEnroe
I don't take myself as seriously as I did when I was playing, and it works, and I think people see the self-deprecation in my commentary. – John McEnroe
There's always a concern when you play the week before a major. That's not the easiest time for a scheduler or a promoter, I would think. – John McEnroe
Women have it better in tennis than in any other sport, but you shouldn't push them to play more than they're capable of playing. – John McEnroe
In general, people are administered drugs too readily. – John McEnroe.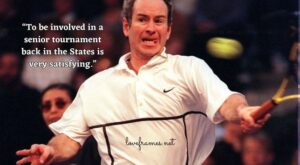 I will not have an event before the majors. I will build them up. It very rarely happens that a player plays the week before, wins the event, and then goes on to win the slam. – John McEnroe
If you look at the top 100 players, you see that the great majority of them have had at least a couple of surgeries. That tells me that we have to protect the players. – John McEnroe
I would put tiebreakers in the fifth set, no question about it. – John McEnroe. 
Do female golfers say they can go out and beat Tiger Woods? – John McEnroe. 
I've seen tennis clubs close in Manhattan and garages put up in their place, and I'd sure like to be part of reversing that trend. – John McEnroe
I had a harsh lesson in 1996, when I lost four times to Andres Gomez on clay. – John McEnroe. 
I used to get two racquets a year. As you can imagine, they didn't last me too long. – John McEnroe. 
Of course for your main rivals, you're going to get extra motivated for it, particularly if you haven't played him for a long time. – John McEnroe
John McEnroe Quotes
I'm going to vote for Obama. I'm going to make the change. – John McEnroe. 
Why don't they go back to wood racquets? Then we would see the best tennis to be played. – John McEnroe
Look at Becker and Djokovic. If you look at Novak's record since Boris has been there, it's been phenomenal. – John McEnroe
I did a terrible job of composing myself. I was a spoiled brat from Long Island who benefitted from the energy of New York. – John McEnroe
I got a lot of publicity, but it steamrolled. Event organizers weren't used to that kind of behavior, so later, they tightened the rules. – John McEnroe
You can't give away points and games against someone like Murray. You're not going to make it to the top with that kind of effort. – John McEnroe
I like John McCain, or he seems like a cool guy in a lot of ways. I don't agree with a lot of his policies, but he still seems like a cool guy. – John McEnroe
John McEnroe Famous Lines
What made my matches against Borg and Connors interesting was, comparing it to boxing, it was like a puncher and a counter-puncher. – John McEnroe
I thought doubles was a good way for me to practice and get some reps in – I didn't like to train in the gym as much as players these days. – John McEnroe
I always got along with Borg, who was my greatest rival. People like to see me and Connors, me and Lendl go at it. We didn't like each other. – John McEnroe
I can't speak for other people, but I still hate losing. When I did lose, I found it easier to yell than to cry. Guys aren't supposed to cry, are they? – John McEnroe
As I got older and started moving up the rankings, the matches got more important, and my emotions ratcheted up. I guess I hid my real feelings behind the anger. – John McEnroe. 
I was a Yankee fan until 1981. That was the year the Yankees were two up on the Dodgers and lost four straight. And George Steinbrenner apologized to the city. – John McEnroe. 
I'm 56 years old. I like to get out on the court. I will continue to try to play the best I can. Obviously, I'm nowhere near where I was when half this age. I can still hit a pretty decent ball. – John McEnroe. 
Sometimes my negativity worked to my advantage, and early in my career, it got me going. But you need to understand that you're not just fighting opponents, you're also fighting yourself. – John McEnroe. 
John McEnroe, the fiery and legendary tennis player, has left an indelible mark on the sport with his memorable quotes. From his infamous "You cannot be serious!" Outbursts to his witty and sarcastic remarks,
McEnroe's words have become synonymous with his passionate and competitive nature. Beyond the entertainment value, his quotes reflect his unwavering pursuit of excellence and his refusal to conform to societal norms.
John McEnroe's quotes encapsulate the essence of a true sporting icon who pushed boundaries, challenged the status quo, and left an unforgettable legacy both on and off the tennis court.