Healthy Relationship Quotes to build a happy, healthy and prosperous relationship. Commitment and trust are the main pillars of developing healthy relationships. Help each other in every possible way in their work, which will develop love for each other. These quotes are on healthy relationships gathered to put some light on the cause of healthy relationships.
Related: Healthy Relationships
Healthy Relationship Quotes
"Each relationship nurtures a strength or weakness within you." – Mike Murdock
"Relationships are worth fighting for, but you can't be the only one fighting." – Anonymous
"The relationship between husband and wife should be one of closest friends." – Dr. B. R. Ambedkar
"A relationship requires a lot of work and commitment." – Greta Scacchi.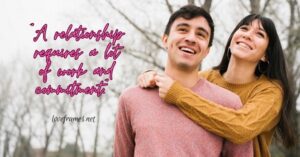 "Do what you did in the beginning of the relationship and there won't be an end." – Anthony Robbins
"A good relationship is when someone accepts your past, supports your present, and encourages your future." – Unknown
"The greatest relationships are the ones you never expected to be in." – Anonymous.
"The most important ingredient we put into any relationship is not what we say or what we do, but what we are." – Stephen R. Covey
"A great relationship is about two things: First, appreciating the similarities and second, respecting the differences." – Anonymous
"Trust in a relationship is very crucial. Without trust, a relationship cannot last as a healthy and happy bond." – Alana Johnson
"The ultimate test of a relationship is to disagree, but to hold hands." – Alexandra Penney.
Read More: Love and Trust Messages
Positive Healthy Relationship Quotes
"Assumptions are the termites of relationships." – Henry Winkler
"Forgiveness is the oil of all relationships." – Anonymous.
"Treasure your relationships, not your possessions." —Anthony J. D'Angelo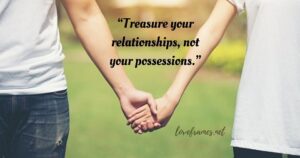 "A perfect relationship is not perfect, it's just that both people never gave up." – Anonymous
Let's not forget it's you and me vs. the problemNot you vs. me. – Steve Maraboli.
Love in such a way that the person you love feels free. – Thich Nhat Hanh.
We can improve our relationships with others by leaps and bounds if we become encouragers instead of critics. –Joyce Meyer
Don't walk in front of me; I may not follow. Don't walk behind me; I may not lead. Just walk beside me and be my friend. Albert Camus
Also Read: Long Distance Relationship
Quotes about Healthy Relationships
"In relationships, the little things are the big things." – Stephen Covey.
When you stop expecting people to be perfect, you can like them for who they are. – Donald Miller
Far too many people are looking for the right person, instead of trying to be the right person. – Gloria Steinem
A healthy relationship will never require you to sacrifice your friends, your dreams, or your dignity. – Dinkar Kalotra
Daring to set boundaries is about having the courage to love ourselves even when we risk disappointing others. – Brene Brown
"Being good to yourself equates to having a positive relationship with yourself and higher self-esteem." – Sophie Winters
"No relationship is all sunshine, but two people can share one umbrella and survive the storm together." – Anonymous
"When you're in a relationship and it's good, even if nothing else in your life is right, you feel like your whole world is complete." – Keith Sweat
"Relationships, marriages are ruined where one person continues to learn, develop and grow and the other person stands still." – Catherine Pulsifer
"The purpose of a relationship is not to have another who might complete you, but to have another with whom you might share your completeness." – Neale Donald Walsch
Read Also: Develop Strength in Relationship
Healthy Relationships Quotes
"A great relationship doesn't happen because of the love you had in the beginning, but how well you continue building love until the end." – Anonymous
"You don't develop courage by being happy in your relationships every day. You can develop it by surviving difficult times and challenging adversity." – Epicurus
"A successful relationship requires falling in love multiple times, but always with the same person." – Anonymous.
"The purpose of a relationship is not to have another who might complete you, but to have another with whom you might share your completeness." – Neale Donald Walsch
"All relationships have one law. Never make the one you love feel alone, especially when you're there." – Anonymous.
"The extent to which two people in a relationship can bring up and resolve issues is a critical marker of the soundness of a relationship." – Henry Cloud
"There's no perfect relationship. All relationships work. If you put in the work, you'll reap the rewards." – Jesse Metcalfe.
Also Read: Romantic Relationship
Quotes on Healthy Relationships
"Don't settle for a relationship that won't let you be yourself." – Oprah.
"No relationship is perfect, ever. There are always some ways you have to bend, to compromise, to give something up in order to gain something greater." – Sarah Dessen
"To know when to go away and when to come closer is the key to any lasting relationship." – Doménico Cieri Estrada.
"We have to recognize that there cannot be relationships unless there is commitment, unless there is loyalty, unless there is love, patience, persistence." – Cornel West
"Three things I want in a relationship: Eyes that won't cry, lips that won't lie, and love that won't die." – Wiz Khalifa.
"It is the things in common that make relationships enjoyable, but it is the little differences that make them interesting." – Todd Ruthman
A healthy relationship is a feast of affection/giving for both people; not one receiving crumbs and trying to convince themselves it's enough. Shannon Thomas
I used to think the worst thing in life was to end up all alone, it's not. The worst thing in life is to end up with people that make you feel all alone. Robin Williams
Every good relationship, especially marriage, is based on respect. If it's not based on respect, nothing that appears to be good will last very long. Amy Grant
Read Here: Husband Wife Relationship
Happy and Healthy Relationship Quotes
"Our lack of attention means we don't notice or we miss much that is going on and this affects our relationships." – Anna Black.
"A successful relationship requires falling in love multiple times, but always with the same person." – Mignon McLaughlin
"The best thing to hold onto in life is each other." – Audrey Hepburn
"Healthy relationships are built on trust and communication. Without those, you have nothing." – Unknown
"The biggest difference trust makes in any relationship – and not just an intimate one – is that you can relax, be open, be yourself." – Mira Kirshenbaum
"Relationships include: fights, jealousy, arguments, faith, tears, disagreements, but a real relationship fights through all that with love." – Unknown
As you remove toxic people from your life, you free up space and emotional energy for positive, healthy relationships.? – John Mark Green.
As long as you leave to others the responsibility to make you happy, you will always be miserable, because that is actually your job? – Linda Alfiori.
"Love is not about how many days, months, or years you have been together. Love is about how much you love each other every single day." – Unknown
"In a strong and healthy relationship, you should feel safe to be yourself, to express your thoughts and feelings, and to know that your partner will listen and support you." – Unknown
"Beyond friendships adding to the list of improving life success and happiness, experts also assert that supportive relationships improve our odds of survival by fifty percent." – Shasta Nelson,
Happy Healthy Relationship Quotes
"Love doesn't make the world go 'round. Love is what makes the ride worthwhile." – Franklin P. Jones
"A healthy relationship is a feast of affection, respect, and gratitude served every day." – Unknown
"The best way to maintain a healthy relationship is to have open and honest communication." – Unknown
"True love is not about perfection, it is hidden in flaws and acceptance." – Unknown
"Love is when the other person's happiness is more important than your own." – H. Jackson Brown Jr.
"Healthy relationships are built on a foundation of trust, respect, and mutual support." – Unknown
"Happiness is not something ready made. It comes from your own actions." – Dalai Lama XIV
"A strong and healthy relationship is one where both people find happiness in making the other person happy." – Unknown
"The greatest happiness you can feel is to be in the company of those you love and who love you in return." – Unknown
"A loving relationship is one in which the loved one is free to be himself, to laugh with me, but never at me; to cry with me, but never because of me." – Khalil Gibran
In the tapestry of life, healthy relationship quotes are the threads that weave together the essence of what it means to love, cherish, and nurture bonds that stand the test of time. They remind us that the foundation of any thriving connection lies in trust, communication, and mutual respect. And also the unwavering commitment to one another's happiness.
These quotes serve as guiding stars, illuminating the path toward enduring love and the fulfillment that comes from building a harmonious partnership. In embracing the wisdom encapsulated within these quotes. We embark on a journey toward profound joy and contentment that can only be found in the embrace of a truly healthy and loving relationship.