Sushi Lover Quotes to develop the taste of Sushi. It is a famous Japanese traditional dish prepared from vinegared rice with little slat and sugar. And the main ingredients are raw fish and vegetables. This dish is very popular among celebrities and often business travels and sports personalities. Some of the popular quotes are referred to express the love towards Sushi.
Sushi is one of the most popular dishes in the world. But it's not just about the food – the culture around sushi is just as fascinating. Here are some quotes about sushi from famous people and sushi lovers around the world.
If you're looking for some good sushi quotes, you've come to the right place. Here are some of our favorite sushi quotes:
Sushi Lover Quotes
Don't dunk your nigiri in soy sauce. Don't mix your wasabi in the soy sauce. If the rice is good, complement your sushi chef on the rice.  – Anthony Bourdain
I don't speak Japanese, I don't know anything about Japanese business or Japanese culture. Apart from sushi. But I can't exactly go up to him and say "Sushi!" out of the blue. It would be like going up to a top American businessman and saying, "T-bone steak!  – Sophie Kinsella
I love sushi, I love fried chicken, I love steak. But there is a limit to my love. – Jonathan Safran Foer
Sushi is not about the fish. It's about rice. – Jiro Ono, world-renowned sushi chef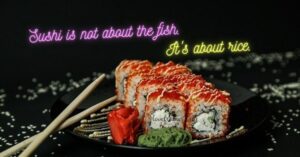 Sushi is not just food. It is an art.
The first time I had sushi, I hated it. And the second time was no different, and then, I just started loving it. I actually crave for sushi. It's one of the healthiest meals. My experiments with food began when I was working in New York as an architect, be it Korean or Ethiopian food or fusion food. –  Riteish Deshmukh
Sushi Lovers Quotes
With sushi, it is all about balance. Sometimes they cut the fish too thick, sometimes too thin. Often the rice is overcooked or undercooked. Not enough rice vinegar or too much. – Nobu Matsuhisa
You could eat sushi off my bookshelf. My cleaning regime is like a battleground. I'm Genghis Khan and my cleaning products are my Mongolian army and I take no prisoners. The rest of my life is an experiment in chaos, so I like to keep my flat neat. – Ryan Adams
I love eating sushi and eating raw and clean – no pasta and bread. Low carbs is what works for me.  – Chrissy Teigen. 
I love lean meats like chicken and turkey. I'm obsessed with sushi and fish in general. I eat a lot of veggies and hummus. – Shawn Johnson
Sushi Quotes
Eating a tuna roll at a sushi restaurant should be considered no more environmentally benign than driving a hammer or harpooning a manatee. – Daniel Pauly
Kids are now eating things like edamame and sushi. I didn't know what shiitake mushrooms were when I was 10 – most kids today do. – Emeril Lagasse
One of my favorite things to make is homemade sushi. I know how to make the rolls and it's really fun to do. – Carly Rae Jepsen.
RELATED: Good Food Quotes And Sayings | Food Quotes About Love
Sometimes sushi is just superb, and other times there's nothing like a great big steak. It depends on where your taste buds are at this time. – Francesca Annis
The fine art of preparing sushi is something that you watch and learn. – Nobu Matsuhisa.
Teach a man to fish and you feed him for a lifetime. Unless he doesn't like sushi, then you also have to teach him to cook.  – Auren Hoffman
A good rule to remember for life is that when it comes to plastic surgery and sushi, never be attracted by a bargain. – Graham Norton
I always thought that bagels and lox were my soul food, but it turns out it's sushi. – Sara Sheridan.
Limp Bizkit Ice Cream would taste like the sweetest pair of panties in the world. It would taste like sushi. Sushi or panties. – Fred Durst
Sushi Lover Quotes
They kept saying 'It's sushi-grade!' And I'm like… 'Put some soy sauce on this. Get me some rice. And cook it. And then get me out of here. – Jennifer Lawrence
If you really want to create a longer caption about sushi, we've found some terrific longer sushi quotes you could use in your Insta caption, like these!
And yes, we do have some food. Maybe you'd like to join us? Unless you want to stick with your sheep sushi. – Michael Grant
In Japanese sushi restaurants, a lot of sushi chefs talk too much. – Masa Takayama
RELATED: Love For Food Quotes To Share And Multiply The Happiness
I've been making sushi for 38 years, and I'm still learning. You have to consider the size and color of the ingredients, how much salt and vinegar to use and how the seasons affect the fattiness of the fish. –  Masaharu Morimoto
I have to say, sushi freaks me out more than almost anything. – Kate Beckinsale.
I love sushi. But after too much of it, it just starts to taste like a dead animal that hasn't been cooked. – Amy Lee
I was in a sushi bar and it dawned on me – how could I discriminate between a cow and a fish? – Carre Otis
I'm not making art, I'm making sushi.  –  Masaharu Morimoto.
Sushi Lover Caption
A little bit silly, and a whole lot of sushi.
A plate of happiness is here!
An experience I will cherish forever.
Follow your heart closely and it'll eventually lead you to sushi.
Good shrimps, in order to have the best consistency, should always be handpicked carefully.
Happiness is enjoying the little things in life.
Honestly speaking, sushi isn't costly at all. It's only expensive because of the demand.
It's definitely okay to splurge when it comes to sushi.
RELATED: Food Wastage Quotes Will Inspire Never To Waste Food Again
Just think of it this way: "Sushi is simply the Japanese word for yummy."
Sushi Instagram Captions
Love and sushi are very similar in a variety of ways; one is that you can never have too much of either.
Maki rolls are great because they have a lot of flavors to offer. Whether it's the flavor of fruits, meat, vegetables, or rice—you can have them all in one roll!
With sushi, it's all about balance. A thick slice of fish, thin slice of fish, overcooked rice, undercooked rice, too much rice vinegar, too little rice vinegar—one has to impeccably balance the ingredients to craft perfection.
Making sushi is an art, experience is everything.
Many ideas were conceived at sushi joints.
Every day is sushi day!
Quotes about Sushi
Extremely allergic to sushi! Every time I eat more than a hundred, I throw up.
Feast your eyes upon these gems from the sea!
Feel the rush of ocean umami!
Give it to me raw and wiggling!
How about we talk business over sushi?
I don't think I've seen anything more regal in my entire life.
I've always known that sushi was all I needed.
If you ate sushi, but you didn't post it online, then did you even actually eat it?
It's always sushi o'clock!
Keep calm and eat sushi.
Let me have a lot more. It's just never enough.
Let's go sailing on a sushi boat.
Literally a flavor explosion in my mouth!
Live life in bright colors.
My tastebuds demand sushi!
Natural taste is the best taste.
I could eat my body weight in sushi. Mikey Way
There's always room for more sushi.
What grander way to have a fun and luxuriant time than with sushi?
Why does sushi have to be so pricey though?
Wishing for fish in every dish.
You just can't have too much sushi.
Quote about Sushi
An umami-rich chef d'oeuvre.
Art in every bite.
Bring out the chopsticks!
Bursting with sea flavor.
Catch of the day.
Celebrating the ocean's bounty.
Deliciousness served fresh.
Delight in a mouth-sized bite.
Eat differently.
Fast, fresh, and convenient.
Fatty tuna in my tummy.
Fresh, bright, and colorful.
From sea to sushi.
Gems from the sea.
Holy mackerel!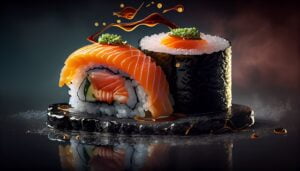 I like it raw.
Jamming with salmon.
Life happens, sushi helps.
Line-caught, hand-rolled.
Looks so beautiful!
Lusting for sushi.
More sushi, please.
Nothing like fresh seafood.
Obsessed with sushi.
Ocean's finest on a plate.
Pass the chopsticks!
Sharp knife, happy life.
Tender, fatty, and melty.
Under the sea.
Wake up, little sushi.
You had me at sushi.
Ocean's finest on a plate.
Sushi Quotes Instagram
Bring it on, wasabi!
Best Couple: Sushi and Wasabi!
Brimming with the energy of the sea.
A Japanese food plate par excellence.
A bento box full of sushi is akin to a box full of jewelry.
Sushi is sushi no matter what shape, color, size, or form.
No need to say you hate seafood. If you're broke, just say so.
Nothing says luxury like a colorful plate of fresh sushi.
Comes in small portions that are both delicious and exquisitely formed.
Dish prepared from vinegared rice stuffed with raw fish is called Sushi.
As they say, teach a man how to fish and you feed him for a lifetime –
However, if he doesn't like sushi, then you'll also have to teach him how to cook.
Don't get tempted into buying that bargain sushi. It's not worth it. Go all-out, splurge!
Each sushi represents a different patch of sea under a different shade of sky.
Definitely would eat an entire platter without any regrets until my stomach starts making me regret it.
Craving for Sushi Quotes
Preparing sushi is a craft that requires only close watching and learning.
Pure bliss is when a fatty piece of fish slowly melts in your mouth.
Running is only acceptable when it's on the way to the sushi bar.
Sushi when served in bamboo plates heightens the oriental experience.
The best-tasting and best-looking oriental dish is undoubtedly sushi.
That very first piece of sushi you partake in is always a culinary epiphany.
You are what you eat, so go on—eat a fresh, classy, sexy piece of sushi.
"It's definitely okay to splurge when it comes to sushi."
You can't buy happiness and contentment, but you can always buy sushi, which is kind of the same thing.
Sayings about Sushi for Rice Eaters
You're the salmon to my sticky rice.
Just the right amount of rice.
Behold the power of fish and rice!
Keep your friends close and your sushi closer.
Fish and rice are soy nice.
We're all over this sushi like white on rice.
Would you like rice with that?
Let's get avo-control.
You're the salmon to my sticky rice.
Paradise in each grain of rice.
Life's too short to eat bad sushi.
No more Mr. Rice Guy
So much sushi, so little time.
Vinegared rice and fish in a paste.
Wake up little sushi.
We dance to a different tuna.
We're jammin' with salmon.
You had me at sushi.
Check out the rice-to-filling ratio. That's love right there!
Every seafood should be escorted by nori and rice.
Sushi Sayings for Sushi Eaters
We love sushi just as much as you do. So, if you want to show your affection for those ridiculously delicious rolls, we've got you covered:
Feast your eyes on this sushi.
I wish for fish.
It's never too early for sushi.
it's not a date without sushi.
Let's rock this roll.
Never enough nigiri.
She knew she needed sushi.
Rock & roll.
Sake it for me.
She believed she could, sushi did.
Sashimi Saturday.
Sushi — the best food in the tunaverse.
Sushi and wasabi — better together.
Sushi-addicts are welcome.
We don't skimp on shrimp.
We wish for fish in every dish.
Sushi Quotes Funny
Instagram captions should often be a little witty to grab attention. So, try something more light-hearted, like these captions and funny quotes about sushi:
A party without sushi is just a meeting.
Dream big, eat sushi.
Fish, to taste right, must swim three times – in water, in butter, and in wine.
Holy roller.
I always thought that bagels and lox were my soul food, but it turns out it's sushi. – Sara Sheridan
I followed my heart and it led me to sushi.
Sushi doesn't ask silly questions.
Sushi, because it's cheaper than therapy.
There is an I in "sushi", so get your own.
Who needs gender rolls when we have sushi rolls?
Why be grouchy when there's Hamachi.
Cute Sushi Puns
Once you start with sushi pun captions, it's like you can't stop! Salmon puns, tuna puns, rice puns – you name it! We almost had to limit ourselves in putting this list of puns about sushi together!
More sushi, please.
Shrimply the best.
Sushi lover.
Dim sum? more like awesome!
Don't miso sushi at night.
Don't take my tako.
Everything's darkest before the prawn.
I'm soy into you.
I've got an urgin' for urchin.
Just roll with it.
It's just the way we roll.
Let the good times roll.
Our sushi is crabtivating.
Roe, roe, roe your sushi boat.
Rollin' with my homies.
She believed she could, sushi did.
Soy happy together.
Stuffed to the gills.
Sushi makes miso happy.
When we sea food, we eat it.
You've got me wonton more.
Can't wait sushi you.
I like big rolls and I cannot lie.
I love your sushi very much.
It's sushi time and I'm feeling fine.
Make everyday sushi day.
It's never far from the sushi bar.
No such thing as too much tuna.
Does it look like we're fishing for compliments?
Neither snow nor rain keeps these hands from sushi.
Love and sushi are a lot alike. you can never have too much of either.
Baked Sushi Quotes
Sushi is Japanese for yummy.
Soy sauce makes sushi even better.
Splurging never tasted this good!
There's no "we" in sushi, just an "i".
Chopsticks just slow me down.
Fatty tuna in your tummy.
This ain't just food; this is a work of art!
Try some, you will never regret it.
There's no such thing as too much sushi.
A balanced diet is a sushi roll in each hand.
Seafood with all the colors of the rainbow.
The Japanese high life expectancy tells us to eat more sushi.
Rolls, balls, slices, wraps, and lots of condiments and garnishes!
Since it is full of proteins Sushi is often used as an easy way to diet.
Sushi and wasabi are perfect together. But this combo becomes even better with nori.
Quotes about Sushi Lovers
Short but sweet is liked by all.. please see the short captions.
Sushi you later.
A Japanese feast.
Catch of the day.
From the sea to sushi.
it's sushi o'clock.
Long time no sea.
Sushi goals.
Uni for all, and all for uni.
Sushi is my favorite art form.
Miso hungry.
Sushi rainbow.
Holy mackerel.
Sushi weather.
Sushiholic.
Sushimania.
life happens, sushi helps.
Oh, say can sushi.
Pass the sushi.
Sharp knife, happy life.
Staying sassy with sushi.
Steamed to perfection.
This bento box rocks.
Tuna for two.
We bleed soy sauce.
Take your chopsticks out.
Come on in, the sushi is fine.
Let's go sailing on the sushi boat.
Let's get sushi, just for the halibut.
You can't buy happiness, but you can buy sushi. And that's basically the same thing.
There's nothing quite like sushi. The great thing about sushi is that there are so many different ways to enjoy it. You can get it with raw fish, cooked fish, or no fish at all. You can get it with rice or without rice. You can even get it in a cone!
Sushi is a great meal for any occasion, and it's perfect for sharing with friends.