New kitten at home? wow, browsing for the best black cat names for your cat? This is the right place you have visited because here you will find the best black cat names for your pet that will soot the best.
There was a silly superstition that black cats are not as lucky as white ones. Having a new black cat or kitten at home is a celebration time for the pet owner.
Black cats are used in movies, advertisements and television serials to depict magical mysteries. The thick black fur on their body gives a feeling of soft toy. Black Cats are just beautiful.
Selecting a catchy name for your kitty from the list given below is one of the confusing situations. Select the name for your kitty according to the the looks and personality.
Below mentioned list consists of the cat names right from Halloween names, TV/Movie names to the most popular names used in Australia and USA.
Do leave a good comment if you like the content.
Black Cat Names
Midnight
Shadow
Luna
Onyx
Panther
Salem
Bagheera
Eclipse
Domino
Raven
Nocturne
Obsidian
Sable
Licorice
Zorro
Jet
Spade
Coal
Tarot
Morticia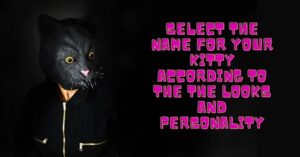 Halloween Black Cat Names
Lean into superstition and be inspired by All Hallow's Eve. Below are some cool Halloween-inspired names for black cats.
🐱Autumn
🐱Boo
🐱Candy
🐱Candy Corn
🐱Casper
🐱Cauldron
🐱Chilly
🐱Cobweb
🐱Coven
🐱Creepy
🐱Darkness
🐱Dracula
🐱Eerie
🐱Frankenstein
🐱Fright
🐱Fright Night
🐱Ghost
🐱Goblin
🐱Gravedigger
🐱Grimm
🐱Haunted
🐱Hocus Pocus
🐱Jack-o-lantern
🐱Magic
🐱Merlin
🐱Monster
🐱Moonlight
🐱Mystique
🐱Mummy
🐱Nightmare
🐱Omen
🐱Potion
🐱Pumpkin
🐱Pumpkin Spice
🐱Shadow
🐱Spellcaster
🐱Spider
🐱Spooky
🐱Supernatural
🐱Toil
🐱Tombstone
🐱Trickster
🐱Trouble
🐱Voodoo
🐱Warlock
🐱Werewolf
🐱Wicked
🐱Witchy
🐱Wizard
🐱Zombie
Names for Black Kitties
Midnight
Shadow
Luna
Panther
Onyx
Salem
Bagheera
Coal
Ebony
Spooky
Noir
Sable
Morticia
Licorice
Obsidian
Domino
Hocus
Puma
Voodoo
Magic
MOVIES AND TV INSPIRED BLACK CAT NAMES
Names are inspired by Hollywood, with these famous cat names derived from your favorite on-screen characters.
😻Bagheera (the panther from the Jungle Book)
😻Bewitched (a TV show about a witch)
😻Binx (the black cat from the movie Hocus Pocus)
😻Black Panther (One of the Avengers)
😻Black Widow (the kickass heroine of the Avengers)
😻Carrie (the protagonist-turned-antagonist of the horror film)
😻Catwoman (the female character associated with the Batman movies and TV shows)
😻Coraline (the mentor to Coraline)
😻Felix (a black and white cartoon cat)
😻Figaro (a black and white cat character Disney's 1940 animated film Pinocchio)
😻Hermione (a witch from Harry Potter)
😻Lone Ranger (a TV and movie cowboy with a dark mask)
😻Misto/Mr. Mistoffelees (a character from the musical Cats)
😻Morticia (the dark matriarch of The Addams Family)
😻Nightshade (The poison from the Hunger Games films)
😻Potter (the name sake wizard of the books and films)
😻Sabrina (the teenage witch from the TV shows)
😻Salem (The black cat from Sabrina The Teenage Witch)
😻Samantha (the bewitching witch of the television series)
😻Snowball (the family feline from The Simpsons TV show)
😻Sylvester (a cartoon cat from The Looney Tunes)
😻Twilight (a vampire movie)
😻Vader (as in the villain from the Star Wars Series)
😻Wednesday (the raven-haired daughter of The Addams Family)
😻Zorro (The mysterious hero behind the black mask)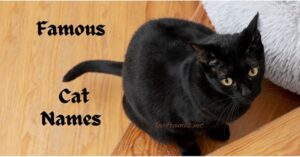 Color-Inspired Names
FUNNY BLACK CAT NAMES
If your net pet brings a smile to your face and you feel laughing at its attitude, choose a name that makes you chuckle as well with these funny black cat names.
😹Alley
😹Brown Sugar
😹Catacomb
😹Catmandu
😹Catastrophe
😹Catatonic
😹Catrick Stewart
😹Catty Shack
😹Clawde
😹Clawdia
😹Cleo-catra
😹Cola
😹Dog
😹Dog Hunter
😹Fur-bulous
😹Fur-rank
😹Fur-reddie
😹Hairball
😹Hello Kitty
😹Hiss-story
😹Kitty Purry
😹Jennifur
😹Mousetrap
😹Pepsi
😹Purr-fect
😹Purr-fessor
😹Purr-rincess
😹Schrodinger
😹Scratchy
😹Slim Shady
😹Stray
😹Thundercat
😹Tom
CUTE BLACK CAT NAMES
Names that suit any beautiful furry cat you love and care for.
🐱‍🏍Adam
🐱‍🏍Andy
🐱‍🏍Annie
🐱‍🏍Ash
🐱‍🏍Baby
🐱‍🏍Basil
🐱‍🏍Bessy
🐱‍🏍Blackberry
🐱‍🏍Blackout
🐱‍🏍Blot
🐱‍🏍Boots
🐱‍🏍Brownie
🐱‍🏍Buddy
🐱‍🏍Buttons
🐱‍🏍Caramel
🐱‍🏍Charcoal
🐱‍🏍Charlie
🐱‍🏍Chi Chi
🐱‍🏍Chocolate
🐱‍🏍Cinder
🐱‍🏍Coco
🐱‍🏍Cooper
🐱‍🏍Daisy
🐱‍🏍Dirt
🐱‍🏍Disney
🐱‍🏍Doodle
🐱‍🏍Dusk
🐱‍🏍Dust
🐱‍🏍Ebony
🐱‍🏍Eclipse
🐱‍🏍Ellie
🐱‍🏍Elsa
🐱‍🏍Evie
🐱‍🏍Felix
🐱‍🏍Fox
🐱‍🏍Freda
🐱‍🏍George
🐱‍🏍Gina
🐱‍🏍Godiva
🐱‍🏍Greta
🐱‍🏍Hale
🐱‍🏍Halo
🐱‍🏍Harriet
🐱‍🏍Honey
🐱‍🏍Ink
🐱‍🏍Iris
🐱‍🏍Jacob
🐱‍🏍Jet
🐱‍🏍Jimmy
🐱‍🏍Jinx
🐱‍🏍Kit
🐱‍🏍Lady
🐱‍🏍Leather
🐱‍🏍Lexi
🐱‍🏍Liam
🐱‍🏍Licorice
🐱‍🏍Lily
🐱‍🏍Lolly
🐱‍🏍Lollipop
🐱‍🏍Luke
🐱‍🏍Luna
🐱‍🏍Matches
🐱‍🏍Micky
🐱‍🏍Moon
🐱‍🏍Nebula
🐱‍🏍Oliver
🐱‍🏍Opal
🐱‍🏍Oreo
🐱‍🏍Panda
🐱‍🏍Pansy
🐱‍🏍Panther
🐱‍🏍Patrick
🐱‍🏍Penny
🐱‍🏍Pepper
🐱‍🏍Petal
🐱‍🏍Petunia
🐱‍🏍Pickle
🐱‍🏍Pluto
🐱‍🏍Puddles
🐱‍🏍Robbie
🐱‍🏍Ryan
🐱‍🏍Salem
🐱‍🏍Sammy
🐱‍🏍Shady
🐱‍🏍Shady Lady
🐱‍🏍Sky
🐱‍🏍Smoke
🐱‍🏍Smokey
🐱‍🏍Sneak
🐱‍🏍Soot
🐱‍🏍Speckle
🐱‍🏍Sugar
🐱‍🏍Sweep
🐱‍🏍Sweeper
🐱‍🏍Tilly
🐱‍🏍Trixie
🐱‍🏍Tyker
🐱‍🏍Viola
🐱‍🏍Voodoo
🐱‍🏍Whiskers.
🐱‍🏍Wiggles.
🐱‍🏍Xena
🐱‍🏍Za Za
🐱‍🏍Zara
🐱‍🏍Zenith
Food-Inspired Names
😸Anise
😸Bean
😸Cocoa
😸Espresso
😸Godiva
😸Hershey
😸Licorice
😸Oreo
😸Pepper
😸Poppy
😸Sesame
😸Chocolate
😸Black Olive
😸Blackberry
Cat and Kitten Names famous in Australia – Selected 50 Names for Cats
😺Oscar
😺Max
😺Tiger
😺Sam
😺Misty
😺Simba
😺Coco
😺Chloe
😺Lucy
😺Missy
😺Molly
😺Tigger
😺 Smokey
😺 Milo
😺Cleo
😺 Sooty
😺Monty
😺 Puss
😺 Kitty
😺 Felix
😺 Bella
😺 Jack
😺 Lucky
😺 Casper
😺 Charlie
😺 Thomas
😺 Toby
😺 Ginger
😺 Oliver
😺 Daisy
😺 Gizmo
😺 Muffin
😺 Jessie
😺 Sophie
😺 Fluffy
😺 Sebastian
😺 Billy
😺 Jasper
😺 Jasmine
😺 Sasha
😺 Zoe
😺 Phoebe
😺 Tom
😺 Lilly
😺 Sylvester
😺 George
😺 Kimba
😺 Harry
😺 Holly
😺 Minnie
Cat and Kitten Names are mostly used in the USA – Selected Top 50 Names for Cats
😾Tigger
😾Tiger
😾Max
😾Smokey
😾Sam
😾Kitty
😾Sassy
😾Shadow
😾Simba
😾Patch
😾Lucky
😾Misty
😾Sammy
😾Princess
😾Oreo
😾Samantha
😾Charlie
😾Boots
😾Oliver
😾Lucy
😾Precious
😾Missy
😾Oscar
😾Fluffy
😾Whiskers
😾Gizmo
😾Taz
😾Molly
😾Midnight
😾Buddy
😾Baby
😾Toby
😾Spike
😾Sophie
😾Rusty
😾Pumpkin
😾Jake
😾Alex
😾Maggie
😾Callie
😾Buster
😾Sylvester
😾Rocky
😾Pepper
😾Milo
😾Daisy
😾Cleo
😾Chloe
😾Angel
😾Dusty
Spooky Names For Black Cats
Grim
Wraith
Crypt
Banshee
Phantom
Raven
Hades
Sorcerer
Salem (inspired by the Salem witch trials)
Cauldron
Vlad (short for Vlad the Impaler, the inspiration for Dracula)
Bellatrix (inspired by Bellatrix Lestrange from Harry Potter)
Mortis
Diablo
Ghost
Specter
Zombie
Omen
Reaper
Tarot
Gothic Black Cat Names
Lucius
Morticia
Obsidian
Dante
Lenore
Nocturne
Thorne
Vladimir
Sable
Belladonna
Draven
Elvira
Nyx
Lazarus
Persephone
Balthazar
Esmeralda
Calypso
Damion
Lilith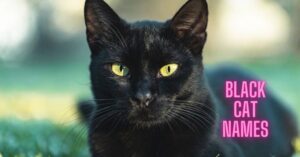 Scary Black Cat Names
Diablo
Vampira
Lucifer
Hellion
Wraith
Banshee
Jinx
Reaper
Shadowcaster
Morgana
Hades
Nosferatu
Malevolent
Cryptkeeper
Phantom
Chupacabra
Coven
Grendel
Hexen
Salem
In the world of pet ownership, selecting the perfect name for your black cat is a delightful endeavor that allows you to express your creativity and bond with your feline companion.
Whether you opt for a spooky, gothic, or simply endearing name, the significance of the name often transcends the color of your furry friend.
In the end, what truly matters is the love, care, and shared moments between you and your black cat, making the chosen name a unique and cherished part of your shared journey.
You may also love to visit:
301+Medical Company Names As Per Healthcare Industry Requirements