Abdul Kalam Quotes About Dreams:
Dr. A.P.J. ABDUL KALAM
Full Name: Avul Pakir Jainulabdeen Abdul Kalam
Born on 15th October 1931, Born in Rameshwaram, a small and famous pilgrimage town in Tamil Nadu, India,  and died in Shillong on 27th July 2015 got cardiac attack while delivering a lecture at Indian Institute of Management Shillong.
President of India from 2002 to 2007.
Played a vital role in India's missile and Nuclear weapons Programs.
Well known as an Indian Scientist and Politician. His Autobiography, "Wings of Fire" guides ordinary Indian people on the path of peace and humanity.
Nickname: "MISSILE MAN".
Abdul Kalam Quotes For Inspiration And Success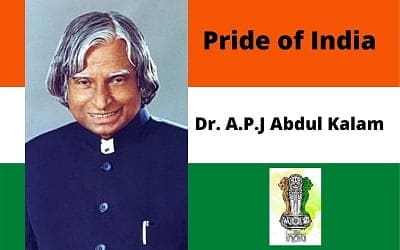 "I'm not a handsome guy, but I can give my hand to someone who needs help. Beauty is in the heart, not in the face."- APJ Abdul Kalam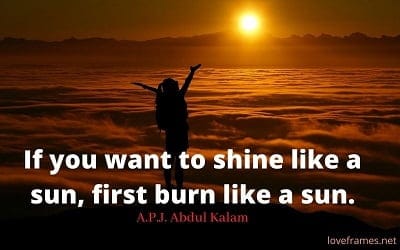 If you want to shine like the sun, first burn like the sun – Dr. A.P.J. Abdul Kalam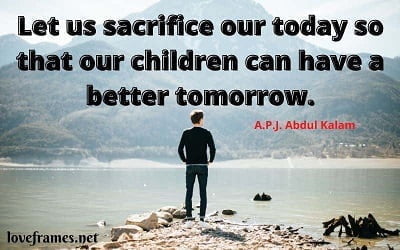 Let us sacrifice today so that our children can have a better tomorrow.- Dr. A.P.J. Abdul Kalam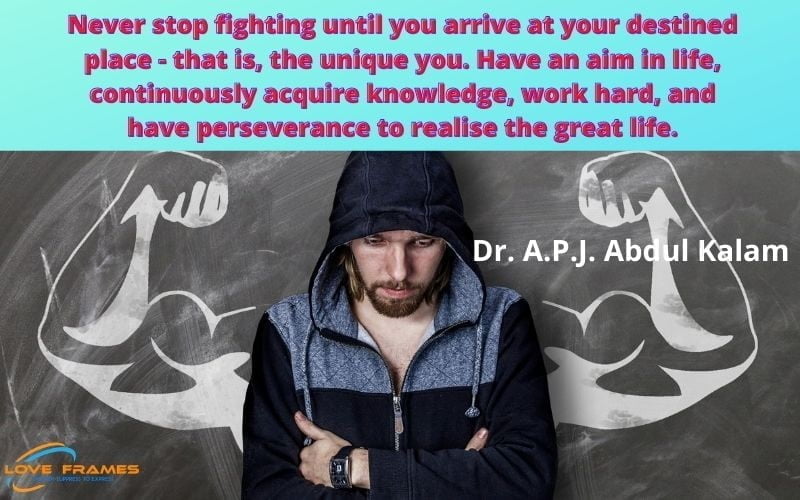 Never stop fighting until you arrive at your destined place – that is, the unique you. Have an aim in life, continuously acquire knowledge, work hard, and have perseverance to realize the great life.- A.P.J. Abdul Kalam.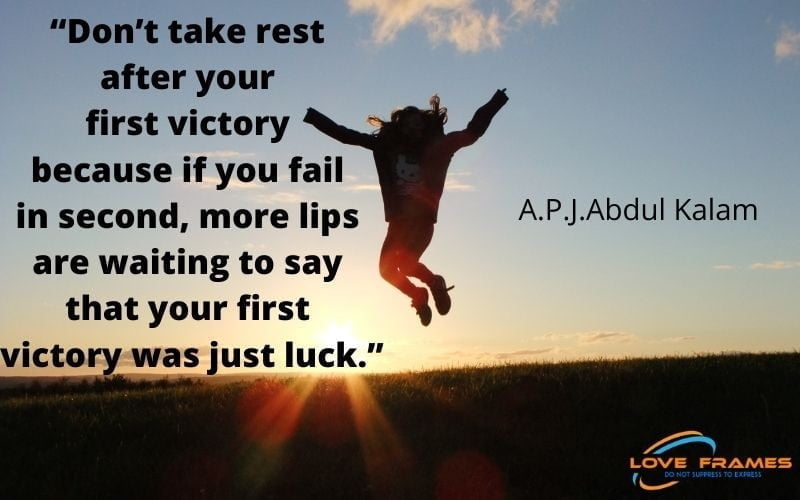 "Don't take rest after your first victory because if you fail in second, more lips are waiting to say that your first victory was just luck."- A.P.J. Abdul Kalam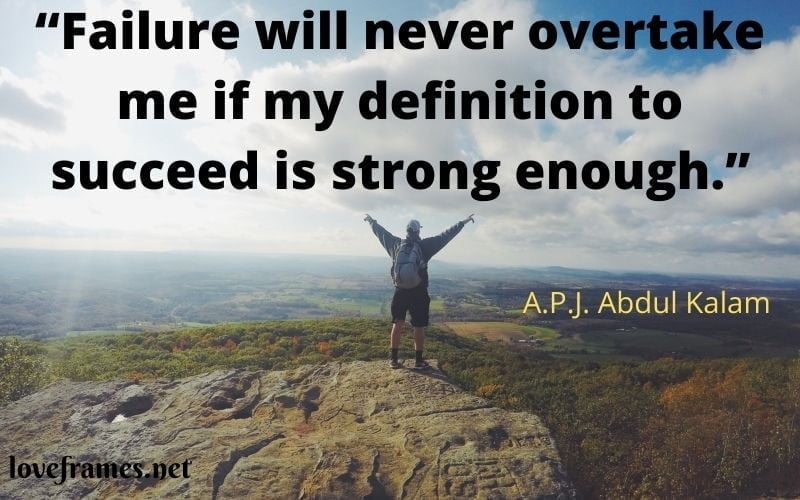 "Failure will never overtake me if my definition of success is strong enough."- A.P.J. Abdul Kalam.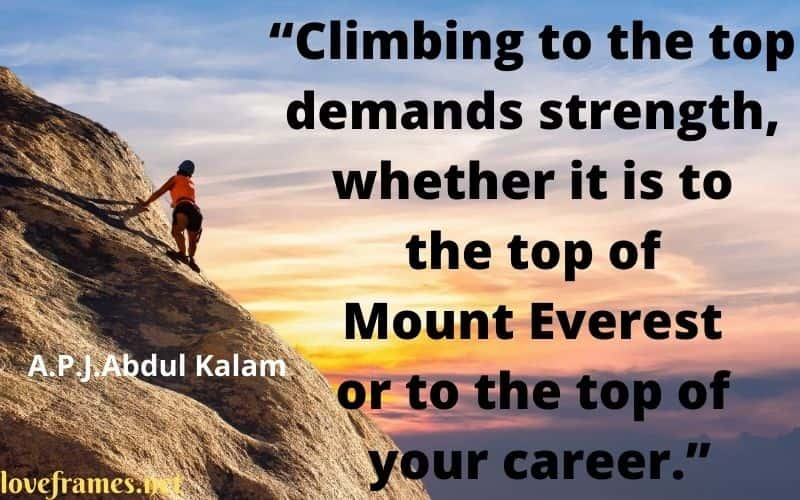 "Climbing to the top demands strength, whether it is to the top of Mount Everest or to the top of your career."- APJ Abdul Kalam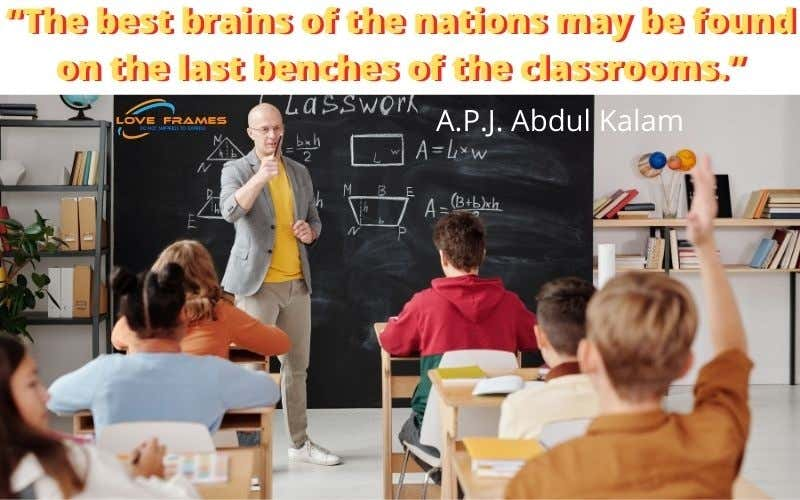 "The best brains of the nations may be found on the last benches of the classrooms."- A.P.J. Abdul Kalam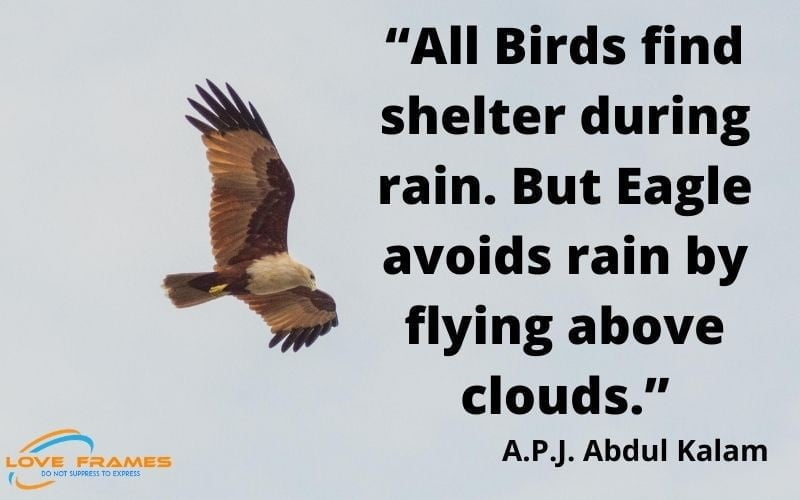 "All Birds find shelter during rain. But Eagle avoids rain by flying above clouds."- A.P.J. Abdul kalam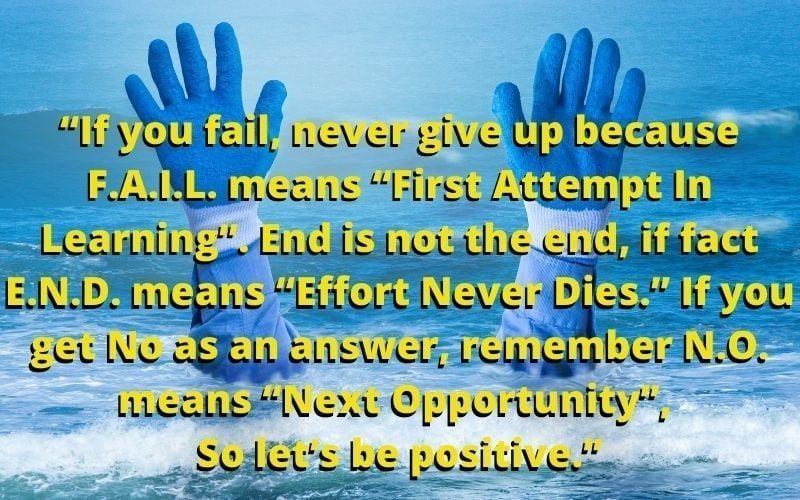 "If you fail, never give up because F.A.I.L. means "First Attempt In Learning". End is not the end, if fact E.N.D. means "Effort Never Dies." If you get No as an answer, remember N.O. means "Next Opportunity", So let's be positive."- Dr. Abdul Kalam
"You cannot change your future, but you can change your habits, and surely your habits will change your future."- A.P.J. Abdul kalam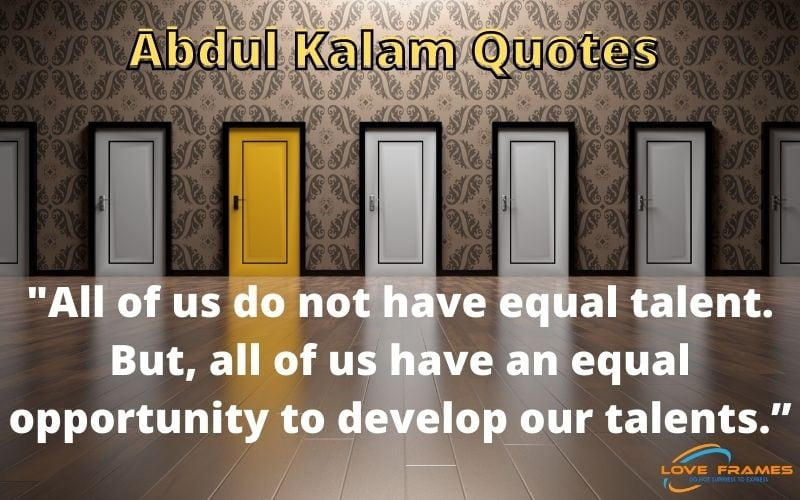 "All of us do not have equal talent. But, all of us have an equal opportunity to develop our talents."- Abdul Kalam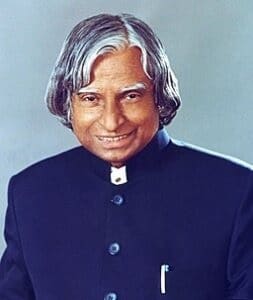 "Don't read success stories, you will only get messages. Read failure stories, and you will get some ideas to get success."- APJ Abdul Kalam
"Look at the sky. We are not alone. The whole universe is friendly to us and conspires only to give the best to those who dream and work".- Abdul Kalam
"Science is a beautiful gift to humanity; we should not distort it". APJ Abdul Kalam.
READ MORE:
Motivational Quotes For Success ! Short Inspirational Quotes |
Inspirational Quotes About Life And Struggles! Short Quotes
Short Inspirational Quotes For Success In Life! Motivational
Heart Touching Friendship Messages For Loving Best Friends
Welcome Quotes For Students In School! Quotes For Students
Success and Failure Quotes! Failure Quotes! Successful Failure Quotes
Conclusion
Dr. APJ Abdul Kalam, a missile man from India, will also be remembered as a man of quotes "Abdul Kalam Quotes". On this note of remembering him as an inspiration to achieve success by fulfilling our dreams with his motivational thoughts, we are representing some of his inspirational quotes with images gifted to us  through his speeches and his writings.