Inspiring Cloud Quotes: In the ethereal embrace of the sky, clouds drift and dance, weaving tales of beauty and inspiration. Beyond their ever-changing shapes and hues lies a canvas that captivates the human spirit and stirs the imagination.
Inspiring cloud quotes serve as windows into the boundless realm of possibilities. Encouraging us to dream, hope and rise above life's challenges. Just like the clouds that float gracefully.
These quotes remind us to seek silver linings amidst adversity and to find solace in the beauty of the world around us. Join us on a journey of upliftment and wonder as we delve into a collection of thought-provoking and motivational cloud quotes that elevate the soul and awaken the wanderer within.
Inspiring Cloud Quotes
"The sky is the daily bread of the eyes." – Ralph Waldo Emerson
"Behind every cloud is another cloud." – Judy Garland
"Don't let one cloud obliterate the whole sky." – Anaïs Ni
"The best way to predict the future is to create it." – Peter Drucker
"Yesterday I inhaled a cloud and immediately my eyes started raining." – Jarod Kintz
"The sun always shines above the clouds." – Paul F. Davis
"The clouds, – the only birds that never sleep." ― Victor Hugo
"Clouds on clouds, in volumes driven Curtain round the vault of heaven." – Thomas Love Peacock
"I think the most heavenly food is fluffy white clouds." ― Jarod Kintz
"There are no rules of architecture for a castle in the clouds." – Gilbert K. Chesterton
"The sky and the sun are always there. It's the clouds that come and go." – Rachel Joyce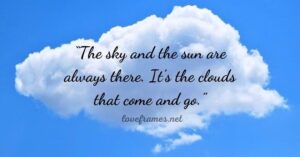 "The writer is a mysterious figure, wandering lonely like a cloud, fired by inspiration, or perhaps a cocktail or two." – Sara Sheridan
Read More…55 Get Inspiration From Most Beautiful lake Quotes
Reaching for the Sky: Inspiring Cloud Quotes
"God is a cloud from which rain fell."― Dejan Stojanovic
"There are no rules of architecture for a castle in the clouds." ― Gilbert K. Chesterton
"The beauty of white clouds: Every morning brings new clouds and sunshine." ― Lailah Gfty Akita
"The air up there in the clouds is very pure and fine, bracing and delicious. And why shouldn't it be?–it is the same as the angels breathe." ― Mark Twain
"Clouds pass and disperse. Are those the faces of love, those pale irretrievables? Is it for such I agitate my heart?" ― Sylvia Plath
"The sky, a perfect empty canvas, offers clouds nonetheless. They shift and drift and beg interpretation… such is the nature of art."― Jeb Dickerson
"Clouds come floating into my life, no longer to carry rain or usher storm, but to add color to my sunset sky." – Rabindranath Tagore
"Look up at the stars and not down at your feet. Try to make sense of what you see, and wonder about what makes the universe exist. Be curious." – Stephen Hawking
Also Read…..101+Waterfall Quotes That Inspire Us To Change Our Lifestyle
Finding Silver Linings: Cloud Quotes to Inspire
"Those clouds are angels' robes." ― Charles Kingsley
"The sky is the daily bread of the eyes."― Ralph Waldo Emerson
"Dark clouds become heaven's flowers when kissed by light." ― Rabindranath Tagore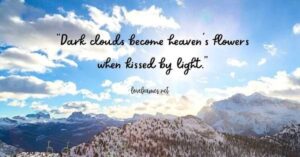 "Now, if God made the clouds so beautiful, did He not mean for us to gaze upon them and be thankful for them?" ― Alfred Rowland
"The cloud never comes from the quarter of the horizon from which we watch for it." – Elizabeth Gaskell
"Clouds come floating into my life, not to carry rain or usher storm, but to add color to my sunset sky." – Rabindranath Tagore
"A cloudy day is no match for a sunny disposition." – William Arthur Ward
"Clouds come floating into my life, no longer to carry rain or usher storm, but to add color to my sunset sky." – Rabindranath Tagore
"O it is pleasant, with a heart at ease, just after sunset, or by moonlight skies, to make the shifting clouds be what you please." ― Samuel Taylor Coleridge
Read More…..151+Water Quotes Inspiring You To Leave The Pride And Live Simple
Dreams in the Clouds: Uplifting Quotes to Motivate
"A cloudless plain blue sky is like a flowerless garden." ― Terri Guillemets
"When I do not walk in the clouds, I walk as though I were lost." ― Antonio Porchia
"When the lamp is shattered, the light in the dust lies dead – When the cloud is scattered The rainbow's glory is shed…" ― Percy Bysshe Shelley
"When clouds appear like rocks and towers, the earth's refreshed by frequent showers." ― Anonymous
"And come, blue deeps! magnificently strown, With colored clouds – large, light, and fugitive…" ― David Gray
"Far clouds of feathery gold, Shaded with deepest purple, gleam like islands on a dark blue sea." ― Percy Bysshe Shelley
"The clouds that gather round the setting sun do take a sober coloring from an eye that hath kept watch o'er man's mortality." ― William Wordsworth
"I saw two clouds at morning Tinged by the rising sun, and in the dawn they floated on and mingled into one." ― John Gardiner Calkins Brainard
"See yonder little cloud, that, borne aloft so tenderly by the wind, floats fast away over the snowy peaks!" ― Henry Wadsworth Longfellow
"Why do I love clouds? Because you can't save a cloud like you can save a leaf or a flower or a rock – clouds are now." ― Terri Guillemets
Floating above: Inspirational Cloud Quotes
"Have you ever, looking up, seen a cloud like to a Centaur, a Part, or a Wolf, or a Bull?" ― Aristophanes
"I can see clouds a thousand miles away and hear ancient music in the pines." – Ikkyu
"For it is when calm clouds gather that thunder is made." – Soroosh Shahrivar
"No dark cloud can forever prevent the sun from shining!" – Mehmet Murat Ildan
"Above the clouds, freedom knows no bounds." – Anonymous
"Like clouds, rise above the storms of life and let the sun shine through." – Debasish Mridha
"When you can't find the sunshine, be the sunshine above the clouds." – Unknown
"Embrace the challenges, for they lift you higher above the clouds." – Akiroq Brost
"In the realm of dreams, we soar on the wings of clouds and discover our true selves." – A.D. Posey
Also Read ….. 75 Quotes For Rainbows To Add Colors To Your Life
Beyond the Horizon: Cloud Quotes for Inspiration