Happy Birthday Wishes for Grandmother in English to celebrate the birthday of a beloved grandmother as this occasion is filled with warmth, love and cherished memories. As our grandmothers age gracefully. Each passing year becomes an even more precious milestone.
To honor and express our deepest affection, finding the perfect words can sometimes be a challenge. That's why we have curated a collection of 150 heartfelt and endearing birthday wishes in English, specially crafted to help you convey your love and appreciation on this special day.
Whether your grandmother is near or far, these wishes are designed to fill her heart with joy, gratitude, and a sense of the beautiful legacy she has created in your life. So, let's embark on this journey of celebrating your grandmother's birthday with love, grace, and heartfelt sentiments.
Happy Birthday Wishes for Grandmother in English
Happy Birthday, grandma. Age is just a number. Your heart is still wild, young and free.
Every girl wishes they could grow as beautiful as your grandma.
Happy Birthday, grandmother. You are priceless and mean more than the world to me.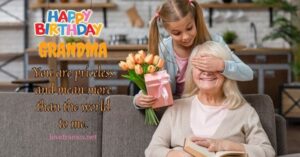 I hope all of our wishes for you today will brighten up your birthday. I love you, grandma.
I can only hope that I get better with age like you have granny.
Am only lucky to be part of your lineage grandma. This is for today and many more birthdays to come.
Dear grandma. You are one of the best ladies in my life. I honestly don't know what I would have done without you.
You do a pretty good job at being old and staying young at heart. Thanks for the times you've been there for me.
You are the one grandma every kid could ask for. I am happy to be here for you on this wonderful day.
Oh, to be old! I'm glad that I don't have to worry about that for many years!
Related: Birthday Wishes for Grandfather 
Happy Birthday Grandma
Here are some short birthday wishes for grandmother.
I hope my stars spell out my wishes for you tonight.
No love is greater than a grandma's love. I treasure you granny. Have a wonderful birthday.
You are my hero grandma and i wish you a lovely day.
I still think you are the reference for "beautiful and graceful at old age."
I hope you smile when you hear me say, Happy Birthday to you grandma.
You are my favorite lady of all. Have a beautiful birthday grandma!
Happy Birthday grandma. I could never have a friend like you. You are the best!
All I want for you, my beautiful grandma, is an awesomely wonderful birthday.
My words may not fully express my love for you but from deep down I want to wish you an awesome birthday.
Thank you for teaching me the art of blowing candles. Have a fabulous birthday grandma. Live to blow many more.
You once promised to take a dance with me if you reach eighty. To many more dances like today. Enjoy your birthday granny.
All I can ask for is to teach me the secret to living old and happy. You are amazing to me. Grandma. Smile to blow out the candles.
I know that you have had many birthdays over the years but I hope that we can make this birthday the best birthday of all time.
Birthday Greetings for Grandmother in English
I have always loved the grace in your smile and the way you are full of style.
Goodness is your warmth, sage advice and teddy bear hugs. Happy Birthday to a sweet soul I could only find in my Grandmother.
One of the best parts of life is knowing that you've always had a smile for me on good and bad days. Happy Birthday Grandma! I'll love you always.
Your healing touch still means so much to me and I want to wish you the same lifelong strength that you have given me.
You remind me of the golden honey you used to drizzle on my cookies; sweet, pure and rare. Hope you have a fantastic day, my Grandmother.
The world's in need of more superheroes like you. Hope today brings you as much happiness as you've blessed our lives with.
Your love is as sweet as the bird songs. You are lovely beyond mere words. Have a great day!
Life would not be an amazing journey without you being in my life. I appreciate the beautiful being you are. Happy Birthday Grandmother!
Granny, you are filled with love that is heaven sent. You hold a special place in my heart. Happy Birthday, my love.
Happy Birthday grandma! I want to tell you something important. You are my favorite grandma. Don't think about it. Just accept it and love it!
Happy Birthday Grammy! You're as beautiful as flowers that bloom in the garden you tend, and your soul is as radiant as evergreens.
Today I wish you all the best from the depths of my heart.
You're one more year younger. Let's celebrate the coolest grandmother to walk the earth on her birthday.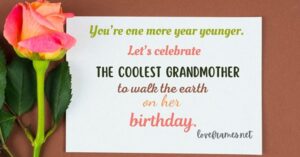 Precious you are and special you will always be, without you our family is incomplete.
Grandma, Happy Birthday! I always knew you were a party animal. Well, now you have a real animal to celebrate with. Woo! Go crazy, Grandma.
English Birthday Wishes for Grandma
Whenever people ask me about my grandma, I tell them you are the best creation of God to be on earth.
You deserve an accolade and praise on your birthday for the beautiful work you do as a grandma and an excellent adviser.
Congratulations to my grandma, who is today's celebrant. May all your heart desires come to manifestation before your next birthday.
May you receive the reward for all your good deeds as a birthday gift. Everyone knows that you are highly efficient as a grandma.
I stayed up until midnight to be the first person to wish you a happy birthday before the wave of messages arrived. I love you, grandma.
Warm memories and happy thoughts have always had you in them. Happy Birthday Grandma. Thank you for touching my life with delight.
Happy Birthday, Grandma. I cherish every moment we have spent together, your birthday reminds me of your awesomeness.
Happy Birthday grandma. You are one of the most inspiring women I have gotten to know. Thank you so much for everything.
Ten million dollars means nothing compared to the satisfaction that I derive from you, my grandma, happy birthday to you my hero.
The birds are singing louder today than ever before. Then I remembered that today is your birthday. So even the birds sing your praises.
You are a gem and I know I will be lucky if I marry a woman as awesome as your grandma. Thanks for always being there for me.
Grandmother's Birthday Wishes in the English Language
May this birthday bring only good memories, may it make you smile and may it make you a proud grandma.
Today I feel like a very lucky man because I get to share in my grandma's birthday, wishing you more years of life. I love you!
Have a hearty birthday grandma, you took care of me when I was a boy and now that I am a man; I will take care of you.
Each moment with you is a blessing grandma, and I will forever remain a blessed boy because of such moments. Enjoy your birthday!
I would like to thank you for all the presents, sweets and all the good memories you fill my mind with. Have an amazing birthday grandma!
Congratulations to you as you are a year older today. May your old age be in good health and prosperity.
I wish I could show you how much you mean to me grandmother, for today, accept this birthday gift.
Your birthday is the most special day to me because the world is so much brighter when you're here with me. I wish you all the best Grandmother!
I am grateful for every step of the journey you've been with me. I wish you a happy day and a life filled with eternal joy.
I will always be your little girl grandma, you have showered me with so much love and happiness and I hope repay you today on your birthday. Enjoy!
I am the happiest woman in the world because I get to share in my grandma's birthday. You are someone worth each and every diamond and gold. Enjoy!
Birthday Messages for Grandmother in English
For all the gifts you wrapped for me, I want to wrap my love for you with words.
Happy Birthday grandma. Thank you for telling me great and enjoyable tales. Love you a lot.
You don't look old enough to be my grandma. I pray you live many more years.
You're the best grandmother in the world, you've always been there for me, to advise me, love me and care for me.
Happy birthday grandma! You are one of the best women I have had the pleasure of knowing. Thank you for being such a great example.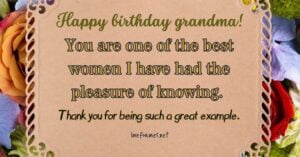 Many people tell me that I am wise beyond my years. They don't know my super secret. You know what my secret is? It's your grandmother.
You look young and beautiful for a grandma. I am delighted that I will look as young when I am as old as you are. Joyful celebration.
For all the care and love that you show to me, I say a big thank you, grandma. There are a million ways to celebrate your birthday, and I think we should try all.
Let the earth rejoice for my grandma's birthday because she has been the source of my happiness, and I do not intend changing the status quo.
The same blood runs through our veins, so you are very precious to me; I would not choose a different person to be my grandma but you.
Nobody deserves a better birthday than you do my grandma so I will join others in your celebration. Fun and excitement will be the order of the day.
Well-Wishes in English for Grandma's Birthday
I love smart, wise, beautiful souls. You are all three grandmas. I wanted you to know that on your special day.
Your favorite flowers have always reminded me of the beauty of your heart. You're always blooming in my eyes. Have a beautiful day.
Happy birthday grandma. You are like the modern superwoman. You cook, clean, and do it all with a smile on your face. I love you.
Happy Birthday to a woman who is as close to an angel as possibly can be. You are the best grandma of all time.
I wish you more life, health, happiness and bountiful peace. Happy Birthday to your amazing Grandmother!
A million kisses to a wonderful grandma on her birthday, may you live long to witness much birthday celebration in good health and happiness.
Did you know that today is the birthday of a beautiful woman? Hope you had a beautiful celebration.
Happy Birthday to you my lovely grandma, our strong bond of friendship will not break. I love you from the innermost section of my heart.
You are my idol, and if I grow up to be a fraction of the woman you are, I'll consider myself successful. Here's to you, Grandma. Happy birthday!
You've taught and shown me kindness, patience, and love. I am the person I am today because of you. Thank you, Grandma. Happy birthday!
You deserve nothing but all the love and happiness life has to give to a woman as wonderful as yourself. Happy birthday to the best grandma in the world!
Sending Birthday Regards to Grandma in English
To the woman I have always treasured, I want to wish you a very happy celebration.
Happy Birthday to your beloved grandma. Your love and kindness are worth more than gold.
Happy Birthday grandma. I can only be amazed by your beauty at this age. May your beauty never fade.
To the most beautiful grandma in the world, your love is comparable to none. Hope you have an amazing birthday
Happy Birthday. You don't look a day older grandma; you are as beautiful as ever. I hope this day brings you a lot of joy.
Thank you for letting me grow knowing that my grandmother is the kindest person on earth. Hope you have many more to come
I can only dream of growing old and staying as young as you. I hope you share the secret grandma. Wishing you a wonderful day.
I will forever love you because you have always supported me in good and bad moments; you are both a grandmother and a guardian angel.
It is twelve a.m. I stayed up late, so I'd be the first person to wish you a Happy Birthday celebration to show how much I care. I hope I am the first.
I have always loved you since I was little; it's not a surprise that I became fonder of you as I grew older. Happy Birthday to my friend and grandmother.
English Phrases for Grandmother's Birthday Celebrations
Happy Birthday, my great grandmother. Whatever you have done for me, I will be very grateful till the last breath.
You have been my gift to this world and it's my pleasure to wish you a Happy Birthday.
You took care of me when I was just a boy and there is not a day I don't thank you for that. I love you grandmother, enjoy your birthday!
Nobody should steal your shine because today is your birthday and it must be all about you. Have a very happy birthday grandma.
I don't have the words to show you just how much you mean to me, enjoy your birthday grandma, you are loved, blessed and appreciated by the man I am.
I owe you a lot grandmother, your advice, love and care has gotten me through some of the toughest days. Have an enjoyable birthday.
Each day we get to celebrate you is a blessing to me grandma; I love you so much and wish you the heartiest of birthdays.
Happy Birthday to my grandmother, you are full of life, happy and radiant. I once believed that old age is the most boring period of one's life.
Nothing can steal your shine today; I will blow your trumpet loud enough for the world to know that you are the best grandmas across all mountains and seas.
Heartfelt English Birthday Blessings for Grandma
Whenever I think of you, grandma, I crack a smile because you are unimaginably real. Only angels have your type of personality. Happy Birthday.
Each day with you is a blessing, and each birthday is a gift perfectly wrapped. I thank GOD I am your granddaughter each day.
From the deepest part of my heart, I wish you many more years of the living.
May each day put a smile on your face and may today broaden that smile just a little wider. I always thank God that you are my grandma.
Happy birthday to the woman that I can always count on her support even when I am wrong. You are the best grandma in the whole wild world.
You are a woman I look up to grandma, for you love and care with a pure heart. Happy Birthday, may you live 105 years.
Each moment with you is a blessing grandma, and I am definitely the luckiest girl in the world for I have you in my life. Happy Birthday!
I hope you slept well because the next 24 hours is all about you. Birthdays should be entertaining, so I developed a hundred ways to celebrate a grandmother's birthday.
The birds were singing you a birthday song this morning, and I was excited that even the birds knew it is my grandma's birthday and is on the well-wishers list.
Warm English Birthday Greetings for Grandma
From the bottom of my heart, I would like to thank you for being the most wonderful grandmother in the entire world. Happy birthday, my precious granny.
Your wrinkles describe the journey of your life and of course, it was amazing and gorgeous like you, grandma.
When I look at your eyes, I find that our eyes have so much resemblance. I wish I could inherit more of your qualities.
You're more than a Grandmother to me. You are an inspiration, a true role model. I love you, Grandma!
May every day bring you joy and wonder! May your birthday be the most special day of the year for you.
Dear grandma, you have been an important part of my life. You have been my teacher in things they don't provide for in school. I will always love you.
When I realized that it was your birthday, Grandma, I was shocked! The number of years you have accumulated left me speechless!
Grandma, when I look at your wrinkles, I find them so amazing. I'm just wondering how beautiful your life was and obviously you look almost the same till now.
Grandma, there's definitely something special about you—everyone around you falls in love with you immediately. Very happy birthday to a very special lady in my life!
Birthday Salutations in English for Grandmother
Don't be shy to look through these birthday wishes for grandmother from grandson, you will find a perfect message for her.
I wish you a long and happy life grandma, thank you for the love, gifts and for being the best grandma a boy could have.
Grandmas are more caring than mothers, thank you for spoiling me silly with gifts and goodies.
Happy Birthday to the woman I want to be when I grow old, I wish someday I can be a great grandma like you. Enjoy your birthday!
I am a blessed granddaughter because I get to see my grandmother age and wrinkle. Have a blessed birthday, I love you!
Happy Birthday Grandma, you are an amazing woman and I am definitely a happy man because I get to spend another birthday with you.
I am happy for you grandma, despite being a year older you look younger and healthier than ever. I am a lucky grandson to have you around.
As you add another candle to your cake, may all your wishes come true. My love for you is highest ranked amongst the love of a grandson to his grandmother.
Grandparents are like angels in human bodies and I am glad to have you around grandma, your angelic words have always guided me.
Related: Touching Birthday Message to a Best Friend
Expressing Birthday Wishes in English for Grandmother
"On this special day, Grandma, may your heart be as full of joy as you've filled ours throughout the years. Happy birthday!"
"Wishing you a fantastic birthday, Grandma, filled with love, laughter, and cherished moments."
"Happy birthday, dear Grandma! May this year bring you abundant health, happiness, and love."
"Grandma, your wisdom and love have shaped our lives. Here's to a birthday filled with the same love and warmth you've always given us."
"Warmest birthday wishes to the most incredible grandmother in the world. May your day be as beautiful as your spirit."
"May your birthday be a day of relaxation, surrounded by family and all the love you've shared with us, Grandma."
"Grandma, your kindness and grace inspire us every day. Wishing you a birthday as lovely as you are."
"Sending you heartfelt birthday wishes, Grandma, for a day that's as wonderful as the love you've given us."
"Happy birthday, Grandma! Your presence in our lives is a gift, and we're grateful for every moment spent with you."
"On your special day, Grandma, may you be showered with all the love and happiness you deserve. Happy birthday!"
In conclusion, as you embark on the delightful journey of selecting the perfect birthday wish for your beloved grandmother. Remember that each sentiment you choose carries the power to light up her day and remind her of the profound impact she has had on your life.
These 150 carefully crafted birthday wishes in English are a heartfelt tribute to the matriarch who has filled your world with love, wisdom and boundless affection. Whether you choose a sweet and simple message or a heartfelt expression of gratitude.
May your grandmother's birthday be a momentous occasion filled with warmth, joy and the cherished connection you share. Happy birthday to your wonderful grandmother, and may her day be as extraordinary as she is!