Romantic Wedding Phrases and quotes to express your or somebody else's wedding feelings. Whatever you feel about weddings. It many a times becomes difficult to find the exact words to take a wedding vows, here you will find how to write a vow for a wedding.
These romantic wedding phrases can be used to congratulate someone on his/her wedding. You can also use these beautiful wedding phrases for pre-wedding and post-wedding ceremonies. Catchy wedding taglines and slogans will be cheery on a cake for you along with wedding phrases and wedding poems.
Romantic Wedding Phrases
We are tying the knot, let the planning begin!
Wedding bells are coming and marriage bliss will be your lives.
At this reception you can have your cake and eat it too!
I take your hand for now and forever.
Something old, something new, something borrowed and something blue are some of the things needed to fulfill the old wedding tradition.
A cake topper is the cherry on top of my wedding cake.
A happy wife, a happy life is a great piece of marriage advice.
Love bears all things and makes them great.
Fill your heart with what's important.
You belong to me and I belong to you because we belong together!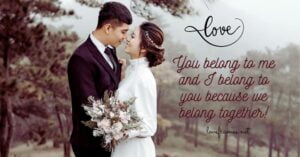 I love you and I love everything about you.
Thank you for your love, your support and most of all the laughter we share.
I pronounce you, husband and wife. You may kiss your bride!
Carry the bride over the threshold. It's an old tradition every couple should continue to do on their wedding day.
I hear wedding bells in your near future, congrats!!!
Wishing your hands be intertwined from this moment until far beyond your retirement years.
From this big day on, yearly wishes will come and go. May each year feel just as exciting as it did on your birthdays as a kid.
The father of the bride will be strong, loving and protective of his little girl.
Anyone up for a hen night? Let the Bachelorette party begin!
May I have your hand in marriage? Please say yes!
I am asking for your blessing to marry your daughter.
Walking down the aisle bouquet in hand.
Always a bridesmaid, never a bride. So far!
I am yours for richer or poorer, better or worse.
It was a wonderful ceremony, but the best is yet to come.
I wanna grow old with you by my side every day until we depart this world.
Short Wedding Phrases – Romantic Wedding Phrases
A match made in heaven.
Set the date.
Popped the question!
Where there is love, there is life.
Some people are worth melting for.
The best things in life aren't things.
Choose a seat, not a side. We're all family once the knot is tied.
We're having a white wedding.
To have and to hold, forever and ever.
Two hearts joined the Matrimonies.
No bridal party is complete without the best man and the maid of honor.
Catchy Wedding Slogans and Taglines
With this ring, we tie our hearts and souls too.
Thank you for making my life special.
Thank you for making me feel special every day and every moment.
He is my Mr. Right.
Together we embark on starting our family.
Yesterday we were lovers, today we are a family.
A family is the greatest gift one could have, here I got mine.
Now I have two families that love me.
I always wanted to be a part of this family, now I am here.
I can't and won't imagine my life without you.
Now we don't need to fight on the phone, we can do that face to face.
I was bored of fighting on the phone, so I decided to marry him.
Not only in this life, but also in all the other lives I would choose you.
Every time I see you I fall more in love with you.
I became yours the moment I saw you, marriage is just a stamp on it.
Without any doubts, I will always choose you.
Marriage Phrases – Romantic Wedding Phrases
This is a marriage made in heaven for here on earth!
A marriage of convenience isn't the start of something great! Marriage should be founded on friendship and love!
The sign on the back of their car says, Just Married!
We live in marital bliss and are so incredibly happy!
I married the man of my dreams today! 
Wedding Words And Phrases
Your wedding is going to go off as easy as a slice of cake!
May never be a fight there that cannot be fixed with a roll in the hay.
On the day you say I do, may it be as merry as the best day of your life so far.
This union is a marriage made in heaven. Congrats on sticking together for so long.
Today is your big day and you are surrounded by your closest friends and family. Enjoy every moment.
You are going to be the most beautiful blushing bride. I am so excited for you and for the luckiest man in the world.
When the day comes that you will cross the aisle and join your groom at the front of the church, that moment, nothing else will matter except for you and him.
First comes love, then comes marriage, and what happens after that, we are hoping God will bless you with many little toes running around.
To the blushing bride, And the glowing groom, May this marriage be a match made in heaven, And continue to blossom and bloom.
I know you love each other for better or worse, but remember, marriage takes more than just love, it takes hard work, patience and lots of understanding.
I always knew wedding bells were in your future! Congrats on finally ringing them.
I can't wait to hear, here comes the bride, all dressed in white… Your day is almost here and we are all very excited for you.
May the warmth of the sunshine on you as happy is the bride the sun shines on, on her big day.
Every marriage has its honeymoon period when everyone is still on cloud nine and the world seems to be revolving around the newlyweds.
Your special day is almost here. Make sure you take some time for yourself and enjoy your last taste of freedom.
As your maid of honor, I am so very thankful for this honor and I hope that I have been able to give you everything you need in a maid of honor.
The joy I feel right now knowing you two are committed to one another is wonderful. There is no better place for you to be because together is a wonderful place to be.
May the union be filled with love and thankfulness now and forever.
I know I am not the only person who can't wait to hear the words, I pronounce you husband and wife. It will be the highlight of everyone's year!
Congrats on no longer always being the bridesmaid and never the bride. You are the Bride today and a very beautiful one at that!
Poems For Wedding Cards
#1. Long ago You didn't know The seeds of marriage you sowed, but now you have planted the seeds. You have ended up doing the perfect thing indeed Congratulations
#2. Very few couples are lucky enough to last through times happy, sad and tough. I hope you are one of those lucky few. I wish the best married life to you Congratulations
#3. May all your wishes come true May everything be perfect for you May all your woes go away May marriage keep your troubles at bay May you fulfill all your dreams May you make a perfect team May you always be happy That's what you're destined to be Congratulations
#4. A handsome groom A beautiful bride Will tie the knot Taking each other's side Two adorable sweethearts Will come together To live happily Ever after Congratulations
#5. In the book of your life A new chapter Today you start With each other Treat every page With lots of care Write new anecdotes So that you can share So that when you Turn old and senile Flipping through this book Can make you smile Congratulations.
#6. A new phase of life As you embrace As you decide to carve out together new ways as you get ready to discover new horizons, I congratulate you both on becoming one.
#7. Your life is about to become A lot more beautiful. I am about to turn into something more wonderful Your life is about to change. In the most amazing way Congratulations for flagging off this journey on your wedding day.
#8. You are both now about to enter Life's most beautiful phase together You are both about to welcome A phase of life awesome You are both about to usher in Lots of happiness from within. You both are about to find pure joy in your heart and mind.
#9. The most sacred relationship Two people can get into The most beautiful thing that two people can do: The source of all happiness Available to a select few of my dear friends, God has bestowed that upon you Congratulations
#10. The whole family will wait to see how beautiful your wedding turns out to be. Even all your friends are dying to witness an event which will overflow with happiness. Congratulations.
Wedding Phrases Poems
#1. I hear wedding bells in your future, Not too far off now. Soon your big day will be upon you, it will all come together somehow.
#2. Later we will have a slice of cake, to celebrate a wonderful day. Who says you can't have your cake and eat it too? You sure keep things going that way.
#3. From the time you got engaged For your wedding day your life has revealed itself in the most perfect way Now all I wish for you is that your journey Remains equally beautiful Until your last anniversary.
#4. This day will mark The beginning of the days that are worth celebrating It will signal.  Joys that are to come A life which will be so awesome I will flag it off The perfect start Of the life you'll spend With your sweetheart Congratulations.
#5. Your life is going to be full of grandeur since it has the foundation of your love so pure Your journey together It will be fun and fun. To make sure that nothing Ever come undone We wish you the best. Now you are commencing Living through life's Best experience Congratulations.
Related Wishes and Messages You May Like
Elegant Wedding Anniversary Wishes, Messages and Quotes
Wedding Anniversary Invitation Messages and Quotes
Top Wedding Anniversary Wishes for Sister – Loveframes
Happy Wedding Anniversary Quotation, Wishes and Messages
It is nature's rule to flourish and grow. Growth and expansion are unstoppable phenomena. Weddings, the ceremony where two hearts come together, with unsaid promise and responsibility to give a beautiful next generation together.
It is the time when family, friends and loved ones come together to give blessings and good wishes to the newly wed couples. Whether you want to send pre-wedding wishes or congratulate the couple on their wedding day, just pick one of the most liked romantic wedding phrases from the above wedding phrases and use it to share with your loved one on social media or in a personalized way.