Happy workplace quotes: Everyone works to earn a living, but how many enjoy it while earning a living? Well, it is very important that we enjoy our work what we do. Many people take jobs just because it is giving them high pay.
But long working hours, work stress, long travel time is it worth it for the living you are earning is a question to ask before taking any opportunity available to you.
These quotes about happiness will give you a clear picture of the feeling of satisfaction at work.
Happy Workplace Quotes
"There is a lot of stuff we can't control, but it is completely in our power to decide what the definition of a good job is. That's up to us." – Mike Rowe
"Concentrate all your thoughts upon the work in hand. The sun's rays do not burn until brought to a focus." – Alexander Graham Bell

"Opportunity is missed by most people because it is dressed in overalls and looks like work." – Thomas Edison.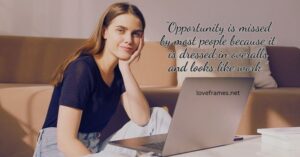 "Individual commitment to a group effort – that is what makes a team work, a company work, a society work, a civilization work." – Vince Lombardi
Read Also: Hard Work Quotes Sports for Inspiring You to Work Hard 
Happy Work Quotes
Work is love made visible. And if you cannot work with love but only with distaste, it is better that you should leave your work and sit at the gate of the temple and take alms of those who work with joy.  – Khalil Gibran
Related: Work Ethics Quotes To Lift The Morality At Workplace
"I think the foremost quality—there's no success without it—is really loving what you do. If you love it, you do it well, and there's no success if you don't do well what you're working at." – Malcolm Forbes  
"The price of success is hard work, dedication to the job at hand, and the determination that whether we win or lose, we have applied the best of ourselves to the task at hand." – Vince Lombardi . Happiness at Work Quotes!
"Leave your ego at the door every morning, and just do some truly great work. Few things will make you feel better than a job brilliantly done." – Robin S. Sharma. Happiness at Work Quotes!
Not careers alone make people happy. A successful professional life and joy in work are certainly a part of it, but I couldn't be happy without a fulfilling private life. – Kristina Schroder.
Happy Working Wish
The harder I work the more I live. – George Bernard Shaw
There is joy in work. – Henry Ford.
People are entitled to joy at work. – Edwards Deming .
When work is a pleasure, life is a joy! When work is a duty, life is slavery. – Maxim Gorky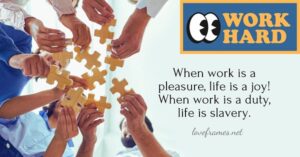 "If you love your work, if you enjoy it, you're already a success." – Jack Canfield 
To know how to do something well is to enjoy it.  – Pearl S. Buck.
Joy does not simply happen to us. We have to choose joy and keep choosing it every day. – Henri Nouwen.
"Just don't give up trying to do what you really want to do. Where there is love and inspiration, I don't think you can go wrong." – Ella Fitzgerald

Related: Quotes About Working Hard To Achieve Goals In Life
Happiness at Work Quotes
"Pleasure in the job puts perfection in the work." – Aristotle.

If you cannot work with love but only with distaste, it is better that you should leave your work. – Khalil Gibran
There can be no joy in living without joy in work. – Thomas Aquinas.
The secret of joy in work is contained in one word – excellence. To know how to do something well is to enjoy it. – Pearl S. Buck
There is joy in work. There is no happiness except in the realization that we have accomplished something. – Henry Ford
Joy comes from using your potential. – William Schutz.
To find joy in work is to discover the fountain of youth. – Pearl S. Buck.
"The secret of joy in work is contained in one word—excellence. To know how to do something well is to enjoy it." – Pearl S. Buck 
"Whenever things go a bit sour in a job I'm doing, I always tell myself, 'You can do better than this.'" – Dr. Seuss 
"To be successful, the first thing to do is fall in love with your work." – Mary Lauretta

"Work to become, not to acquire." – Elbert Hubbard. 
Happy Working Quotes
"When everything seems to be going against you, remember that the aeroplane takes off against the wind, not with it." – Henry Ford (Founder, Ford Motor Company)
"Just one small positive thought in the morning can change your whole day." – Dalai Lama.
"The man who moves a mountain begins by carrying away small stones." – Confucius.
"Your talent determines what you can do. Your motivation determines how much you're willing to do. Your attitude determines how well you do it." – Lou Holtz (American Football Player)
"The more you feed your mind with positive thoughts, the more you can attract great things into your life." – Roy T. Bennett (Author of The Light in the Heart)
Happy at Work Quotes
"Successful people become great leaders when they learn to shift the focus from themselves to others." – Marshall Goldsmith. Authors of What Got You Here Won't Get You There
"You can delegate the activity but not the responsibility; you can share the praise but not the blame." – Timothy A. Pychyl (Author of Solving the Procrastination Puzzle)
"Trust is the glue of life. It's the most essential ingredient in effective communication. It's the foundational principle that holds all relationships." – Stephen Covey (Author of The 7 Habits of Highly Effective People)
Also Read: Work Anniversary Wishes
Work and Happiness Quotes
"Many of us are so caught up in our own lives, so rushed and preoccupied, that we acknowledge the people we are interacting with only instrumentally—as a means to an end. We fail to see them as individuals." – Emily Esfahani Smith (Author of The Power of Meaning: Crafting a Life That Matters)
"It's easy to be liked: listen more than talk, praise often, and disagree rarely. The question is, is it worth the loss of integrity?" – Marty Nemko (Career Coach)
"Gratitude empowers us to take charge of our emotional lives and, as a consequence, our bodies reap the benefits." – Robert Emmons (Author of The Little Book of Gratitude)
"I don't have to chase extraordinary moments to find happiness – it's right in front of me if I'm paying attention and practicing gratitude." – Dr. Brene Brown (Professor and Author)
"Work hard, be kind, and amazing things will happen." – Conan O'Brien (TV Host).
Quotes about Happy Workplace
"You are not your resume, you are your work." – Seth Godin.
"A man should never neglect his family for business." – Walt Disney.
"Far and away the best prize that life offers is the chance to work hard at work worth doing." – Theodore Roosevelt
"You have brains in your head. You have feet in your shoes. You can steer yourself, in any direction you choose." – Dr. Seuss
"Instead of wondering when your next vacation is, you ought to set up a life you don't need to escape from." – Seth Godin
"The problem with the rat race is that even if you win, you're still a rat." – Lily Tomlin.
"Your work is going to fill a large part of your life, and the only way to be truly satisfied is to do what you believe is great work. And the only way to do great work is to love what you do." – Steve Jobs
"Whatever the mind of man can conceive and believe, it can achieve. Thoughts are things! And powerful things at that, when mixed with definiteness of purpose, and burning desire, can be translated into riches." – Napoleon Hill
Be Happy in Your Work Quote
'My family doesn't need to be perfect to still be wonderful."
Spend more time with the people who bring out the best in you."
"Family is who you choose to be by your side and love unconditionally."
'It didn't matter how big our house was; it mattered that their was love in it."
'It doesn't matter where you go, as long as your family is with you, you'll always be home."
"My life just wouldn't be the same without my little family. They are my everything.'
"Starting a family with someone you love is the best thing that can happen to you in this life."
'My successes aren't measured in dollars, they are measured by the love that surrounds me."
Related: Happiness Quotes About Family To Pour Extra Essence Of Happiness
Happiness in Work Quotes
"Choose a job you love, and you will never have to work a day in your life." – Confucius
"Happiness is not in the mere possession of money; it lies in the joy of achievement, in the thrill of creative effort." – Franklin D. Roosevelt
"The only way to do great work is to love what you do." – Steve Jobs
"Success is not the key to happiness. Happiness is the key to success. If you love what you are doing, you will be successful." – Albert Schweitzer
"Your work is going to fill a large part of your life, and the only way to be truly satisfied is to do what you believe is great work." – Steve Jobs
"Happiness is an inside job. Don't assign anyone else that much power over your life." – Mandy Hale
"The best way to predict the future is to create it." – Abraham Lincoln
"The only thing that will make you happy is being happy with who you are, and not who people think you are." – Goldie Hawn
"Find joy in everything you choose to do. Every job, relationship, home… it's your responsibility to love it, or change it." – Chuck Palahniuk
"When you enjoy what you do, work becomes play." – Osho
"The true secret of happiness lies in taking a genuine interest in all the details of daily life." – William Morris
Happy Working Day Quotes
"Each morning we are born again. What we do today matters most." – Buddha
"Today is a new day. Don't let your history interfere with your destiny." – Steve Maraboli
"Believe you can and you're halfway there." – Theodore Roosevelt
"Every accomplishment starts with the decision to try." – John F. Kennedy
"Don't count the days, make the days count." – Muhammad Ali
"The future depends on what you do today." – Mahatma Gandhi
"The best way to predict the future is to create it." – Abraham Lincoln
"You don't have to be perfect to be amazing." – Unknown
"Your work is an expression of yourself. Let it be unique, let it be you, and let it be fun." – Anonymous
"The only limit to our realization of tomorrow will be our doubts of today." – Franklin D. Roosevelt
"Your work is going to fill a large part of your day, and the only way to be truly satisfied is to do what you believe is great work." – Steve Jobs
"Success is not the key to happiness. Happiness is the key to success. If you love what you are doing, you will be successful." – Albert Schweitzer
Happy to Work with You Quotes
"I'm grateful every day to work alongside someone as dedicated and talented as you."
"The best part of the workday is knowing I get to collaborate with an amazing colleague like you."
"Working with you is not just productive; it's also a lot of fun."
"Your positive attitude and hard work make our team shine. Happy to have you as a coworker."
"Teamwork becomes a pleasure when you're on the team. Happy to work with you."
"Your expertise and enthusiasm make every project we tackle together a success."
"It's a joy to work with someone who approaches challenges with such creativity and dedication."
"Our workplace feels brighter and more productive because of your presence. Happy to work alongside you."
"I'm not only thankful for the work we do together but also for the inspiration you bring to our projects."
"Our synergy is the key to our success, and I'm truly happy to be your colleague."
"Your professionalism and teamwork set a high standard for us all. Glad to work with you."
"Working with you makes even the toughest days better. Thanks for being an exceptional coworker."
Happy Working with You Quotes
"Working with you is a pleasure, and your positive attitude makes every day brighter."
"Collaborating with you is a joy, and your dedication to our work is truly inspiring."
"I consider myself fortunate to work alongside someone as talented and enthusiastic as you."
"Our teamwork is the secret ingredient to our success, and I'm grateful to be on this journey with you."
"Your professionalism and commitment to excellence make our workplace a better environment."
"Every project becomes an exciting adventure when we're working together. Thank you for your dedication."
"Your expertise and insight enriches our work, and I'm thrilled to have you as a coworker."
"The best part of the workday is knowing I get to collaborate with someone as exceptional as you."
"Working with you brings out the best in me. Thank you for your positivity and teamwork."
"Our combined efforts create magic, and I'm grateful for the opportunity to work with someone like you."
"You make even the most challenging tasks enjoyable with your sense of humor and dedication."
"In the journey of our careers, having you as a colleague is a true blessing. Let's keep creating great things together."
Trending Search on Happiness at Work
Jeff Bezos Quotes About Time To Work Hard To Change Time
Famous Bill Gates Quotes! Bill Gates Quotes Success
Motivation Money Quotes To Regulate Financial Budget
Relationship Nipsey Hussle Quotes | Nipsey Hussle Quotes
Kim Kardashian Quotes About Life Struggles and Challenges
Taylor Swift Success Quotes To Reach The Desired Goals