Funny Love Messages for Girlfriend: After all the stress and work pressure at home and office, there are these funny messages that make you forget all the stress you have gone through throughout the day.
Funny love messages for your girlfriend will also make her forget all the stress she has gone through throughout her day. Just select one message from below and forward it to her to see a loving smile on her face. which will also make you happy.
You have the power to make me fly up to the stars! But even some little actions like sending a sweet Love SMS to your girlfriend can notice the huge difference in our relationship.
Sometimes the simplest things mean the most. And when it comes to our loved ones, a few heartfelt words can speak volumes. If you're looking for ways to show your girlfriend how much you love her, why not try sending her some I Love You Messages For Girlfriend?
Funny Love Messages for Girlfriend
I wonder if I kiss her, will she stop talking?
Love is like war… Easy to start but Difficult to end.
Love is like a fart. If you have to force it, it's probably shit!
Did you know that kissing burns calories? Want to work out?
Math is like love; a simple idea, but it is very complicated to solve.
I wish love is like a baby shampoo it has, "No more tears formula.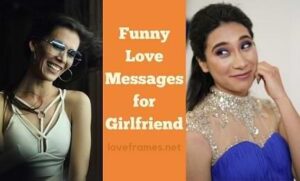 Do you have a band-aid? Cause I just scraped my knee falling for you.
Girls are like internet domain names, the ones I like are already taken!
True love is like ghosts, which everybody talks about and few have seen.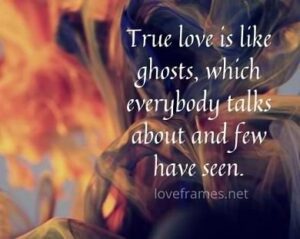 Love is like a butterfly. It goes where it pleases and it pleases where it goes.
I wish love to be like a baby shampoo because it has "No more tears formula.
I believe in gender equality. So on our next date, I'm going to split the bill with you.
Do you know what my favorite thing in the world is? The second "word" of this text.
Two bodies, one feeling, two minds, one thought, two lips, one kiss, two hearts, one love.
Funny Message to Girlfriend
"Roses are red, violets are blue, I can't cook to save my life, but I'll order takeout for two."
People always tell me there are plenty of fish in the sea. But who wants to date a fish after all?
Boy: There's just one thing I want to change about you Girl: What's that? Boy: Your last name!
Your dad must have been a thief because he stole all the stars in the sky and put them in your eyes!
Love is like peeing in your pants everyone can see it but only you can feel it. Thanks for peeing in my pants.
I have had a really bad day and it always makes me feel better to see a pretty girl smile. So would you smile for me?
"Hey, did it hurt when you fell from heaven? Because you look like an angel… who may have had a slight concussion."
"I was thinking about you so much today that I accidentally wore mismatched socks. Now that's true love."
"I would write you a love poem, but I'm afraid my rhymes would be too cheesy. Like gouda or brie, but definitely not cheddar."
"You know, they say laughter is the best medicine. So why don't you come over and let me give you a daily dose of dad jokes?"
Funny Text Messages for Girlfriend
Be careful when a guy says he loves u from the bottom of his heart because he may still have enough space for other girls on top!
I have spent many sleepless nights in your love and I don't want my son to do the same for your daughter, so let's make them brother and sister.
Hey I'm not jealous. I just think you're too hot for other guys to be talking to. The last thing I'd want is for them to feel bad about being turned down.
I may annoy you, and you might want to kill me… I give you permission but on one condition. Don't shoot me in the heart, because that's where you are!
I sent an Angel to watch over you while you were asleep but sooner than expected the angel came back and I asked why the Angel said Angels don't watch over an Angel!
Funny Love Messages for Her
I love you from my head tomatoes.
I love you even when I'm really, really hungry.
I love you more than beer, and I really love beer.
I don't play chess, but you're definitely my queen.
Let's flip a coin. Heads up, I'm yours. Tails, you're mine.
I love you. You're my pudding. But how come you're not in the bakery?
Wait a minute. Why did it take you so long to enter my life? I'm angry.
You're just like bacon, beer and chocolate – you make everything better.
"I may not be a genie, but I can grant your wish of having me as your loving boyfriend."
"You make my heart skip a beat…and my bank account skips a few zeros. But it's all worth it for you."
"They say that love is blind, but with you by my side, I feel like I have 20/20 vision…even though I still can't find my socks."
"If love is a battlefield, then you must be my secret weapon. Because with you by my side, I know I can conquer anything."
"They say that behind every successful man is a strong woman. But in my case, you're the one who's pushing me forward, so I'm pretty sure you're the successful one."
Funny Message for Girlfriend
You add meaning to my life and yet, you subtract some cash from my wallet.
I consider myself very fortunate as I go to the same institution as my princess.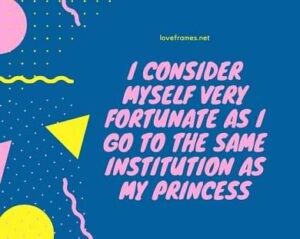 Every girl deserves a guy that can make her smile even when she doesn't want to.
Forever is a long time, make sure you spend it with someone who makes you laugh!
I have a crush on your mind, I fell for your personality and your looks are just a big bonus.
Whatever you may look like, marry a man your own age – as your beauty fades, so will his eyesight. – Phyllis Diller
What's the best way to have your husband remember your anniversary? Get married on his birthday. – Cindy Garner
The police are on the way to arrest you for stealing my heart, hijacking my feelings, and driving me crazy. See you in court!
Stop waiting for your prince on a white horse. Go and find him. The poor man might be lost or stuck on an island or something.
An archeologist is the best husband any woman can have; the older she gets, the more interested he is in her. – Agatha Christie
Read More: Funny Valentine Messages
Funny Message for My Love
You're the obi wan for me.
You're the cheese to my macaroni.
Besides chocolate, you're my favorite.
Let's be weird and wonderful together.
Together with you is my favorite place to be.
You're like a dictionary – you add meaning to my life.
You're basically the cutest thing I have ever loved, after my kitten.
"I may not be a photographer, but I can definitely picture us together."
"If love is a game, I think I hit the jackpot with you."
"I love you more than pizza, and that's saying a lot."
"Roses are red, violets are blue, sugar is sweet, and so are you. But let's be real, chocolate is even sweeter."
"I can't promise you the moon and the stars, but I can promise you my undivided attention and some really bad jokes."
Funny Msg for Girlfriend
I love you no matter what you do, but do you have to do so much of it?
Love makes people do silly things. Like, it made me send you this message!
Are you a magician? Because whenever I look at you, everyone else disappears!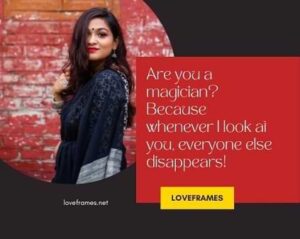 I want to be the reason you look down at your phone and smile. Then walk into a pole.
Most women desire someone who makes them laugh and also feel safe. So basically a clown ninja.
Everyday I fall in love with you more and more. Except yesterday… yesterday you were pretty annoying.
I think you will need kisses and hugs as signs that I love you but what will it cost if you get me some chocolate too?
It's amazing how one day someone walks into your life, and then the next day you wonder how you lived without them.
I need only three things in you and I will love you forever—you must be handsome, mad, and stupid. Happy valentine day.
You will know a woman who loves you more than her entire life by giving her some cash at hand. Do you agree with me or not?
Funny Romantic Messages
You know what, I am already pregnant there is no need for valentines together or will you carry this heavy load in my stomach?
If buying you ice cream is what it takes to show you how much I love you, what will it cost to show you how much you mean to me?
If you think you are beautiful enough, come over and see my father's maid how sweet she is looking despite her dresses like the villagers.
Behind every successful man is a woman who keeps him warm every morning but behind a failing man is a woman who has his wife behind her.
On this special valentine day, I will be coming to the party with the most beautiful car in the world—guess what car it is; my brand new tortoise car.
Happiness is a choice, being sad is a choice. If you want to be happy, go to the pack and have some fun and if you want to be sad—touch a strange get a dirty slap from a mad man.
I have been dodging some girls for like a week's time because I got no money to be called a Val. The last time I tried it, I was rushed to the hospital.
Funny Romantic Messages for Your Crush
All I know is one of us is right and the other one is you.
I love you enough to make our iPhone-Samsung relationship work.
The four most important words in any marriage: "I'll do the dishes"
The secret of a happy marriage remains a secret. –  Henry Youngman.
Behind every angry woman stands a man who has absolutely no idea what he did wrong.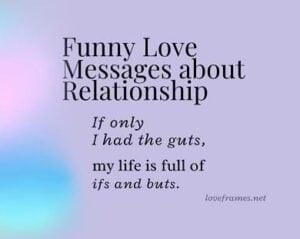 A guy knows he's in love when he loses interest in his car for a couple of days. – Tim Allen.
If your significant other is mad at you, put a cape on them and say "Now you're super mad!
A good marriage is like a casserole, only those responsible for it really know what goes in it.
As a man in a relationship, you have a choice: You can be right or you can be happy. –  Ralphie May.
Funny Love Message for Her
Say what you will about women, but I think being able to turn one sentence into a six-hour argument takes talent.
When a woman says "What?" It's not because she didn't hear you. She's giving you a chance to change what you said.
Getting into a relationship may seem tempting, but so was getting on the Titanic and looking at what happened there.
Spend a few minutes a day really listening to your spouse. No matter how stupid his problems sound to you. –  Megan Mullally.
Facebook should have a limit on how many times you can change your relationship status. After 3 it should default to "Unstable".
Real love amounts to withholding the truth, even when you're offered the perfect opportunity to hurt someone's feelings. –  David Sedaris,
Marrying a man is like buying something you've been admiring for a long time in a shop window. You may love it when you get it home, but it doesn't always go with everything else. – Jean Kerr
In conclusion, adding a touch of humor to your love messages for your girlfriend can make your relationship more lighthearted and enjoyable. It's a great way to show your girlfriend that you not only love and appreciate her, but also that you have a fun and playful side to your personality.
Whether you're looking to make her smile, laugh, or just brighten her day, funny love messages are a great way to do it. So go ahead and get creative with your messages, and watch as your girlfriend falls even more in love with you!
Read More
Unique Anniversary Wishes for Husband Funny
Funny Insults to Call Your Friends
Happy Anniversary Wishes for Friends Funny