Friends reunion quotes: I remember the saying which we learned in our school time, "Old Is Gold". It is the tendency of humans to remember the joyful past. Old age is always indicated as the golden era.
There's something special about reuniting with old friends. It's like catching up with an old friend you haven't seen in a while. The conversations are easy, the laughs come natural, and all the shared memories just come flooding back.
Reuniting with old friends is a wonderful experience, but it can be even better when you do it online. With today's technology, it's easy to stay in touch with people no matter where they are in the world. You can catch up on their lives, share photos and videos, and just enjoy each other's company.
So if you're looking for a fun and easy way to reconnect with your old friends, online reunion platforms are the way to go. These platforms make it easy for you to find your old friends and connect with them online.
Every moment we have leaved is a past now. The innocence in the friendship, the feeling of rawness which gives us happiness when the reunion of old friends is organized in schools and colleges.
Friends Reunion Quotes
The real test of friendship is can you literally do nothing with the other person? Can you enjoy those moments of life that are utterly simple? – Eugene Kennedy
Friendship is the hardest thing in the world to explain. It's not something you learn in school. But if you haven't learned the meaning of friendship, you really haven't learned anything. – Muhammad Ali 
Friendship is like a glass ornament, once it is broken it can rarely be put back together exactly the same way. – Charles Kingsley.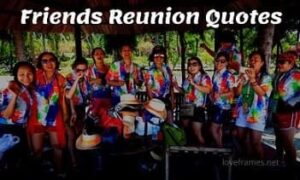 Friendship is the source of the greatest pleasures, and without friends even the most agreeable pursuits become tedious. – Thomas Aquinas
Every friendship travels at sometime through the black valley of despair. This tests every aspect of your affection. You lose the attraction and the magic. – John O'Donohue
Be slow to fall into friendship; but when thou art in, continue firm & constant.- Socrates
Friendship improves happiness, and abates misery, by doubling our joys, and dividing our grief. – Marcus Tullius Cicero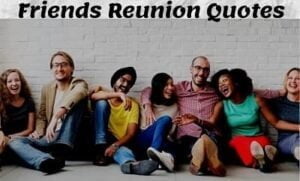 Men kick friendship around like a football, but it doesn't seem to crack. Women treat it like glass and it goes to pieces. – Anne Morrow Lindbergh
Friendship is a strong and habitual inclination in two persons to promote the good and happiness of one another. – Eustace Budgell
Constant use had not worn ragged the fabric of their friendship. – Dorothy Parker.
Best Friend Reunion Quotes
Friendship marks a life even more deeply than love. Love risks degenerating into obsession, friendship is never anything but sharing. – Ellie Weisel
A snowball in the face is surely the perfect beginning to a lasting friendship. – Markus Zusak
Friendship is a pretty full-time occupation if you really are friendly with somebody. You can't have too many friends because then you're just not really friends. – Truman Capote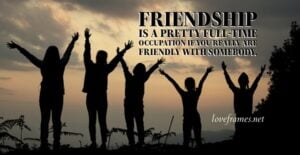 Of all the things which wisdom provides to make us entirely happy, much the greatest is the possession of friendship. – Epicurus. 
Friendship is a plant of slow growth and must undergo and withstand the shocks of adversity before it is entitled to the appellation. – George Washington, Reunion of Old Friends Quotes
In everyone's life, at some time, our inner fire goes out. It is then burst into flames by an encounter with another human being. We should all be thankful for those people who rekindle the inner spirit. – Albert Schweitzer
Reunion Quotes for Friends
We cannot tell the precise moment when friendship is formed. As in filling a vessel drop by drop, there is at last a drop which makes it run over; so in a series of kindnesses there is at last one which makes the heart run over. – Ray Bradbury
Ultimately the bond of all companionship, whether in marriage or in friendship, is conversation. – Oscar Wilde. 
Friendship marks a life even more deeply than love. Love risks degenerating into obsession, friendship is never anything but sharing. – Elie Weisel 
All love that has no friendship for its base, is like a mansion built upon the sand. – Ella Wheeler Wilcox
The rules of friendship are tacit, unconscious; they are not rational. In business, though, you have to think rationally. – Steven Pinker
Friendship is a word, the very sight of which in print makes the heart warm. – Augustine Birrell
I always felt that the great high privilege, relief and comfort of friendship was that one had to explain nothing. – Katherine Mansfield
A man's friendships are one of the best measures of his worth. – Charles Darwin, 
Old Friends Reunion Quotes
Women's friendships are like a renewable source of power. – Jane Fonda
Friendship's the wine of life. – Edward Young, Night Thoughts. 
Every friendship goes through ups and downs. Dysfunctional patterns set in; external situations cause internal friction; you grow apart and then bounce back together. – Mariella Frostrup
Friendship consists of forgetting what one gives and remembering what one receives. – Alexander Dumas
Anything is possible when you have the right people there to support you. – Misty Copeland.
Quotes for Old Friends Reunion
"Remember that the most valuable antiques are dear old friends." ~ H. Jackson Brown, Jr.
"Old friends are memories personified." ~ Richard Paul Evans
"To be with old friends is very warming and comforting." ~ Ian Ziering
"Finding an old friend is like finding a lost treasure." ~ Anthony D. Williams
"It is one of the blessings of old friends that you can afford to be stupid with them." ~ Ralph Waldo Emerson
"Ah, how good it feels! The hand of an old friend." ~ Henry Wadsworth Longfellow
"There is nothing like puking with somebody to make you into old friends." ~ Sylvia Plath
"Old Friends are a joy for ever- Love frames".
"To reminisce with my old friends, a chance to share some memories, and play our songs again." ~ Ricky Nelson
"Say what you want about aging, it's still the only way to have old friends." ~ Robert Breault,
Reunion Friends Quotes
"Souls tend to go back to who feels like home." — N.R. Hart
"Reunited and it feels so good." — Peaches & Herb, " – Reunited"
"A trip to nostalgia now and then is good for the spirit." — Dan Bartolovic
"You can't make old friends. You either have them or you don't." – Kenny Rogers
"I would like to remember the BFA I got in college." — aka, my Best Friends Always.
"There's something about childhood friends that you just can't replace." – Lisa Whelchel
"Friends are medicine for a wounded heart and vitamins for a hopeful soul." – Steve Maraboli
Reuniting with Friends
"The older you get, the more important it is to know people that know you when." — Amy Poehler
"In the end, you always go back to the people that were there in the beginning." — Dawson's Creek
"Good friends are like stars. You don't always see them, but you know that they are there." — Christy Evans
"I wish there was a way to know you're in the good old days before you've actually left them." — Andy, The Office
"The most beautiful discovery true friends make is that they can grow separately without growing apart." — Elisabeth Foley
"No distance of place or lapse of time can lessen friendships of those who are thoroughly persuaded of each other's worth." – Robert Southey.
"When old friends reconnect, there is a refreshing newness: after great memories wash over you, the stage is set for so many more." – Tom Althouse,
Best Friends Reunion Quotes
"I'll never forget my college friends."
"The B.S. was worth it for this crew."
"Nothing is as comfortable as an old friend."
"These people were worth the tuition money."
"Any reunion wouldn't be the same without U."
"The past can be a nice place to visit sometimes."
"Great friends just pick up where they left off."
"We had to reunite IRL, because I can't hug you on Insta."
"Um, I invented Post-Its." — Romy and Michele's High School Reunion
"Can't wait to ketchup with old friends, and relish the memories together."
"I don't need a time machine when I can just reunite with my college besties and it feels the same."
Captions for Reunion with Old Friends
"If you don't believe in ghosts, you've never been to a family reunion." – Ashleigh Brilliant
"Our friends cannot be replaced or forgotten; they always become our old friends." – B. Bella
"Sometimes you never know the value of a moment until it becomes a memory." – Dr. Seuss
"Recall your old friends as often as you can, a happy memory about old friends never fades out." – L. Fudim
"Remembrance of things past is not necessarily the remembrance of things as they were." – Marcel Proust
"I can't put this delicately – everyone goes to their high school reunion wanting to see who they beat.'" – Megyn Price
"I love old books because these books recall my mind old days and sweet memories of my old friends." – Unknown
"There is nothing like returning to a place that remains unchanged to find the ways in which you yourself have altered.". – Nelson Mandela
Friends Reunion Caption
"The one where they made us laugh, cry, and reminisce all over again. #FriendsReunion"
"Could we BE any more excited for this reunion? 🤩 #FriendsReunion"
"Bringing Central Perk vibes back! ☕ #FriendsReunion"
"Time to pivot back into the '90s! 🛋️ #FriendsReunion"
"Friends, forever and always. ❤️ #FriendsReunion"
"A reunion 17 years in the making! 📺 #FriendsReunion"
"The gang's all here and it feels like home. 🏡 #FriendsReunion"
"They'll be there for you, like they've been there before. 🎶 #FriendsReunion"
"Revisiting the past with our favorite pals. 🕰️ #FriendsReunion"
"Nostalgia level: Central Perk. ☕ #FriendsReunion"
"Could this reunion BE any more iconic? 🙌 #FriendsReunion"
"The one with all the feelings. 😭❤️ #FriendsReunion"
Friends Reunion Status
"Reliving the good old days with my 'Friends'! 📺 #FriendsReunion"
"Feels like I just stepped back into Central Perk. ☕ #FriendsReunion"
"Catching up with Ross, Rachel, Monica, Chandler, Joey, and Phoebe. What a day! ❤️ #FriendsReunion"
"Nostalgia overload! #FriendsReunion"
"These 'Friends' will always have a special place in my heart. 💕 #FriendsReunion"
"Laughed, cried, and laughed some more during the #FriendsReunion."
"Could I BE any happier right now? Nope! 😄 #FriendsReunion"
"Reunited and it feels so good! 🙌 #FriendsReunion"
"From 'How you doin'?' to 'We were on a break!' – reliving the best 'Friends' moments. 🤣 #FriendsReunion"
"Just watched the 'Friends' reunion, and my heart is bursting with nostalgia! 💓 #FriendsReunion"
"The gang's back together and my heart is full. ❤️ #FriendsReunion"
"I'll be there for you, 'cause you're there for me too. 🎶 #FriendsReunion"
Reunion with old friends is a wonderful feeling. You can catch up on old times, share new experiences, and reminisce about the past. It's a great way to rejuvenate old relationships and build new ones.
The same is true for online marketing. Reuniting with old friends – or, in this case, customers – can be a great way to reignite interest in your business and boost sales. But it's not as simple as just sending out an email blast and hoping for the best. You need to put some thought into it and make sure your campaign is well-crafted and relevant to your audience.
Read More
Modern Family Memorial Day Instagram Captions
Extraordinary Immortal Old School Memories Quotes