Heart touching wishes for best friend: A best friend is one who knows you in and out and still loves you from the core of his/her heart. Best friends are special gifts from god. It is very rare to find a loving and caring genuine friend in this world of hipocracy.
If you have one, you are one of the most luckiest person on the earth and you should know the value of your friendship. Respect and nurture this relationship of friendship.
These are not birthday wishes or anniversary wishes for a friend, these are a collection of best heart touching wishes for best friend.
Related: Inspirational My Best Friends Forever Quotes and Sayings
Heart Touching Wishes For Best Friend
"True friendship is like sound health; the value of it is seldom known until it is lost." – Charles Caleb Colton
"Friendship. A ship big enough to carry two in fair weather, but only one in a foul." – Ambrose Bierce
"Friendship is delicate as a glass, once broken it can be fixed but there will always be cracks." – Waqar Ahmed
"Friendship is unnecessary, like philosophy, like art… It has no survival value; rather it is one of those things that give value to survival." – C. S. Lewis
"A true friend is someone who thinks that you are a good egg even though he knows that you are slightly cracked." – Bernard Meltzer
"In prosperity our friends know us; in adversity we know our friends." – John Churton Collins
"In the end, we will remember not the words of our enemies, but the silence of our friends." – Martin Luther King, Jr.
"Good friends help you to find important things when you have lost them…your smile, your hope, and your courage." – Doe Zantamata
"Walking with a friend in the dark is better than walking alone in the light." – Helen Keller
"Friendship will not stand the strain of very much good advice for very long." – Robert Staughton Lynd
"When you face a crisis, you know who your true friends are." – Magic Johnson
"I value the friend who for me finds time on his calendar, but I cherish the friend who for me does not consult his calendar." – Robert Breault
Emotional Friendship Messages
Sunrises in the east, the sunsets in the west, friendship rises from the heart and ends after death.
I would never trade our friendship for anything, ever. You are that precious to me.
Thank you for inspiring me and encouraging me every single day. You are truly an asset.
The sign of a true friend… He always sees the pain behind your eyes at that time, when everyone says "Man! You smile a lot"….
I'm not wealthy but I have a rich heart, I'm not the best but I will try my best, I may not be right every time but I'm surely not wrong to choose you as my Friend!
Dear best friend, I cannot even imagine my life without you. Thanks for always pampering me and holding me tight. Love you tons.
Together through thick and thin, we have nurtured and strengthened our friendship. It feels really awesome to share such a strong bond. Love you, bestie.
Thank you for always advising me and always saying your honest opinions aloud. You are my savior, for real.
Thank you for having my back every time. Cheers to our friendship. Love you, my beloved best friend. Heart Touching Wishes for Best Friend
It is said that good friends are hard to find. I think that is because about a million of them decided to come together as one, in you, my best friend. You are the best.
What we share is beyond friendship darling. It is an immortal union of two hearts that can never be broken. I love you dearly. Heart Touching Wishes for Best Friend
I wish I were the sun, so I can shine the light of your love high up in the sky for the whole world to know how amazing you are, and how lucky I am to have you as my best friend.
I asked God to show me the extent of his love for me, and he sent me, You. My life has not remained the same since we became friends. I love you to the moon and back.
I heard angels have been deployed to come take angels that are on earth back home. So, I built a safe in the deepest corner of my heart to keep you there. I am never letting you go, best friend.
I have the most priced and rarest gem in the world, in my possession. I am only telling you this because you are my best friend. I know my secret is safe with you, the name of the rare gem is you.
There is a precious stone that was left out when the others were being discovered, and I am glad I was the one privileged to find it. Its name is You.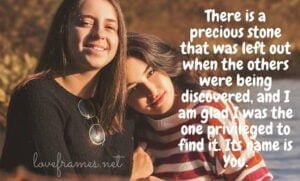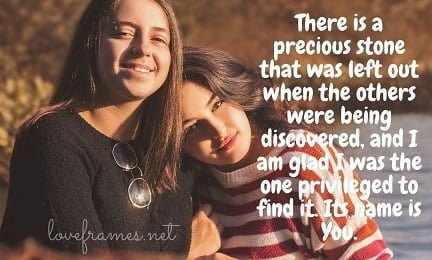 My best friend is one of the greatest gifts of life to me. She is, in fact, a blessing from above. One that has enriched my life and filled it with meaning. She is reading this right now and I hope she is smiling, knowing she means the world to me. I love you, dear.
I wish I could say you are a perfect human, but we both know you are not. One thing I can say though is that you are the perfect best friend for me. I love you mega much.
Best Heart Touching Wishes for Best Friend
I used to think true love could only be found with the opposite sex. But you, girlfriend, are my first true love, and my husband has got a great record to beat.
It is said that blood is thicker than water when it comes to love. But you, my friend, are even thicker than blood to me. Thanks for always being there for me. You are super amazing.
Nothing shall be able to snatch you from me, bestie. I have hidden you in a place where I alone can access: The deepest corner of my heart.
You, my dearest friend, are the greatest gift life has offered me, and I will never let you go. You are stuck with me forever dearie.
No matter how many miles life brings between us, you, my best friend will always remain close to my heart. I miss you and can't wait to see you.
Whenever I meditate on the scripture that says God has given his angels charge over us, to prevent us from dashing out foot against stones, all that comes to mind are thoughts of you. Thanks for being not just my best friend, but also my guardian angel.
If friendship were to become an organization, you, my dear best friend, would be the most worthy candidate to be CEO. Your life is exemplary and inspires me a lot. I cherish you dearly.
Everyone needs a best friend like you, and I am lucky to have found you first. You are for keeps darling, always and forever.
Being without my best friend is like being a snail without its shell. You have become a part of me and I miss you so much right now. Heart Touching Wishes for Best Friend
You, will I love until the very end, for you have proven to be my best friend. No one else can ever take your place, for you were sent to me as a gift of grace.
Touching Wishes for Best Friend
I just want you to know that I miss you so much, my amazing gist, gossip and partner in crime. Things are not the same without you here. Come home soon.
Friendship isn't all about emotional feelings and having fun together. It is about knowing when to indulge a friend in love, and when to speak the bitter truth. Thanks for being my one true love and best friend.
No one makes me laugh as much as you do. Your company is my happy place and a true definition of home. I love you my dearest best friend.
My life had no meaning or direction till you became a part of it. See what you have made me become. You deserve all the accolades dear, you are the best friend ever.
Thanks for being the best twin sister I ever had. We are soul twins darling, and nothing can break us apart.
Having a friend like you makes me one of the most blessed and favored individuals on earth. You are worth more than riches to me, you, in fact, are my wealth of inestimable value. I love you so much.
You and I both know that the real cause of my illness is a lack of you. Come back home and I will be instantly okay. I have missed you too much, my dearest friend.
We meet people every day, and some of them become our friends either intentionally or otherwise. But some are deliberately and strategically placed by the Almighty himself, and you are one such special one. I love you, my darling friend.
If the world I know today were to disappear and I am to be left alone with just one thing, I will choose you as that one person darling. Because you, my best friend, are my world.
When we first met, I didn't see the possibility of us becoming this close. But now, you are the most important person in my life and I can't imagine being without you.
Friends like you are valuable and of inestimable worth, therefore very rare. I could never have found you if not for God's grace in making our paths cross.
A few years ago, I received a very expensive amazing gift without paying a dime for it, and this gift has transformed my life in many ways. I just want to use this medium to celebrate you, my priceless and adorable best friend. Cheers to many more years of friendship and love.
You complimented me in so many ways and I just can't imagine how my life would have been without you in it. Thanks for being an amazing friend, I cherish you greatly.
It has been amazing watching you and I have grown stronger as friends. I will never get to a point where I stop being your friend because you are the best friend I have ever had.
The friends we keep make or mark us, and are one of the determinants of how far we will go in life. I am glad I chose a top notch, one of a kind one like you, that has done nothing but make my life heaven on earth. You're the best love.
Related: Friendship Day Wishes For Best Friend
We have been friends for years and shared everything together. But there is still something you have failed to share with me. The secret that you are an angel specially sent to make my life a happy one. I love you bestie, you are special.
If I had to pay to have you as my friend, I definitely will never be able to afford your worth. You are the best friend I don't deserve but received by grace. I cherish you, darling.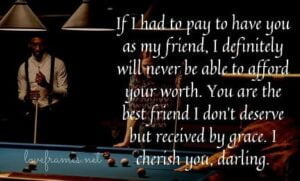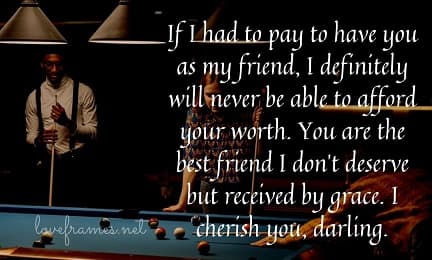 I am not sure of what the future holds for me. But if the past could bring an amazing you into my life, then I know the future has far greater things in store.
If anyone asks me to define a friend, I'll just tell them to look at you because you are the true definition of a friend dearie. Heart Touching Wishes for Best Friend
As the sun never fails to rise each day, and the moon, to set each night, my deep love and affection for you shall not fail to grow each day. I love you, my darling friend.
Whenever I count my blessings, I always count you twice, because you are one of God's greatest blessings to me. Heart Touching Wishes for Best Friend
Heartfelt Touching Wishes for Best Friend
Thank you for seeing me, someone worthy to be the friend of an amazing chap like you. You are indeed sent from above, and I cherish all that we share.
I love all that you are dearie. You remain the world's best friend, and I am the luckiest girl in the world to have you as my most special friend.
You have been more than a friend to me, and I am glad to call you my best friend. Friendship with you is priceless, and I pray it lasts forever.
Though born into different families, we are soul twins made to function together, and I am just glad I found you in time. I love you my amazing best friend and twin I never had.
Beyond the jokes I make, and how annoyingly frustrating I can be sometimes, I want you to know that you have a special place in my heart that no one else can fill. You are my best friend dear, and I love you deeply.
Having you as a best friend is the greatest treasure any man can have. I surely am blessed to have you in my life as mine. You are simply amazing dear.
I wouldn't trade what we share for anything in this world. Life is fun and full of bliss with a best friend like you.
You are the one special friend that has been with me through almost all phases of life. Looking back at all we have been through, I realize how blessed I am to have been given such a rare gem as my best friend.
If I could, I would buy you an estate in the country of your dreams. If I could, I would give you the most expensive gifts, like that private jet you never stop talking about. But if I do all this and more, they still won't be enough to show how grateful I am to have you as my best friend.
Related: Moving on Friendship Quotes to Understand Each Other
Best friends are hard to find, and now that I have found one in you, I will never let you go. You are stuck with me for life, darling.
I am feeling so lonely and blue because I am missing my friend so true. My definition of fun is you with me, but all that's left are sweet memories. I just want my best friend back, I have missed you too much, and that's my bad.
In a world so void of light, lies a friend with a heart so wide, carrying all my care and plight. A friend like this is hard to find, so, must I guard with all I have. I cherish you, darling, you are the best.
Dearest friend, you are my everything and much more. All I want to do is fill your life with love so pure. You deserve the best of gifts, for indeed, you are the world's best friend.
One of the best decisions of my life was choosing you as a friend. It became a better decision when we became best friends. Let us make it the best by being best friends forever. Please say yes.
May your beautiful seed of love, sown into this amazing friend of ours, yield you an abundance of joy, peace, and favor. You are my best friend in need and deed, God bless you big for me.
Who needs coffee to be active with a friend like you? You are my source of energy, a daily dose of you is all I need to stay active and full of life all day, every day. There's no dull moment with you.
You never gave up on me despite all I did. I stopped to ask myself what I did to deserve such an amazing friend like you, then I realized it is not because I deserve you, I don't. You are simply the most amazing person on earth.
My test results just came out, and the doctor said I lack a vital vitamin. I don't need to be told that's vitamin you! Every part of me misses you so much, dearie.
Goodbye is a word I never thought I would say to you. But even as we would be miles apart, you will always be near my heart. I will do everything possible to make sure we don't fall apart. There is no other best friend for me but you. I miss you already.
Water is the best of drinks, rose, the best of flowers, humans, the best of creatures, and you, my best of friends. I value and cherish you, my dear friend.
I can never forget all the times you stood by me, telling me I will be okay and fine. Your strength, my friend, carried my heart so weak, and now I am the better for all of it. You are my best friend, and I celebrate you today. You are worthy of all the accolades.
The sun is shining brightly, yet my heart is filled with gloom. I have been away from my best friend for too long, and it is beginning to affect me. When are you coming back home? Missing you is an understatement.
No matter where I find myself, as long as you are with me, it will always feel like home.
As a deer pants for water, so my soul has been painting for this day when I will be reunited with my soul twin. I missed you super and I am overly excited about your return. See you soon darling.
I sent you a package containing a million hugs and kisses. Today is world's best friends day, and I just want to shower mine with lots of love. Cheers to forever being BFFs, darling.
I have tasted true friendship and all I want to do is drink from its fountain each day, and bask in its sweetness forever. Thanks for being the true definition of friendship, and my best friend.
Thank God we are not bound by sight, but by heart. Distance can't change how much I love and cherish you as my best friend. I miss your presence so much and can't wait to be back with you.
I sincerely have never missed anyone this much before. This has made me realize how closely knitted our hearts and souls have become. I just can't wait for you to be back home, so I can show you how much I love you. I miss you bestie.
I just want to say thank you for being an amazing friend in need and deed. Now, I love you more than I love chocolate cake. You know what that means.
You are the weirdest person I know, and that is what makes us a perfect fit as best friends. I miss us dearie, and I will never let us go apart, no matter what.
You know more about me than any other person, and you have been true despite knowing my weaknesses. Thanks for being such a super friend darling.
I decided to write a list of qualities that make you an amazing and perfect choice of best friend for me. I started hours ago, and I'm not done with the list of attributes.
Even my family members are not as patient and understanding as you are to me. You are indeed a custom-made gift from heaven to me. Thanks, bestie. Heart Touching Wishes for Best Friend
Point of View
It is not only the Touching Birthday Message to a Best Friend Girl or Touching Birthday Message to a Best Friend Long Message to wish your friend. You can wish him/her with the best goodluck messages, goodluck for examinations and much more. Never forget that the best friends are like gems in your life. Respect and love them, whenever you get a chance to express your feelings do not hesitate to express your feelings towards your best friend. It will help to develop strong bonding between you both.